Cauliflower poriyal is a very simple and easy poriyal , and even a perfect bachelor recipe too. I made this and clicked last year itself but pictures didn't turn out nice, so i didn't post. Then later i totally forgot about that and last week suddenly i remembered this. I have already posted cauliflower curry and cauliflower pepper fry recipe too. Also the recipe of cauliflower rice is also a super hit one. This is a scheduled post as i am not in town. Will reply to your mail and messages once i am back.
Cauliflower Poriyal
  Preparation Time : 10 mins | Cooking Time : 20 Mins |Serves: 2
    Cauliflower florets    1 and 1/2 cup
    Oil     2 tsp
    Green chili   1-2
    Mustard seeds     1/4 tsp
    Urad dal    1/4 tsp
    Curry leaves   few
    Salt    to taste
    Turmeric powder   1/4 tsp
    Coconut (grated)   1 tblsp
    Coconut oil   few drops (optional)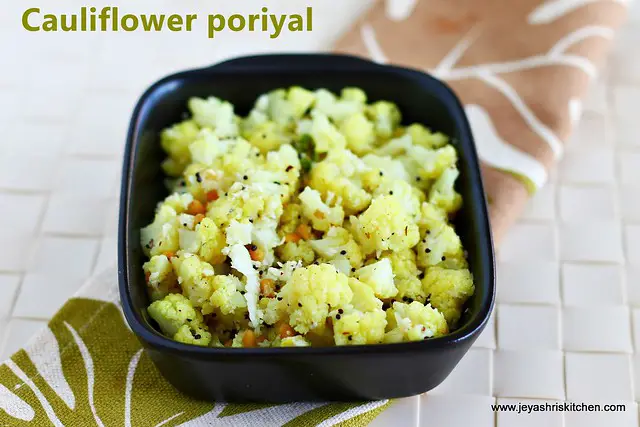 Method:
Chop the cauliflower into tiny florets.
Boil 3 cups of water in a wide saucepan. Add little salt to this while boiling.

Boil for 2 minutes and drain the water.
Add oil to the pan . Add mustard seeds, urad dal and chopped green chili to this.

Add the drained cauliflower to this. Since we chopped them finely, cauliflowers are cooked in the water.
Add salt and turmeric powder to this.

Cook for 2 minutes. Add grated coconut to this and mix well.
Switch off the flame. If adding coconut oil add now and mix well.

Cauliflower poriyal is ready to serve. Serve with simple rasam rice or vathakuzhambu too.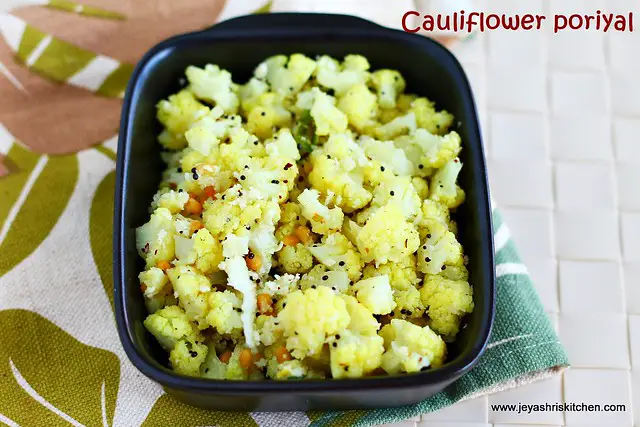 Notes:
Chop the cauliflower into tiny florets to ease cooking .
You can add finely grated ginger to the oil while adding green chili.