Idichakka thoran is a curry /poriyal made with tender jackfruit or raw jack fruit. In tamil they call it as pala musu. It is the unripe jackfruit. I have heard from my mom's friend that they make
kola urundai
with this pala musu. Apart from that i have never heard about anything with that. I haven't even tried or tasted this veggie so far. Few months back my mom told me that she made a curry with this idichakka and also added it tasted very nice. Here we get the cut fresh raw jackfruit . I happened to visit Mustafa center 2 days back and saw this raw jackfruit and picked and came. My friend's mom who taught me the
traditional mysore pak
, told me the perfect recipe of palakkad style idichakka thoran and it turned out very nice. I was very worried about how it will taste but it tasted very well and a perfect pair with
vatha kuzhambhu
. Try this at home and let me know how it turned out. I will surely update this post once i get the full raw jackfruit as how to clean it.
Idichakka Thoran
Preparation Time : 5 mins | Cooking Time : 25 Mins |Serves: 4-5
Cut Idichakka | raw jackfruit 1 and 1/2 cup
Fresh Coconut (scrapped) 1/4 cup
Green chili 1
Coconut oil 1 tblsp
Mustard seeds 1/4 tsp
Curry leaves few
Urad dal 1/4 tsp
Turmeric powder 1/4 tsp
Salt as needed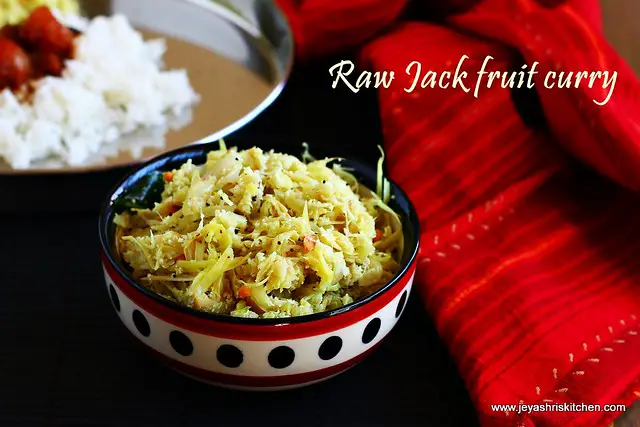 Method:
Wash the cut idichakka nicely and in a wide pan add the cut raw jack fruit and add water, salt and turmeric powder.
Let this cook till it becomes soft and tender. This got cooked in 10 minutes. Drain the water completely and once it is cooked drain the water . Allow this to cool.

Actually the original recipe aunty told me to roughly idichufy (that is why the name) roughly break it with a stone which we use for breaking jaggery.
I just pulsed it in the mixie once and i find it easy. Just pulse once it is enough.

In a pan add oil and add in the mustard seeds , urad dal and curry leaves.

Add the pulsed raw jackfruit to this and mix well.

Pulse the coconut and green chili in a mixie.

Add it to the pan and mix well.

Thoran is ready to serve.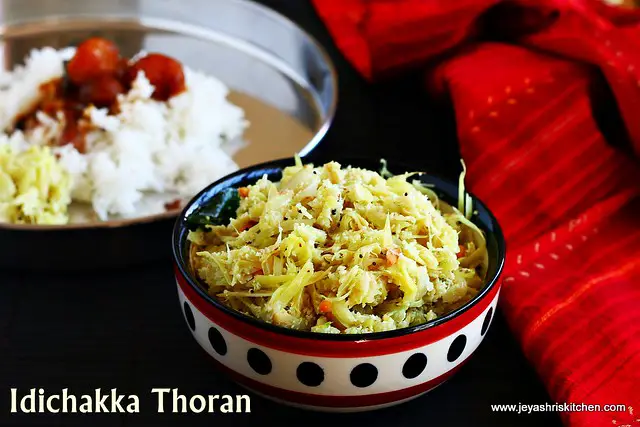 Notes:
You can replace green chili with red chili, but the colour will slightly change.
Some people add 2 small onions and 1 pod of garlic while grinding the coconut. If you wish you can add that too.
If you don't want to temper in coconut oil, add mustard seeds in normal cooking oil and later in the last add few drops of coconut oil to this and mix well.