No onion no garlic menu
I know i have been not regular in cooking for guests series. Though i have lots of friends visited me in the past few weeks, but somehow don't have time to click the platter before they come.But will make a collage of that and post it in the coming weeks. Since i have been posting no onion no garlic recipes in the blog for this month, i thought i will post a South Indian and North Indian menu without onion and garlic. For me it is easy to make a South Indian menu without onion and garlic. But planning a North Indian menu is a bit tough for me. But now i can say with a good collection of
no onion no garlic recipes
,it is possible to some extent. Let us see in detail about the menu which i have shared . This menu includes, Coriander lemon soup, Roti, Paneer butter Masala, Channa masala, roti and gulab jamun.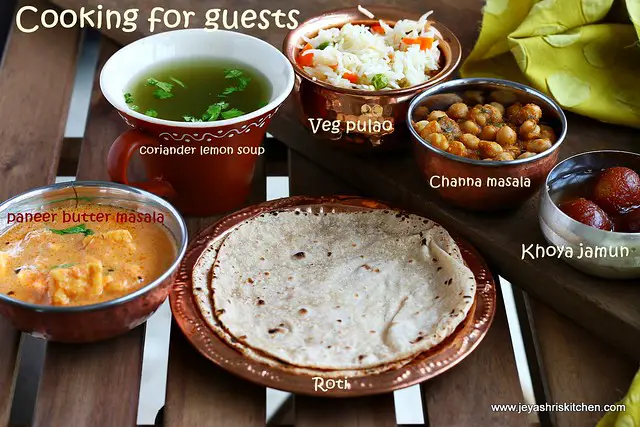 This menu includes:
Method:
I used store bought jamun here. But if you are making Khoya jamun, make it the previous day.
If needed chp the veggies for soup and rice and keep it inside the refrigerator.
Soak the chole overnight.
Next day boil the chole in the pressure cooker till 6-7 whistles. If you are making curd rice, keep rice also in a separate vessel along with the chole.
Prepare the coriander lemon stock for the soup.
Make dough for the roti and keep it aside.
Soak the rice for pulao.
Start making the paneer butter masala .
Once it is done, make the channa masala.
Make the coriander lemon soup with the stock which we made.
You can reheat the soup before serving.
Keep the pulao in the pressure cooker.
Start rolling the rotis.
If making curd rice make it once the rice is cooked and cooled.
A simple yet delightful menu for guests is ready to serve.