Last week i got a surprise call from my a very good friend of mine, that she is visiting Singapore. We planned to meet one day and i am so excited to meet her almost after 10 years. We spent a whole day talking about our college days, family and friends. I cooked this lunch for her and quickly clicked before we start out lunch. The super hot vegetable biryani, beetroot vada, potato curry on a rainy day with lot of laughter with a best friend around, a day well spent i can say.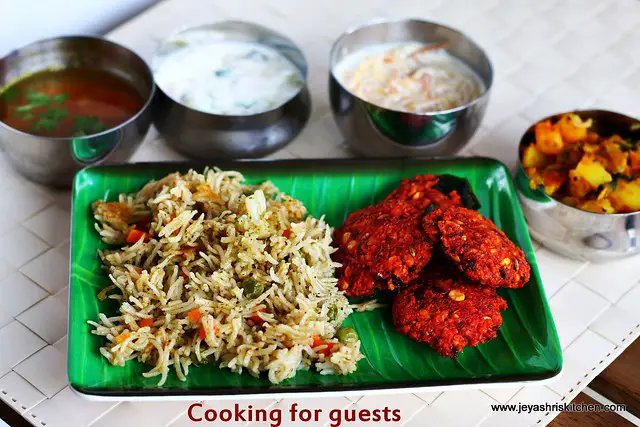 The Menu has
Method:
Soak for vada first. Let it soak for 2 hours. In the mean time cut the vegetables for rice.
Also grate the beetroot for vadai.
Cook the potato and dal for rasam in a pressure cooker.
When it is cooking, start making the semiya payasam.
By this time the potatoes will be cooked. Cut them into cubes and put it a pan for curry.
Start making the rasam too. When the rasam is boiling keep the cucumber or onion for raitha.
Grind for the vada and keep it inside the refrigerator. Do not add the onion or beetrrot to thsi now, it will ooze out water. Just before making add it along with salt.
Soak the rice for biryani. In the mean time keep the plain rice. When it is done, put this insidea hot box and in the same cooker start making the Biryani.
Just before serving make the vadas hot.
If you plan well and concentrate well while cooking, you can finish the entire meal in 2 hours.