Kola urundai is a popular dish of chettinad, a small town called Karaikudi in  tamilnadu. Chettinadu cusine | recipes will be very delicious and i have lot of friends who hail from chettinad, during my school days. This kola urundai generally they make with beetroot, yam, snake gourd and Vazhaipoo too. I asked my school friend regarding few chettinadu recipes, that i have tasted at her home. She gave few and asked me to talk to her mother in law as she is an expert in cooking. I noted down few recipes to ask her and called her up. She explained each and every recipe so clearly and with tips too. The energy, her chettinadu slang, her enthusiasm at this age is super contagious.I strongly felt these recipes should not be missed out and has to be treasured. I tried few recipes of her and will be posting here one by one. Check out my
Ingredients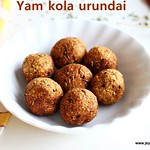 Preparation Time
:
15 mins
|
Cooking Time
: 15 Mins |
  Yields 7
     Yam | sennai kizhangu (grated) 1/2 cup
      Coconut grated    1/2 cup
      Red chilli   2-3
      Pottu kadalai | Roasted gram | Chutney dal  1/2 cup
      Fennel seeds     1/4 tsp
      Onion    1
      Salt    as needed
      Oil   for deep frying.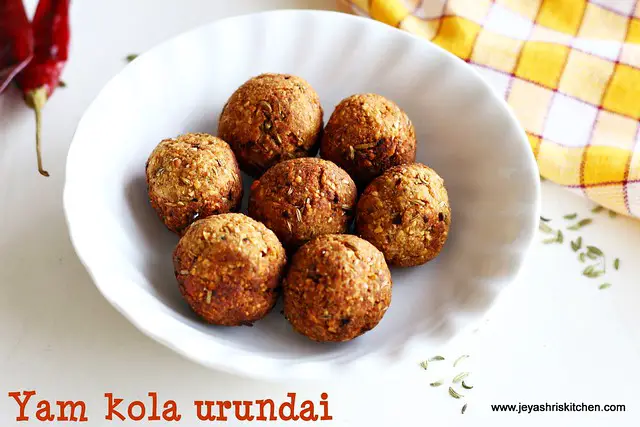 Method:
Grate a small piece of yam.
In a pan add 1 tsp of oil and saute the yam until the moistures leaves. This is very important. Else will be watery while making urundais. Keep all ingredients ready.
Grind it in the mixie . Do not add water while grinding. Let it be slightly coarse. It should be thick.
Chop onions finely and add to this and mix the dough. I didn't add onions as i forgot
Make into small lemon sized balls. Heat oil and when it is hot, bring it to medium  and fry the urundais in batches.
Do not fry in high heat as it will not cook inside.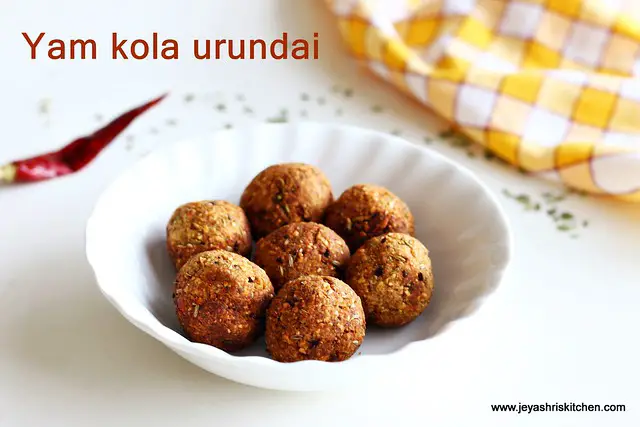 Notes:
Onion gives softness to the urundais , so do not skip it.
You can add clove to it while grinding. Just one will do, just for flavour.
If using beetroot also follow the same procedure. Do not forget to saute before grinding.
Else it will ooze out water and make the mixture watery too.
If using pudalangai/snake gourd chop them finely and add salt to this and keep it aside for 10 minutes. Let it ooze out water. and then squeeze out he excess water and saute for a while and continue the same procedure.