Chilli paneer is a  mouth-watering paneer delicacy which generally consumed as such ,as a starter. Generally indo- chinese  dishes are liked by all of us at home. Varsha used order Chilli paneer even for roti also when we go out for restaurants. She always insist me to make Chilli paneer at home but i somehow never avoid deep frying panner but then i thought once in a while making it is ok, and proceeded to make Chilli paneer (Dry) at home. It turned out pretty well and i never know Chilli paneer can be made very easy.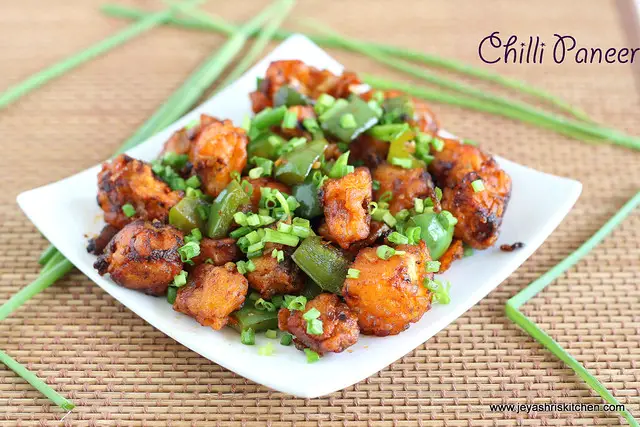 INGREDIENTS: SERVES 3-4
| | |
| --- | --- |
| PANEER CUBES | 2 CUPS |
| CORN FLOUR | 2 TBLSP |
| ALL PURPOSE FLOUR | MAIDA | 2 TBLSP |
| RED CHILLI POWDER | 1/2 TSP +1 TSP |
| SALT | AS NEEDED |
| BAKING SODA | A PINCH |
| OIL | FOR DEEP FRYING + 1 TBLSP |
| ONION | 1 |
| GARLIC | 4-5 CLOVES |
| GINGER | A SMALL PIECE |
| PEPPER POWDER | 1/2 TSP |
| SOYA SAUCE | 1 TBLSP |
| CAPSICUM | 1/2 |
| SPRING ONION | FEW (FOR GARNISHING) |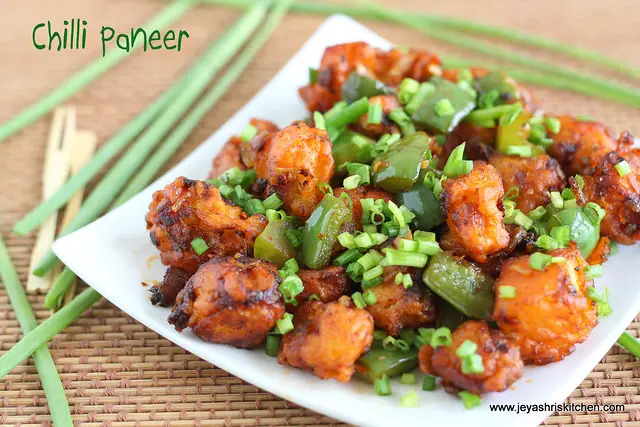 METHOD:
In a wide bowl add the corn  flour, maida, salt , baking soda and 1/2 tsp of red chilli powder.
Mix well into a thick batter.(not too thick and not too thin) like idli batter.
Add the paneer cubes to this. I get the cubed paneer here. i didn't thaw it. just added after taking out from freezer.
Keep this aside for 10 minutes.
Heat oil in a pan for deep frying. When the oil is hot add the paneer cubes. Do not over load the pan. Let it not stick together.
When it becomes golden brown  take out and drain it in the kitchen towel.
Repeat this for the rest of the paneer.
Chop the onion, garlic and ginger very finely.
Cube the capsicum
In a pan, add oil and add the chopped garlic, ginger and onions one by one.
When the onion turns brown, add the red chilli powder and pepper powder and little salt.
Add soya sauce to this.
Add the cubed capsicum to this and saute for few minutes.
Now add the deep fried paneer.
Mix well and serve hot.
Garnish with spring onion.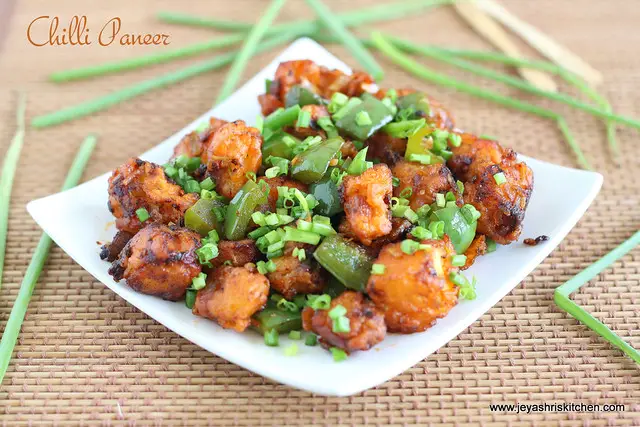 I will post the recipe of Chilli paneer gravy  version soon which is little few steps extra from the chilli paneer dry recipe. Note:
While deep frying the paneer, ensure that it is not over loaded, else it may be join together and will become soggy.
always the oil should be hot.
If you want you can add 1/4 tsp of pepper powder and ginger garlic paste to the batter before frying the paneer.