Chocolate Burfi or Chocolate barfi
is a simple and easy-to-make sweet and trust me this will really be a treat for kids . I learnt this from my husband's mami , and I am sending this to my kids who have diwali celebrations at school tomorrow. Try out this simple
diwali sweet recipe
.
Check out my
Preparation time: 5 minutes + resting time 1 hour | Cooking time: 10 minutes| Yields: 10 to 12 burfis
INGREDIENTS:
| | |
| --- | --- |
| MILK POWDER | 1 CUP |
| SUGAR | 3/4 CUP minus 2 TBLSP |
| COCOA POWDER | 2 TSP |
| CASHEW NUTS(CHOPPED) | 2 TBLSP |
| ALMONDS (CHOPPED) | 2 TBLSP |
| DESICCATED COCONUT | 1/2 TSP(OPTIONAL) |
| BUTTER | 1 TBLSP |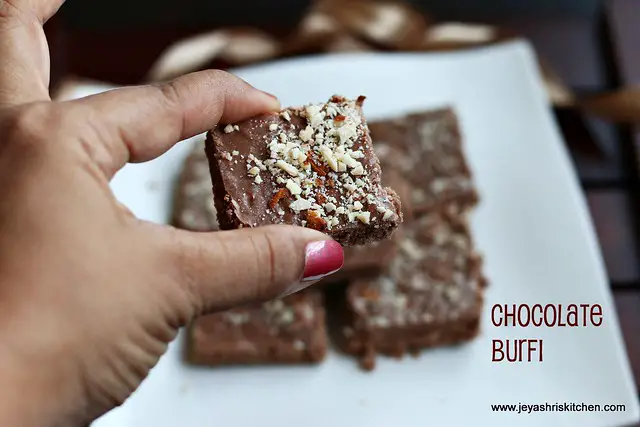 The important thing in getting the burfi perfect is the one string consistency.
Take sugar in a saucepan and just add little water to cover the sugar.
Boil this in a medium flame.
When the sugar gets completely dissolved and it reaches one string consistency (check between your thumb and index finger to check one string consistency) switch off the flame. Check this detailed post on sugar syrup consistency
Just add the milk powder and cocoa powder mixture,butter to this and stir well.
The consistency will be of a thick idli batter.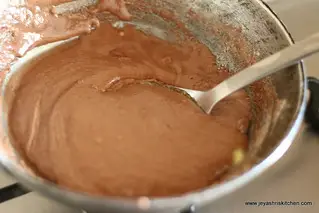 In a butter greased plate transfer this mixture and flatten this.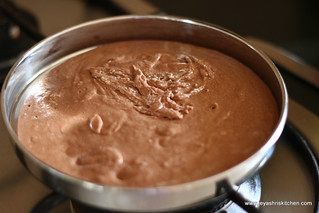 Sprinkle the nuts and desiccated coconuts to this evenly.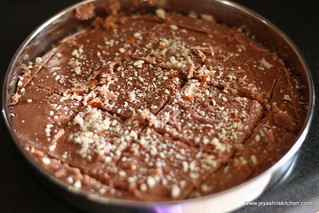 When it is cool( may be in ten minutes) cut it into desired shapes and enjoy the burfi.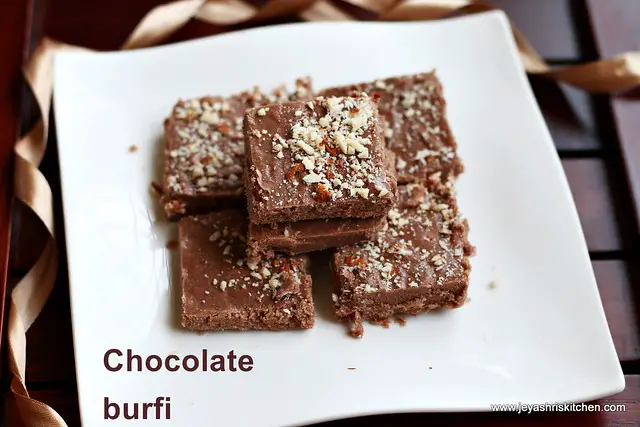 This yielded 12-14 pieces of the size shown in the picture.
I made this in two batches.
So in the first batch i chopped the nuts with knife but during the second time i lost my patience and just put the nuts in the mixer and the difference you can see in the pictures.
While making  the second batch my husband suggested me to mix a portion of nuts in the batter(sugar syrup+milk powder+cocoa powder) and I spread a portion of nuts in the greased plate and garnished few on the top.
I added 1/2 tsp of vanilla essence to the second batch of the burfi and it tasted awesome.
Do not cook in flame after adding the cocoa powder, will make the burfi bitter.
Do not add more water to the sugar while making the syrup, this will make the burfi watery and cannot be made into pieces.
Wish all my readers, friends and well     wishers a very
HAPPY AND SAFE DIWALI.