This week cooking for guests menu comes with a North Indian lunch menu| even you can make it for dinner too. This can be made for brunch too on a weekend. Though this menu looks simple , i am sure your guests will be impressed by the combo of menu.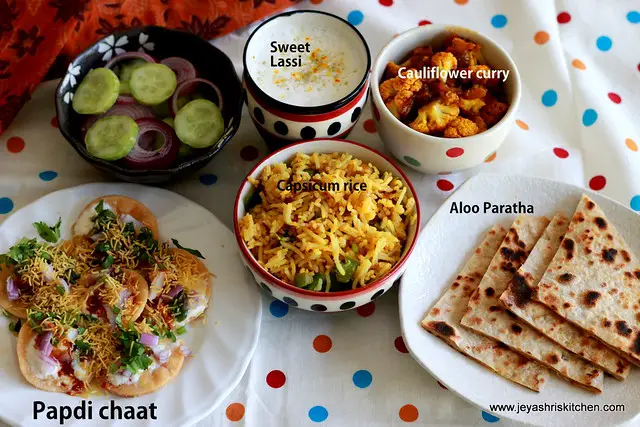 I made aloo paratha, papdi chaat, capsicum rice, cauliflower curry, cucumber and onion salad and some raitha(forgot to keep during the clicks)
I made this for brunch . I cooked rice for capsicum rice and potato by keeping both in the pressure cooker. In the mean while i kneaded the dough. I made lassi and kept in the refrigerator.
This time i used store bought papdis and chutneys were ready the previous day. I cut the cauliflower and made the curry. Just before serving made the papdi chaat. Parathas i made half an hour before we sit for eating. Here are the link for the recipes i made:
Enjoy cooking and see you next week with more interesting recipes . Stay tuned. Happy weekend.