After posting an weekend brunch menu few weeks back, i got few mails  to post some more brunch ideas. So i made this last week with a menu with Kuzhi paniyaram, kara chutney, tomato rice, raitha, potato curry , curd rice and sago payasam. This is a simple and easy to make menu , if you plan well in advance. Enjoy making this brunch menu and have a happy time with your guests.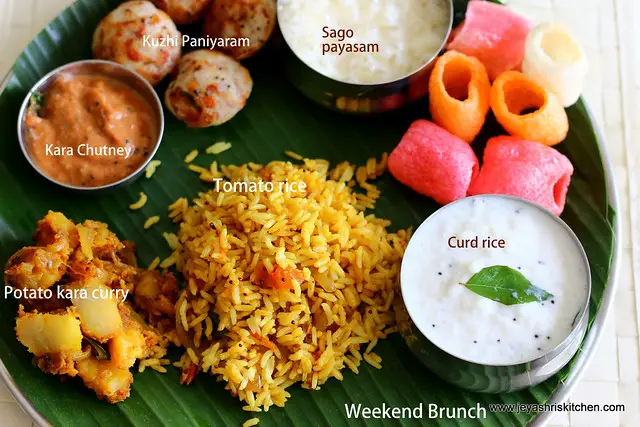 I made the batter for paniyaram the previous day and made the sago kheer |javarisi payasam also the previous day night. Morning after getting up, kept rice for curd rice and biled potatoes in the pressure cooker. Meanwhile made the kara chutney ready and fried the vadams too.
Once the pressure cooker is done, i allowed the rice to cool for curd rice and tempered it with seasoning. I cut the potatoes and kept it ready for making curry. Kept another batch of rice for Tomato rice. Actually i planned for TOMATO BIRYANI but i don't have coconut milk with me and also mint leaves. So i decided to make tomato rice. Only paniyarams you can make it hot. Tomato rice need not be hot while serving, so you can make it and keep it. Here is what i cooked: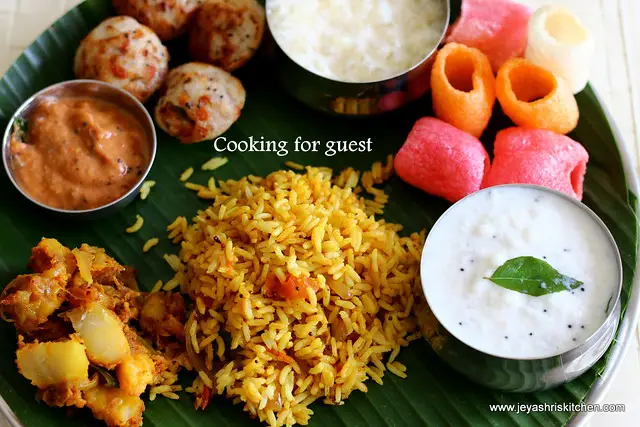 Have a great weekend and stay tuned for more interesting recipes coming this week. Happy cooking.