This week, in cooking for guests recipe series, i have come up with a snack menu. When you have guests , who are coming during tea time, you can plan out this menu. I have planned the menu bit heavy and you can also skip any one item in this too.  I can suggest this same menu for a simple dinner too. Simple i meant is , with less items. You can add a Curd rice to this list and make it a Dinner menu also. So let's move on to the Snack menu .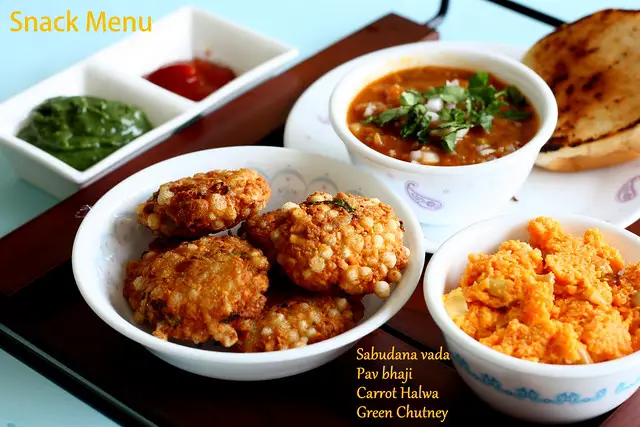 I planned to keep on deep fried item ,one filling tiffin and a sweet. I made :
As i planned this menu, i boiled potatoes for sabudana vada and pav bhaji when i was coking in the morning. Vegetables for pav bhaji was cut in the morning itself.  Carrot halwa i made in the morning and kept in the refrigerator. I soaked sago after my lunch. I made the dough for vada and kept in a box around 3 pm. When the guests came around 5 pm, it is easy for me to make the sabudana vada hot and serve for them. Bhaji for Pav bhaji  is also ready by 4 pm. Only the Pav buns were toasted just before serving. Coffee or tea or juice , depending on the choice of the guest you can make and serve.
Enjoy your weekend. See you soon with interesting recipes in this cooking for guests series.