Today's menu is again a evening menu like last week. During our India Trip last month, one day when i was in my mom's place , suddenly a family friend of us called that they are coming to meet us and they are on the way.  We guessed that it will take an hour for them to reach our place. I was wondering what amma is going to make for them as it was a very short notice. Without any tension on her face she soaked urad dal for making mysore bonda, kept hot water to make Thengai sevai with instant rice sevai . For sweet she was planning to kesari but i told her to make paal kesari and finally everything were done in 45 minutes.
When they reached we made hot bonda for them and they enjoyed the evening tiffin with hot ginger tea.(Will post the recipe soon) The sevai was served with sambar which was left over from afternoon's lunch.
So for all of us who always break our head as what to make when we have sudden guests coming home, you can follow this menu too.
I couldn't take pictures on that day, but i made the same menu this evening and clicked the pictures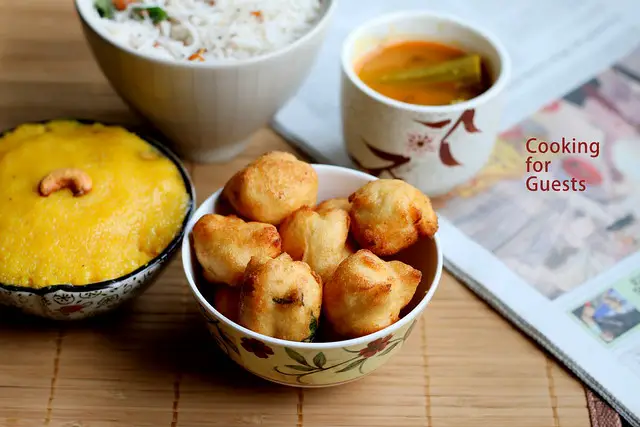 The menu has
Enjoy this menu this weekend and see you with more interesting menu recipes in the following weeks.