Vanilla custard powder Icecream is a one which i wanted to try out for a long time. Most of the times we don't get the vanilla flavored custard powder here, recently when i saw this i picked up to try out this ice cream. Few weeks back i posted this as a guest post for 
Rak's Kitchen.
Try out this easy, eggless ice cream with easy available ingredients and without ice cream maker too.
INGREDIENTS: YIELDS 4 SCOOPS
| | |
| --- | --- |
| CUSTARD POWDER (VANILA FLAVOR) | 1 AND 1/2 TBLSP |
| SUGAR | 4-5 TBLSP |
| MILK (LOW FAT) | 2 CUPS |
| CREAM | 2 TBLSP |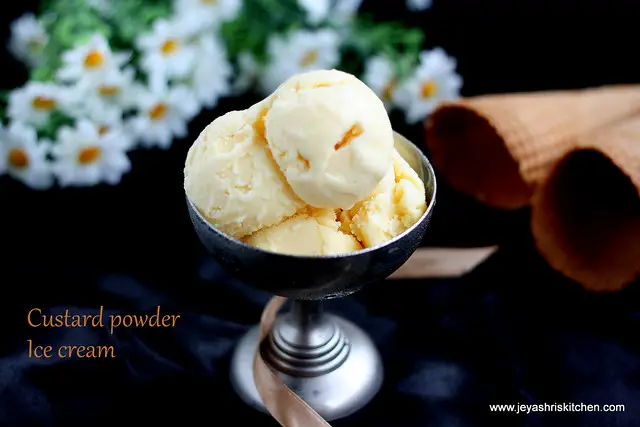 Boil the milk in a saucepan, reserving 3 tblsps of milk aside.
Mix the custard powder in the 3 tblsp of milk into a smooth paste without any lumps.
Add this custard mixture to the boiled milk and keep the flame low. Stir it continuously for 2 minutes. The mixture will give a thick custard. Let it be like a dosa batter consistency.
Add sugar to it and put off the flame.
Allow this custard to cool down completely.
When done, add cream to this ( i used the Nestle cream) and whip in the mixer for a minute.
Pour this mixture in a freezer safe box and freeze it for an hour.
After that take out and whip it again for a minute. Repeat this step 2 times . this is to avoid the formation of Ice and to get a creamy texture.
After doing the whipping process for 3 times, freeze the ice cream mixture for 5-6 hours.
Your vanilla custard powder ice cream is done.
Serve with fruits if you want.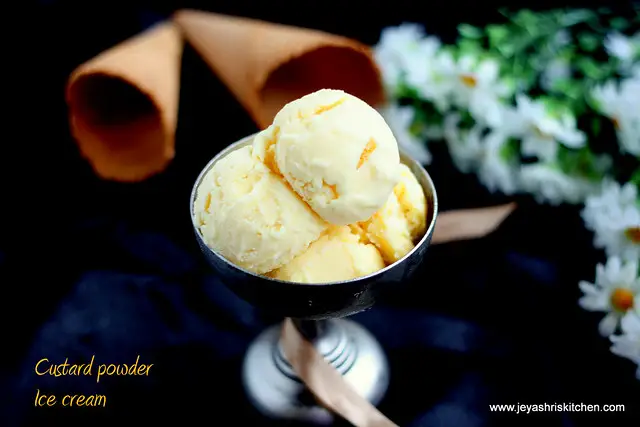 Note:
You can use any flavour of custard powder.
To the custard powder mixture, instead of sugar you can add condensed milk to get a rich taste.
You can add nuts to this after you finish off the whipping process. You will get the nutty bits while having ice cream.
Do not add custard powder more than the quantity mentioned.