Dabeli is a popular Gujarati street food snack, similar to a sandwich | burger. I have heard about this kutchi dabeli but tasted this for the first time on my birthday, last month. My friends and family organised a surprise birthday party for me and they ordered food from outside. All the items in the menu tasted very yum and i loved the dabeli which was there in that. From that day onwards i wanted to try this dabeli at home, finally made this and everyone at home loved it. I checked few you tube videos and finally settled with my own version, it tasted almost similar to the one which i tasted on the party.  Though the recipe may sound elaborate, if you have every thing ready in hands, this is a perfect party snack. Keep all chutneys, potato masala and buns ready and arrange the dabeli just before serving and toast bread and serve.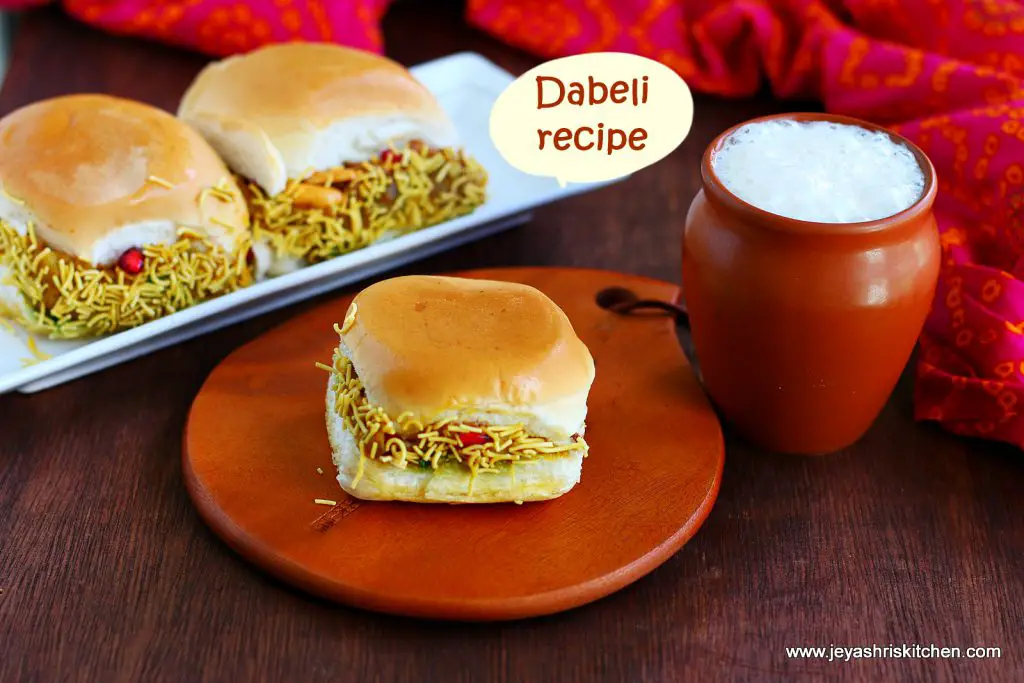 Dabeli recipe
  Preparation Time : 15 mins | Cooking Time : 30 Mins |Serves: 4-5
    For dabeli masala 
    Red chili   2
    Dhaniya | coriander seeds   1 tblsp
   Cinnamon stick  a small piece
   Cardamom (elachi)  2 (optional)
   Sesame seeds   1 tsp
   Fennel seeds (sombu| saunf)  1 tsp  
  Other ingredients
     Pav bun or burger bun   5
     Potato      2 (medium size)
     Oil    3-4 tsp
     Roasted peanuts  2 tblsp
     Red chili powder   1/2 tsp
     Salt  as needed
     Onion   1
     Pomegranate  seeds   1 tblsp
     Sev     1-2 tblsp
     Green chuney    as needed
     Sweet chutney   as needed
     Coriander leaves   few
     Butter    to toast the buns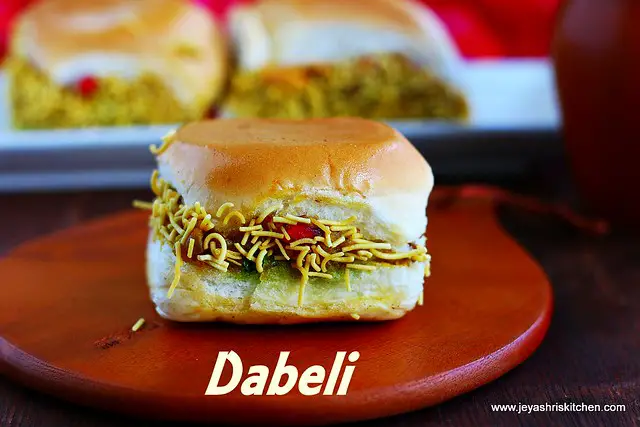 Method:
Dry roast the ingredients given under the table Dabeli masala.

Cool this and grind into a powder. Since i roasted small quantity my dabeli masala was slightly coarse.
If you want are in a hurry to make this dabeli, you can use pav bhaji masala too.
This mixture gave 2 tblsp (approx) of dabeli masala.

You can store this in a dry box for a week.
Let's proceed to make the potato masala.
Chop the onions finely and boil the potatoes and peel the skin. Mash them nicely or grate it too.
In a pan add oil and add in the chopped onions.
Saute till they turn translucent and the mashed potatoes.

Add salt and 3 tsp of dabeli masala.
Mix well and nicely mash the potatoes.

Add 1/2 cup of water to this and mix well. Cook for 2 minutes in a low flame. The water will get absorbed and the mixture will become thick.
Switch off the flame and garnish with coriander leaves.

The potato masala is ready for making dabeli.
Keep the green chutney and sweet chutney ready.
In a small pan add few drops of oil and add the red chili powder. Add the peanuts and roast it till it becomes crunchy. Or if you have roasted peanuts just add it and saute it for few seconds just to get the spiciness of the red chili powder to get coated to the peanuts.
You can use spicy peanuts, if you get in stores. In that case skip the above step of roasting the peanuts.

Slit the pav bun | burger bun.
Spread green chutney on one side and sweet chutney on another side.

Place a spoon full of potato mixture on one side of the bun.
Top it with spicy roasted peanuts.

Add little pomegranate seeds on the top and gently close the bun with the top side.

Heat a tawa and add butter.
Gently place the bun on the tawa and toast on both sides.

Roll over the edges on the sev and serve immediately.

Dabeli even if served after few hours tastes awesome and it won't be soggy too.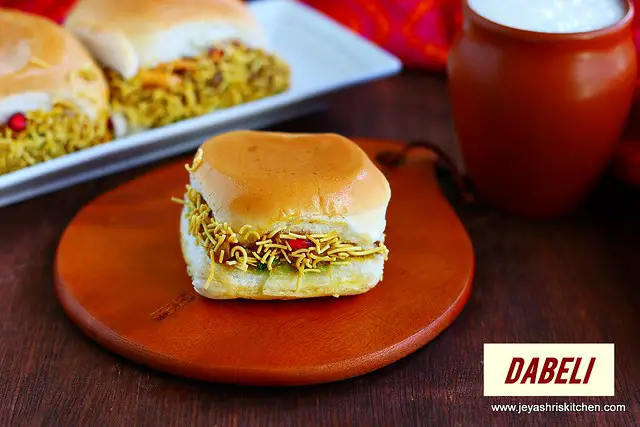 Notes:
Ensure the potato mixture is thick and not watery.
You can add chopped grapes instead of pomegranate.
Instead of this dabeli masala you can add pav bhaji masala too.