Pattanam pakoda | pattinam pakoda is an instant version of pakoda, generally available in road side tea shops in Tamilnadu. I haven't seen this in Chennai, but seen in many shops in my hometown Madurai. I have no clue of how the pakoda is made but got the idea about the recipe through an youtube video of a TV channel. Generally we make pakodas with kadalaimaavu |besan, but this pattanam pakoda is made using chutney dal flour | pottukadalai flour. This is an instant one we can make for guests and it doesn't require any side dish or pre preparation. Try out this yummy pakoda and let me know how it turned out. Follow jeyashri's kitchen and facebook and instagram for live updates.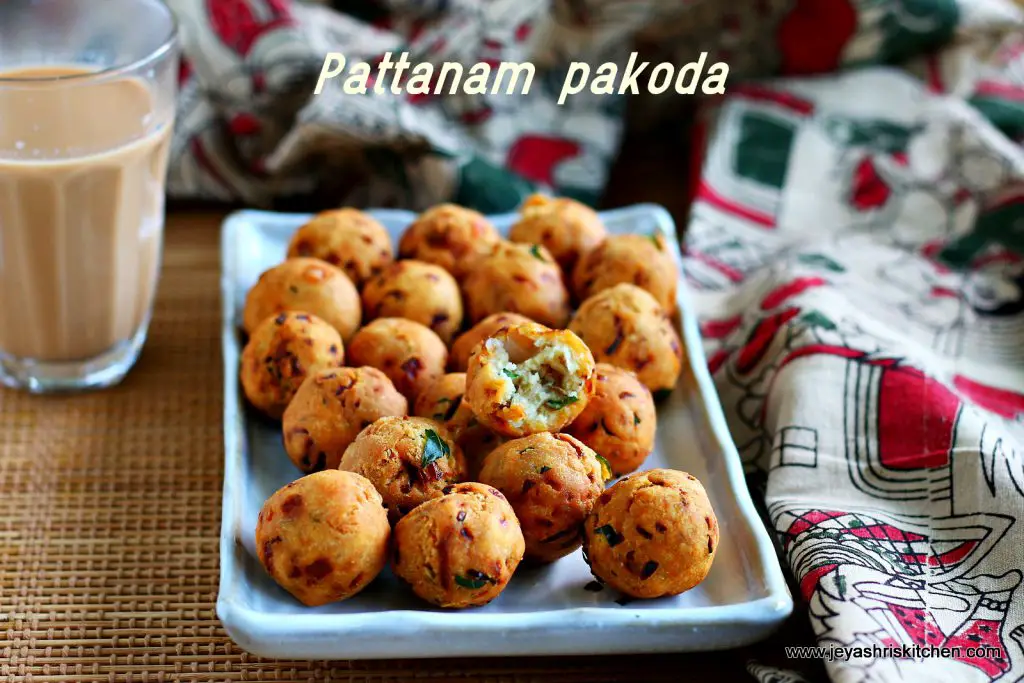 Pattanam pakoda recipe
  Preparation Time : 10 mins | Cooking Time : 25 Mins |Makes: 25 pieces approx.
     Chutney dal | pottukadalai | fried gram   1 cup
     Rice flour   1/2 cup
     Ginger  a small piece
     Green chili   1-2
     Onion   2
     Salt  as  needed
     Garlic   2 cloves
     Fennel seeds | sombu |saunf  1 tsp
     Oil   for deep frying
     Curry leaves   few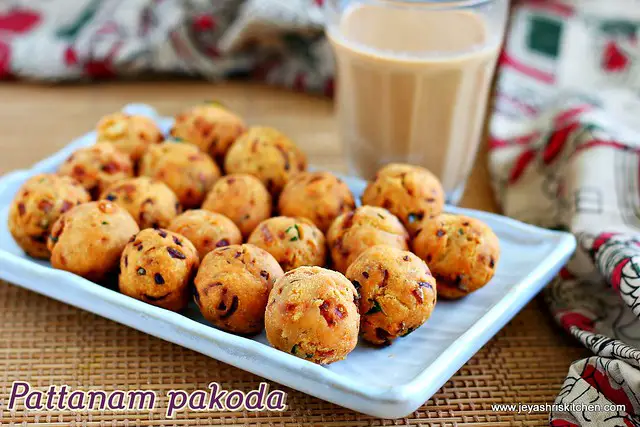 Method:
Grind the chutney dal into a fine powder in a mixie.

Finely chop the onions, curry leaves and green chili. Grate the ginger.
Using a mortar and pestle, crush the fennel seeds, chopped green chili and garlic pods.
Even you can pulse coarsely in a mixie.

In a wide bowl add the ground flour, rice flour, salt, grated ginger and the fennel garlic mixture.
Add the finely chopped onions.

Add 1 tblsp of hot oil to this.

Sprinkle little water and make a stiff yet soft dough. Ensure not to have any cracks in the dough.
Make it into lemon sized balls.

Heat oil for deep frying.
Once the oil becomes hot, keep this in medium flame.
Fry in batches till golden brown.

The pakodas were crisp outside and soft inside.
Serve with tea or coffee.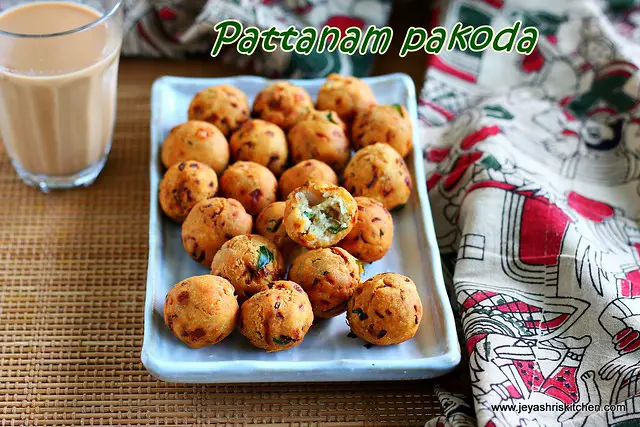 Notes:
Even after 2-4 hours of making, the pakodas remain crisp outside and soft inside.
Do not make the dough too hard, else it will give cracks while frying.
These pakodas didn't consume oil much, it was similar to the usual onion pakoda we make with the besan flour.
I added 1 green chili, it was medium spicy.
You can add finely chopped mint leaves too.