Navadhanya Sundal generally my mom make towards the end of navaratri with all the left over legumes at home. But she never use any spice mix for the sundal. I kept in mind my
udipi sambar
recipe and used most of the things from that masala. Actually i clicked it last friday and planned to post it today. As i know my weekend will be too busy with navaratri Golu visits, i drafted the post too. Those who follow me on
Flickr ,
then you will know, i posted the pictures i took for the
navadhanya sundal.
When i went to a friend's house for navaratri on thursday, her neighbour , Lakshmi, whom i know well, invited me to come to her house for Golu. Since it was very late,i just quickly went to her house and happened to see these cute teracotta toys in her golu.(the one you see in the background). As usual i asked her where she got it and she told to take it for my pictures. I said i am done with my navaratri posts and will use it for next year if needed, also told her not to take it out from the golu too. Then again i went to the same apartment for lunch in another friend's house. Knowing this, she came just before i was about to leave and gave me the cute teracotta toys. I felt so happy and for the sake of Lakshmi's effort, i made the sundal again in Sunday and clicked the main picture once again. Thanks again Lakshmi.
Navadhanya Sundal
Preparation Time : 10 mins + Soaking time 12 hrs| Cooking Time : 35 Mins |Serves: 3-4
Mixed Legumes* 1/4 cup each
Oil 2 tsp
Coconut oil few drops (optional)
Mustard seeds 1/4 tsp
Asafoetida 2 pinches
To Roast and grind
Toor Dal 1/2 tblsp
Urad dal 1/2 tblsp
Channa dal 1/2 tblsp
Sesame seeds| ellu 1/2 tblsp
Dhaniya 1 tblsp
Red chili 2
Omam| ajwain 1/4 tsp
Curry leaves few
Coconut 2 tblsp
* I used White Chole. Black kondakadalai, Black urad dal, Karamani(both black and white) green peas, white peas, Rajma and peanut.
Actually i soaked 1/4 cup each but the next day it was too much as they have doubled in size. So i took half from that and cooked, which came to 2 cups of cooked sundal. the rest of it i drained the water thoroughly, washed it nicely and put it in a zip lock cover and kept inside the freezer.
This will stay good for 10 days. You can take out whenever you want and cook.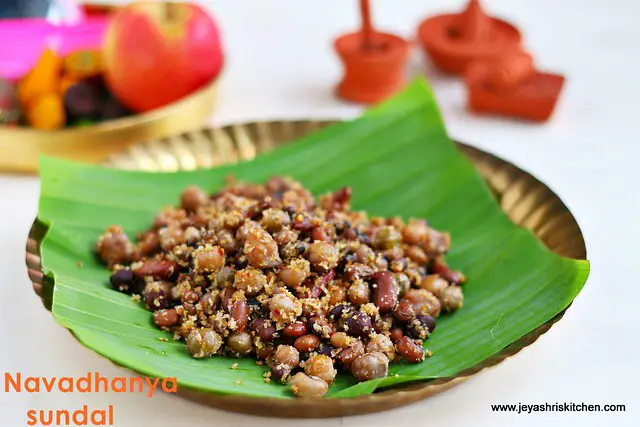 Method:
Soak all the legumes in a wide bowl,except white karamani and urad dal. The white karamani and urad dal soak separately.

Cook this in a pressure cooker by keeping both in a separate vessel. Add half of the salt to this while cooking. I kept both inside the cooker at the same time but added very little water to the urad dal and karamani mixture, as they tend to overcook so quickly.

Drain the water completely and mix all the legumes together.

Now dry roast all the ingredients under under the heading"to roast" in the ingredient table, except coconut. roast till the become nice golden brown. Be careful not to burn it.

Switch off the flame and add the coconut and curry leaves. Let this cook in that warmth.

Grind this into fine powder. The podi came to 4 tblsp and i used 3 tblsp of this for the sundal. You can even add this to the rasam or sambar too.

In a pan add oil and add the mustard seeds and asafoetida.
Add in the cooked sundal to this.

Add the podi to this. I added 3 tblsp of the ground powder. Mix well.

Sprinkle few drops of coconut oil, if adding, and mix well. Sundal is ready for neivedyam.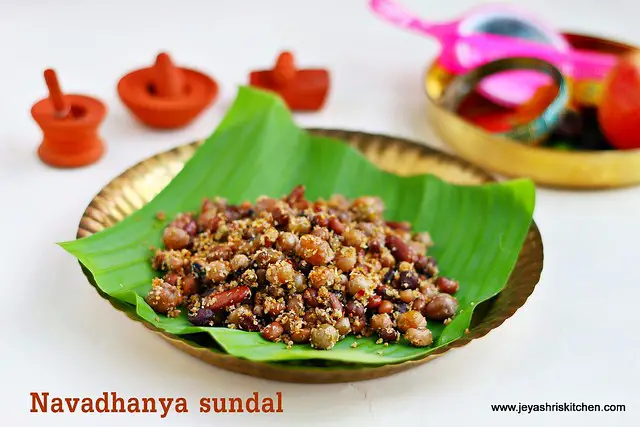 Notes:
You can soak just 1 tblsp of all the legumes if making for 4-5 people.
You can even replace few legumes with kollu, mochai, green gram or sweet corn too.
the spice mix you can make in advance,without coconut and add it to the sundal. Add coconut in the last.
Adding ajwain aids in digestion.