Dal paratha is yet another easy stuffed paratha which i tried recently. Last week when Suresh was out of town . I packed  pasta for kid's  lunch box and was thinking what to cook for me for lunch. I don't have any proper veggie at home too and lazy to go out and buy too. Suddenly this dal paratha idea flashed me . Since it was raining wanted to have something spicy too. So made it according to my preference. I thoroughly enjoyed the spicy dal  paratha with a glass of
sweet lassi.
Check out video of how to roll parathas in my
aloo paratha recipe .  
Dal Paratha
  Preparation Time : 10 mins | Cooking Time : 25 Mins |Yields: 3 parathas
     Atta |wheat flour    1/2 cup
     Red chili powder    3/4 tsp – 1 tsp
     Cumin powder      1/4 tsp
    Garam masala        2 pinches
    Turmeric powder    A pinch
    Salt    to taste
   Moong dal      3 tblsp
   Onion    1
   Coriander leaves     few
   Red chili powder   1/4 tsp
   Green chili   1 (optional) 
   Jeera | Cumin   1/8 tsp 
   Oil | ghee | Butter     as needed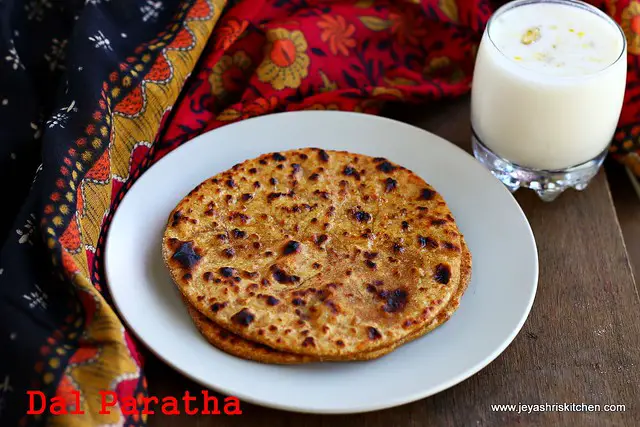 Method:
In a wide bowl add the atta. red chili powder, cumin powder, garam masala, and salt.
Add enough water and make it into a pliable dough.

Soak the moong dal for 10 minutes Pressure cook with little water for 2 whistles. Ensure it should not be over cooked.
Chop the onions finely. In a pan add little  oil cumin seeds and add the onions. If adding green chilies finely chop it and add at this stage.
Add the red chili powder and salt to this.

When the onions turn pink add the cooked moong dal to the pan. If the dal has any water drain it completely and then add. Else parathas will become soggy.
Mix well and add the chopped coriander leaves.

Mix it well and allow it to cool completely. Make the roti dough into 3 equal sized balls.
Dust one with dry atta and keep it ready to make.

Roll this into a small disc. Place a tblsp of filling in the center. Seal it completely.

Dust with little flour and roll this gently into thick parathas.

Heat a tawa and cook the parathas on both sides. Smear oil /ghee/ butter on the top.

Repeat this for the rest of the dough. This stuffing was perfect for 3 parathas.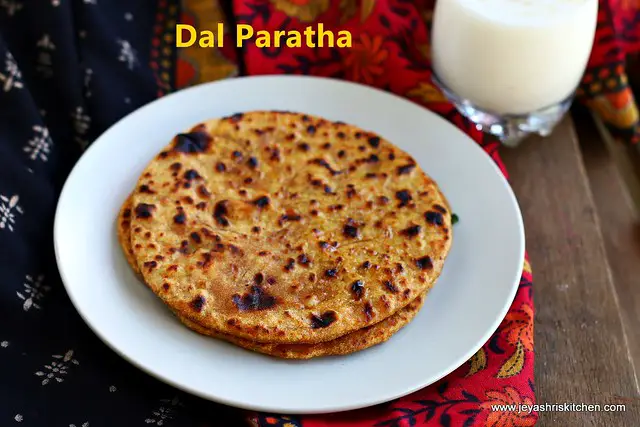 Notes:
Always ensure not to mash the dal. Else it it will be difficult for the parathas to roll.
Instead of pressure cooking the moong dal, you can even cook it on open flame too.
You can add few drops of lemon juice to the filling  if you want. Add after switch off the flame.
Moong dal can be replaced with chana dal too.
If making for kids reduce the spice.