Aloo paratha with step by step pictures and video on how to roll parathas
Aloo Paratha a popular Indian flat bread stuffed with Potato masala, serves a perfect breakfast or lunch or dinner too. Aloo paratha takes place in my kitchen weekly once.
Some dishes we love to eat and some dishes though we do not like to eat, we make for our family members, some dishes we love to make and eat also. Aloo paratha, is the one which i  always love to make and eat too, and thankfully my hubby and kids love Aloo paratha. I learnt the recipe of making aloo paratha from my friend. You can add some grated paneer to this aloo mixture and make aloo paneer paratha. The main key to get perfect parathas is to keep the potato mixture moisture free. If it is loose with lots of moisture, then it will tear while rolling the parathas.
Check out my
Aloo paratha recipe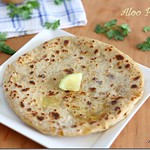 Recipe Cusine: Indian
Prep Time: 10 Minutes
Cook time: 40 Minutes
Serves: 4
Author: Jeyashri
Recipe Category: Lunch | Dinner
Description: Aloo Paratha a popular Indian flat bread stuffed with Potato masala, serves a perfect breakfast or lunch or dinner too, recipe with step by step pictures
     Boiled potato  2
    Whole wheat flour  2 cups
    Sambar powder 1 and 1/2 tsp
    Garam masala  1/4 tsp
    Ginger garlic paste  1/4 tsp (optional)
    Cumin seeds   1/2 tsp
    Coriander leaves  few
    Oil  4 tsp + to make the parathas
    Lemon juice  1/2 tsp
Video of How to make aloo paratha perfectly


                                                   
    
Method with step by step pictures :
METHOD:
Cut the onions into very fine pieces.
Mash the boiled potatoes using a fork,and add the cumin seeds to it and mix well.
Heat oil in a pan and saute the onions for 2 minutes
Add the mashed potato mixture to this and mix well.
Add the sambhar powder, salt and garam masala to this and mix well.
Instead of sambar powder you can add red chili and coriander powder 3/4 tsp each.
Add the chopped coriander leaves.
Mix well and keep it in low flame for 2-5 mins.
Allow it to cool completely and add the lemon juice.
If the mixture is hot, it will tear while rolling the parathas.
Knead the whole wheat flour with water to a make a pliable dough for outer layer.
Take a small ball sized dough and roll it into a thick roti.
Place a tblsp of masala on the top of this.
Close the mixture with the edges like this.
Roll it gently again,by dusting it with flour.
Heat a tawa,and put the rolled parathas on the tawa.
When it is done on one side, flip it over.
When it is done, you will get nice golden colur on the outer layer drizzle few drops of  oil to it.
If you  want you can add  ghee/ butter also.
Serve hot with pickle or curd.

NOTE:
You can replace sambar powder with finely chopped green chillies too.
You can also add scrambled paneer to the aloo mixture for stuffing.
Always make the parathas only when the potato mixture is completely cool.