DEEPAVALI LEGIYAM WITH EASY AVAILABLE INGREDIENTS:With video (updated)
Deepavali marundhu is a must one in our house and though my mom used to make this at home with so many nattu marundhu, which she used to buy from a particular shop near the Madurai Meenakshi amman temple, in my home town. Even we used to give to moms after delivery as it heals the wounds and good for them to recover soon. This is normally consumed in empty stomach and especially on deepavali day, after we take oil bath she will give a spoon full of deepavali marundhu | legiyam and then only we are allowed to indulge on the yummy sweets and snacks made for deepavali.
Normally at 3 o clock in the morning we used to keep the crackers, sparklers, new dresses, shikkakai(soap nut powder),sesame oil , sweets and savories made at home along with this deepavali marundhu and do neivedhyam to god ( before bath)  and burst a cracker and then will go and take bath and wear the new dress.
But now a days we get instant marundhu and powders at stores , but here in Singapore we get deepavali marundhu imported from India just 2-3 days before deepavali and that too in a particular Indian store in Little India. As we are staying little far off we never go and buy in the last minute but feel so bad for not having marundhu during diwali. This deepavali marundhu mainly helps in digestion as we eat lot of oily food on that day. Last year a very good friend of mine prepared at home and passed a small dabba of marundhu for me too. Suddenly i remembered of this and thought of posting this recipe as it will be easy for many people living in abroad who don't get this deepavali marundhu in stores.
Oops a big story i have written.
This is not the very authentic recipe, but a simple one uses easy ingredients available at home.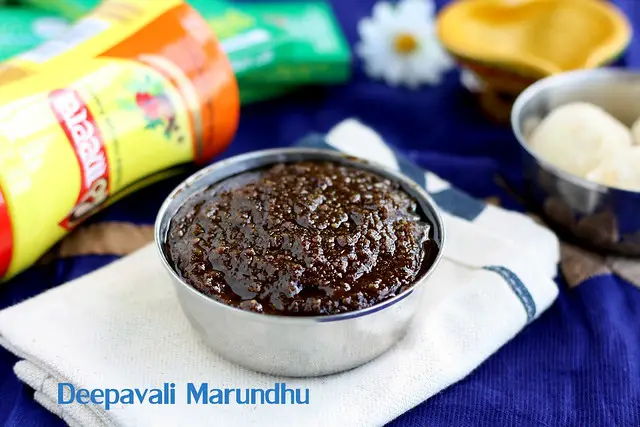 Deepavali Marundhu recipe
  Preparation Time : 10 mins + soaking time 1 hour | Cooking Time : 25 Mins |Yields: 1 & 1/2 cup
     Coriander seeds | dhaniya  2 and 1/2 tblsp
     Omam | ajwain   2 and 1/2 tblsp
     Jeeragam | Cumin seeds  2 tblsp
     Black pepper  2 tblsp
     Sukku | dry ginger  a small piece
     Jaggery   3/4 cup
     Ghee 2 tblsp
     Sesame oil  1-2 tsp (optional)
                                            Video of How to make Deepavali Marundu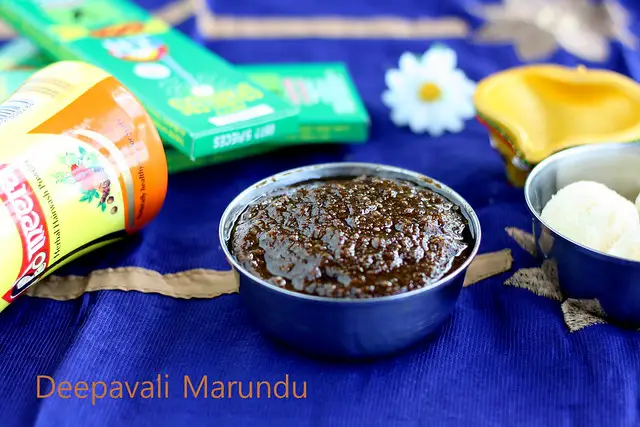 Method with step wise instructions:
Soak coriander seeds, cumin seeds, omam, black pepper in warm water for 3 hours.
After 3 hours , grind this into a fine smooth paste. Use the water we soaked for grinding.
Add dry ginger powder to this. If using sukku, then soak a small piece and grind it together.
I used sukku while shooting the video.
Measure the paste in a measuring cup. It yielded  1 cup of paste for me.
For  1 cup the measurement of jaggery is 3/4 th cup.
Melt the jaggery  in a pan by adding 1/4 cup of water. When it dissolves filter it to get rid of the impurities.
Boil it for 2 minutes.
Add the ground paste to this and mix well.
Saute it in a low flame for 15 minutes till it reaches halwa consistency. Add ghee in small intervals.
When it is completely cool, store it in a clean dry box and keep it in the refrigerator.
Always use clean dry spoon to take it .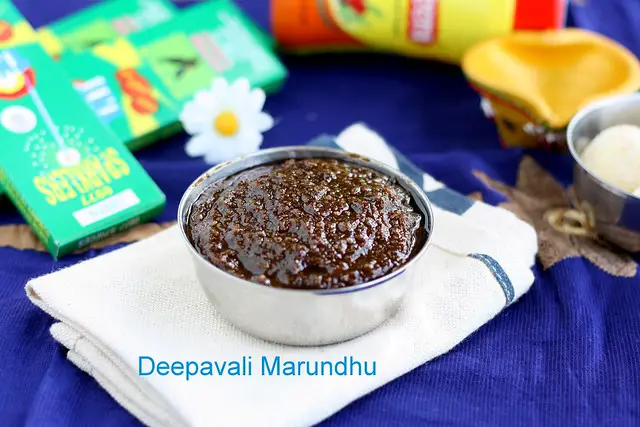 Note:
If you feel it is little less sweet, mix it up  with a spoon of honey.
Alternatively these ingredients can be dry roasted in a low flame nicely and powdered finely.
sieve it twice and follow the rest of the steps as the same.
always grind everything smoothly to get a smooth texture.