Kara sev recipe without garlic, video recipe
Kara sev is a easy savoury recipe which can be made in a jiffy. As Deepavali is nearing i will posting deepavali recipes in my space till deepavali. Karasev i tried for the first time and it turned so well . We all enjoyed the peppery flavored karasev with filter coffee on a rainy day evening. So go ahead to try out this easy karasev for this diwali . This recipe i adapted from my hand written cook book which I copied from my grand mother before my marriage.
Also check out my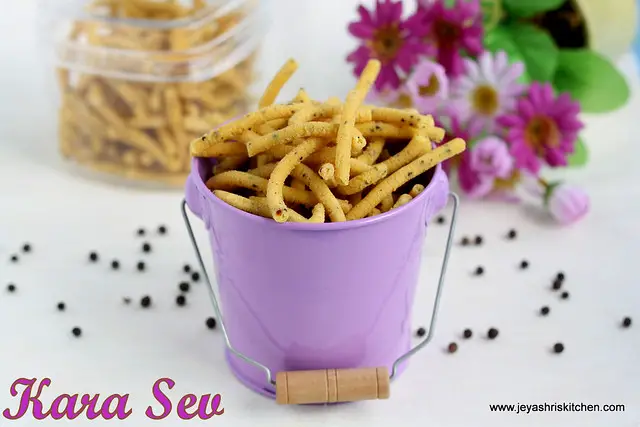 INGREDIENTS:
| | |
| --- | --- |
| BESAN | KADALAI MAAVU | 1 CUP |
| RICE FLOUR |ARISI MAAVU | 1 CUP |
| BLACK PEPPER | 2 TSP |
| SALT | AS NEEDED |
| BUTTER(SOFTENED) | 2 TBLSP |
| OIL | TO DEEP FRY |
| ASAFOETIDA | A PINCH |
Video of karasev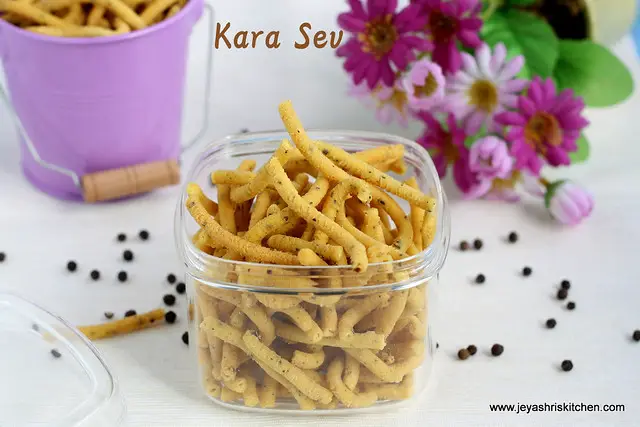 METHOD:
Sieve both the flour ( besan and rice flour ) together for even mixing.
Add salt and add the softened butter.
Pound the black pepper in a mortar and pestle or a mixer coarsely.
Mix it well and knead it into a pliable soft dough by adding water to this slowly.
Do not add too much water and do not make it too stiff also.
Heat oil in a deep pan. Check the oil by dropping a small piece of dough into the oil. When it comes up immediately then the oil is in the right consistency.
Take a small  of dough and press it into a murukku presser using the thenkuzhal achu.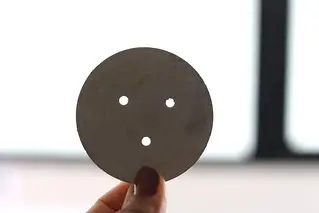 Do not over do. Just make 2 rounds.
Flip this after few minutes.
When the oil sound sizzles take it out from the oil and drain the excess oil in a kitchen towel.
Repeat this for the rest of the dough.
When it is cool , break them into small pieces and enjoy karasev with hot coffee as we did.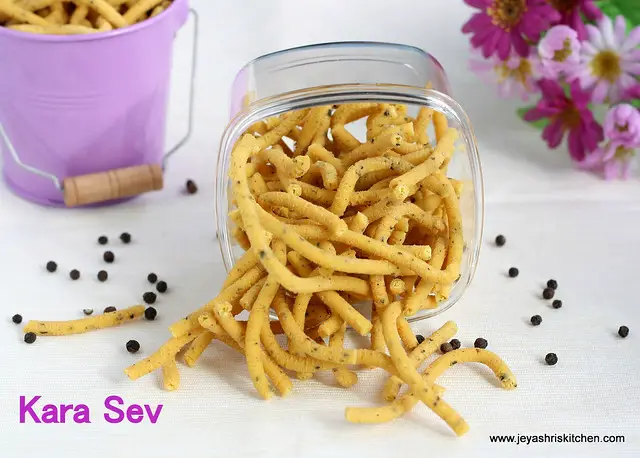 Note:
You can add 1 tsp of black pepper and 1/2 tsp of red chilli powder.
Do not add too much butter as it will make the karasev break while making itself.
Instead of butter hot oil can also be added.
If you want to add garlic, just pound this nicely with black pepper.
Do not make the black pepper slightly big. It will get stuck while pressing them in the achhu.