Dal tadka, though it is simple but many of our homes dal is a staple item. Especially for vegetarians, dal is the great source of protein. The way they make dal tadka in road side dhabas are always awesome. I still remember our travel to Haridwar from Delhi by road. It was some 12 years back and we told the driver that we want to eat food only in dhaba and not in any restaurants. Still when i think about the food the taste will come to my mind. The piping hot tandoori rotis, dal and subzis will be awesome and the tall glass of malai lassi is the highlight. I wanted to recreate the smae taste at home, but somehow, this
masoor dal tadka
was bit close but i won't say it was dhaba style. Last week when i was casually browsing for someother recipe, glued on this recipe of dal tadka
here
. I didn't alter anything and just followed the same recipe. It was exactly the same style of dhaba wale dal tadka. The smoky flavour gives the exact flavour of the dhaba style. Try this at home and i am sure your family will enjoy it.
Dhaba style dal tadka
Preparation Time : 15 mins | Cooking Time : 30 Mins |Serves: 3-4
Dal 3/4 cup*
Ghee 2 tblsp
Oil 1 tblsp
Cumin seeds 1/4 tsp
Asafoetida 2 pinches
Bay leaf 2
Dry Red chili 3
Onion 2
Tomato 1
Green chili 1
Garlic 4 pods
Ginger 1 small piece
Turmeric powder 1/4 tsp
Red chili powder 1 tsp
Jeera powder 1/2 tsp
Coriander powder 1/2 tsp
Garam masala 1/2 tsp
Kasoori methi 2 pinches
Salt to taste
Coriander leaves few
*2 tblsp of toor dal + 2 tblsp of moong dal + 2 tblsp of channa dal + 1 tblsp of urad dal
+ 1 tblsp of masoor dal + 1 tblsp of split green moong dal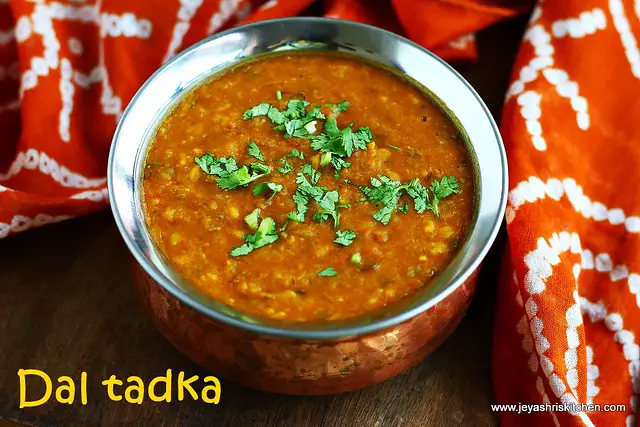 Method:
Wash the dal and add turmeric powder. Soak for 5 minutes.

Pressure cook this for 4-5 whistles. MAsh this nicely using a masher or with a back of a ladle.

Using a mortar and pestle grind the garlic, ginger and green chili.

In a pan heat oil, ghee and add the cumin seeds and asafoetida.
Add the ground ginger garlic and chili paste to this.

Add the bay leaf and red chilis to the pan. Finely chop the onions and add it to the pan.

Puree the tomato and add it to the pan, once the onions becomes slight brown in colour. Add little salt to this now.

Let this cook for few minutes in medium flame till the tomato oozes out oil.
Add the red chili powder, coriander powder, jeera powder, garam masala .

Mix this well and cook for 2 minutes. Add the kasoori methi to this. Mix well and add the cooked dal to this. Add remaining salt too.

Mix this well and add 1 cup of water to this. Cook in a low flame for 2 minutes. Stir in between.
To bring the dhaba effect, take a small piece of charcoal and keep it on the flame.

When it catches nice flame, keep in a small bowl and place the bowl inside the dal and cover the pan. You can add a drop of ghee in the charcoal. Just a drop will do.

Cover thsi for 5 minutes and keep the flame very low.
Switch off the gas after 5 minutes and discard the charcoal.
Mix well and add finely chopped coriander leaves. Transfer into a serving bowl.

Dal tadka is ready to serve.
Serve thsi with hot rotis or jeera rice or with any pulao of your choice.