Thatta payir kulambu is a typical south indian gravy . I wanted to try this for a long time but i am very particular to try this with red colour thatta payir | cow pea beans. This gravy will taste god even with black channa or black eyed karamani too. My sister is here for a week and she bought this thatta payar for me from india. The recipe of thatta payir kulambu | karamani kuzhambu is shared by my friend and slightly tweaked the recipe according to my taste. We all loved it a lot and had it for lunch along with yam curry. Check out my other south indian kuzhambu recipes.
Ennai katrikkai kulambu, Poondu kuzhambu, Drumstick puli kuzhambu, Kara kuzhambu.
Thatta payir kuzhambu
  Preparation Time : 15 mins + 2 hours soaking | Cooking Time : 25 Mins |Serves: 4
     Cow pea benas | thatta payar   1/2 cup
     Tamarind      a small lemon size
     Small onion       15
     Garlic pods     10
     Tomato  1 small 
     Red chili powder    2 tsp
     Coriander powder    1 tsp
     Coconut     3 tsp
     Fennel seeds | sombu  1/2 tsp
     Salt     as needed
     Sesame oil     1 tblsp
     Mustard seeds     1/4 tsp
     Curry leaves      few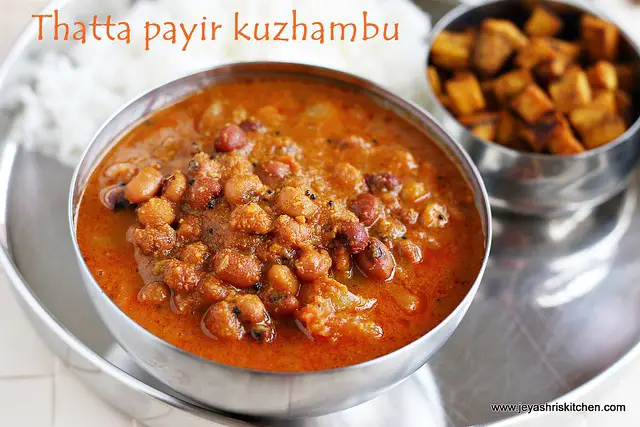 Method:
Soak the thatta payar for 2 hours and pressure cook this for 3 whistles. If u have no time to soak, dry roast in a pan for 3 minutes, without getting it burnt.
Then add water and pressure cook the cow beans for 4 whistles.

In a pan add oil and add mustard seeds and add the peeled onions and garlic. Saute this in a medium flame for 3 minutes. Add the tomatoes.

Saute till they becomes mushy. Keep aside half of the sauted mix. This we are going to grind along with coconut and fennel(sombu). I forgot to click this step as i was interestingly chatting with my sister while making this 🙂

Take 2 cups of tamarind extract and add to the remaining onion tomato mixture in the pan and add the cooked thatta payar to this.

Add red chili powder, turmeric powder, coriander powder and salt. Let this boil for  few minutes. Now add the ground mixture to this. (half of the onion tomato garlic plus coconut and fennel ). Grind into a smooth mixture.

Let this boil for few minutes in a medium flame, till the gravy comes to right consistency.
Add curry leaves to thsi. If needed add 1 tsp of sesame oil to this and switch off the flame.
Thatta payir kulambu is ready to serve.