Dum paneer kali mirch , i have tasted this in cream center restaurant in chennai. When i posted the
corn cheese balls
, this recipe is also in my to do list from their menu. I have bookmarked this recipe of paneer kali mirch from Sanjeev kapoor's recipe. This recipe doesn't include tomatoes. When i tried it for the first time today, it turned out so awesome and it was very creamy and flavourful. The recipe too is not so complicated too. Try this panner kali mirch at home and let me know how they turned out. Check out my
shahi panner recipe
 and
other paneer recipes
too.
Dum paneer kali mirch
  Preparation Time : 10- mins | Cooking Time : 35 Mins |Serves: 5-6
     Onions big     2
     Garlic pods    5
     Green chili   2
     Oil     3 tblsp
     Yogurt    1 tblsp
     Cashew nuts  4-5
     Paneer cubes    1 cup
     Red chili powder    1 tsp
     Coriander powder    1/2 tsp
     Cumin powder    1/2 tsp
     Turmeric powder    1/4 tsp 
     Garam masala     1/4 tsp
     Elachi| cardamom   2
     Cloves     2
     Pepper powder    1 tsp
     Salt      to taste
     Fresh cream    2 tblsp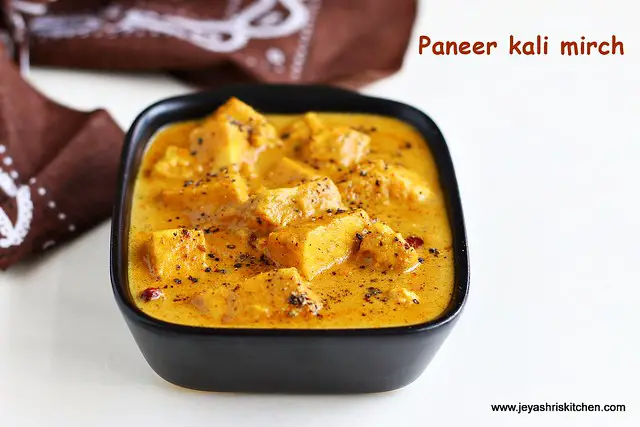 Method:
Chop the onions roughly. In a pan add oil and cook the onions. Add little salt while cooking. this ensures even browning of the onions. The onions should be browned well.

When the onions are getting browned, add garlic pods and green chili. Cook in a medium flame till it gets browned. Be careful not to get it burnt.

Using a perforated ladle take out the onions, garlic and green chili. Let the remaining oil be in the pan. We will use it to make the gravy. Allow this to cool and grind this into a fine paste. If needed add little water while grinding.

In the pan add the cardamom, cloves and cashew nuts. When the nuts turn brown add the ground paste to this.

Keep the flame low, add the yogurt, red chili powder, coriander powder,turmeric powder, cumin powder, garam masala, pepper powder(i ground fresh pepper powder) and salt to this.
Mix well and cook for a minute in a low flame. It will start oozing out oil on the sides.

Add fresh cream to this and add mix well. Add the paneer cubes and add water to this.

Cover this with a aluminium foil and and keep a plate over this. Place a heavy weight over this. I used the stone in mortar pestel. Cook this in a very low flame for 15 minutes. Ensure you have added enough water to the gravy. else it may get burnt at the bottom. Keep the flmae very very low. If you do not have any such option in your stove, keep a dosa tawa and put the kadai over it.

Once done, take out the plate and mix well. If you feel it is bit watery allow this to boil for few more minutes.
While serving sprinkle some fresh pepper powder onto this.
Serve hot with rotis, naan or kulchas.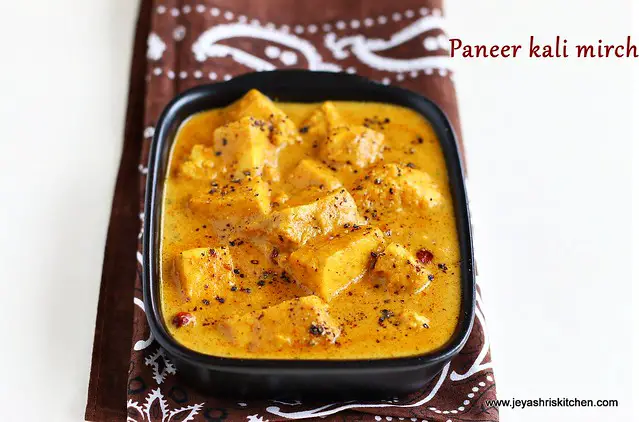 Notes:
Browning the onion is the key part in this gravy so do not miss it out.
You can even add the cashew while cooking the onions and grind it together.
Since yogurt and cream are there do not lessen the quantity of spices mentioned. Else it will be bland.