Chocolate cakes are always loved by kids and my kids, Varsha and Varun are not an exception to this. In fact they love all my baking recipes. This is a double chocolate cake, which is always a super hit at our place. Few months back when we went for a beach picnic, a friend of mine baked this delicious double chocolate eggless cake. The original recipe is adapted from here. Varsha was too fond of the cake and was asking me to make this for her. I made once for her, and the next time when she asked i told her why can't you learn to bake it on your own. So here comes the post of eggless double chocolate cake from my sweet daughter Varsha suresh, who is turning 14 tomorrow. I just clicked the pictures for the step wise  pictures and the set up for the final picture was done by her.  Over to Varsha..
Update:
This double chocolate cake is updated by a video. I can proudly say that Varsha make this cake so well and always she bakes for all the parties. After reading more about basics on baking she altered few steps in the video. She skipped the lemon juice and she put the flour mix to the wet ingredients.
She used the parchment paper in the bottom instead of dusting with flour. 
————————————————————————————————————————
Hi. I'm Varsha. Amma talks about me in some of her posts so I guess most of you
know who I am. I love to eat more than cooking. I enjoy baking cakes and muffins.
I'm the one who usually brings  the cake for any of my friend's birthday and hence
I'm titled the "BAKER". Amma gave me an opportunity to write one of her posts. I
chose this one as its my  favorite cake recipes. The name of this cake speaks for
itself. It is the perfect choice for chocolate lovers. Most of my friends go head
over heels for chocolate (just like me :p), so I usually bake chocolate cakes. I've
baked this cake a couple of times.  Since many of my friends love chocolate I've
baked this cake for my friend's birthday, my teacher's birthday as well as for an
earth day fair. This cake has always turned out soft (for me) and remains soft even
when kept in the fridge overnight. When my teacher had tried it for the first time
she was very surprised to hear that an eggless cake had turned out to be very
soft. All of my friends love this cake.  Some have even asked me for the recipe . So
here is the recipe for a mouth watering double chocolate cake.
Double chocolate cake
  Preparation Time : 15 mins | Cooking Time : 35 Mins |Serves: 4-5
     All purpose flour     1 and 1/2  cup
     Cocoa powder       2 tblsp
     Baking powder     1 tsp
     Baking Soda     1/2 tsp
     Sugar          1 cup
     Oil       1/4 cup
     Vanilla essence    1 tsp
     Water     1 cup
     Chocolate chips 1/2 cup


                                   Video on how to make Double chocolate cake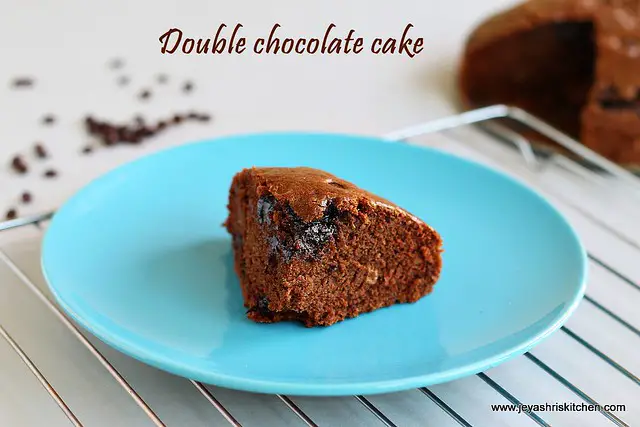 Method:
In bowl, add the flour, baking soda, baking powder and cocoa powder. Sift this well for even mixing.

 Mix sugar, oil, lemon juice, water and vanilla essence in a bowl.  Once the sugar dissolves well, add the watery mixture to the flour.

Mix well using a whisk without any lumps.

Grease a baking pan and dust the pan with little flour. This will help you to take out the cake easily from the pan.
Pour the batter to the pan.

Add the chocolate chips on the top, gently fold the mixture and preheat the oven for 5 minutes at 160 degrees.
Bake for 30- 35 minutes . Insert a tooth pick in the center and if it comes out clean, the cake is done.
Baking time varies from oven to oven. Mine got done in 30 minutes.

Allow this to completely cool. Once done, cut them and enjoy. As i said in the beginning, it stays soft even the next day too.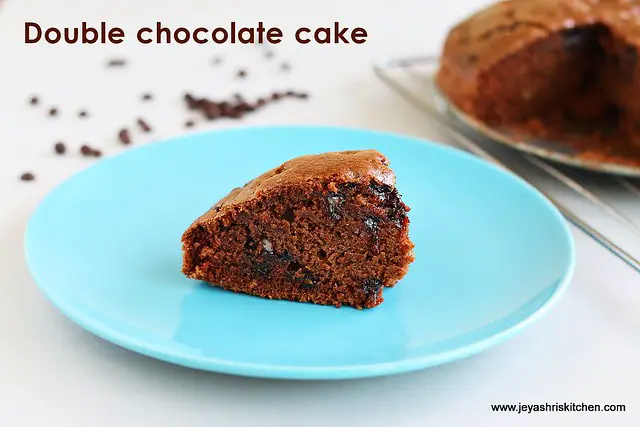 Notes:
The original recipe called for 1 cup of chocolate chip, but amma told me to put 1/2 cup only, as we are eating too much chocolates .
Baking time varies from oven to oven, so check accordingly.
You can serve this with Vanilla ice cream too.