Eggless chocolate brownie, i have tried this recipe quite a lot of times and every time it is a super hit. Few months back when i did a cookery show in a nearby community center, i made this eggless chocolate brownie along with the hara bhara pulao and potato halwa. All the recipes were super hit in the show. I have adapted the recipe for chocolate brownie from edible garden. This brownie was super hit among my kids and their friends too.  The color of the brownie depends on the brand of cocoa powder. This time i used the bake king brand and it turned out bit dark. Check out my other eggless baking recipes. As today is Varsha's birthday, i thought today i will post this brownie recipe.
Update : You can bake this in the pressure cooker too. Check this link and follow  the instructions.

Eggless Chocolate Brownie
  Preparation Time : 15 mins | Cooking Time : 30 Mins |Serves: 15 -17 squares
     All purpose flour   1 cup
    Cocoa powder   1/2 cup
    Sugar   1/2 cup
    Milk   1 cup
    Lemon juice  1 tsp
    Oil    1/3 cup
    Baking soda   1 tsp
   Vanilla extract   1/2 tsp
    Salt  a pinch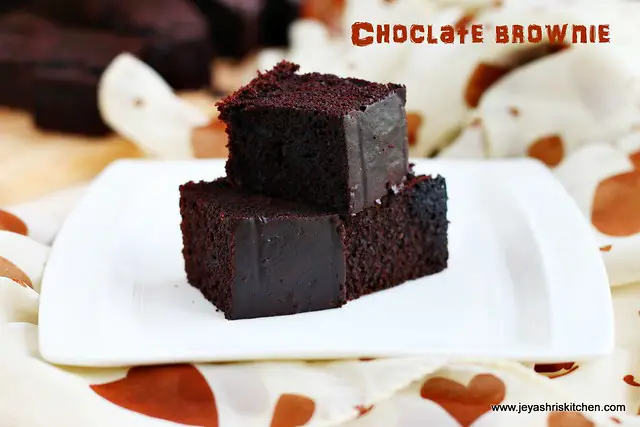 Method:
In a bowl add the milk and lemon juice and keep it aside.
Add the flour, cocoa powder and baking soda in a bowl .

Powder the sugar in a mixie.

Add this to the flour mixture and mix well.

Add oil and vanilla essence to the milk mixture. Make a dent in the flour mixture and add the wet ingredients.

Gently mix this in a circular motion and pour it over a greased baking tray.
Preheat the oven at 160 degrees for 5 minutes.

Place it in the oven and bake it for 25 minutes or insert a skewer|toothpick in the center of the cake and if it comes out clean, the brownie is perfectly baked.

When it is completely cool, cut this into squares and enjoy the brownies.
It tastes best when served with vanilla ice cream.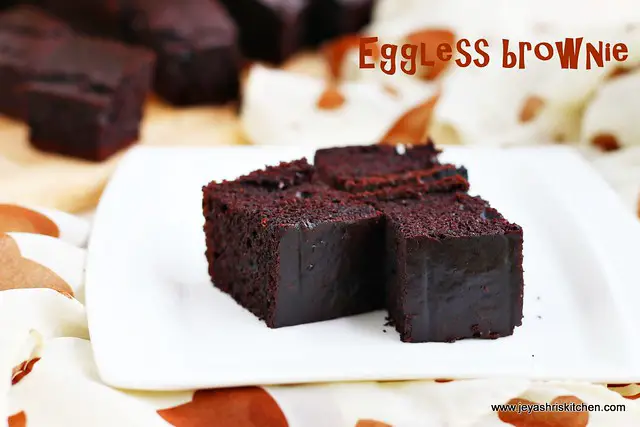 Notes:
You can add a handful of walnuts on the top of the batter before baking.
Lemon juice and milk can be replaced with buttermilk.