Bread pudding with vanilla custard sauce is a wonderful dessert. It can be done with easily available ingredients like bread, milk, sugar and custard powder. If you are looking for an easy eggless dessert recipe then this this eggless bread pudding recipe is the one you should try. It has been in my to do list for a long time. Today actually i planned to post a paneer recipe, but changed my mind and posted this easy and yummy dessert. Next to shahi tukda this is another exotic dessert made with bread. Try this easy dessert at home this weekend and let me know how it turned out.

Eggless Bread pudding
Preparation Time : 10 mins | Cooking Time : 40 Mins |Serves: 4-5
Milk bread 5 slices (can use any bread)
Vanilla custard powder 1 and 1/2 tblsp
Sugar 1/4 cup
Almonds and raisins few
Milk 1 and 1/2 cup
Cinnamon powder or brown sugar 2 pinches (to sprinkle on the top)
Butter 2 tsp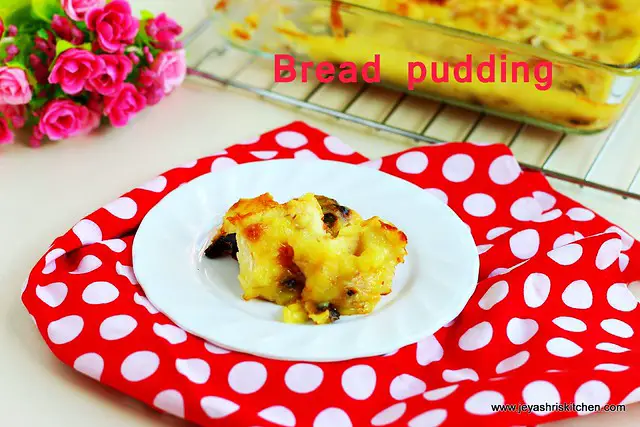 Method:
In a bowl take the custard powder and add 1/4 cup of milk. Mix this without any lumps.

Boil remaining milk in a pan and when it is coming to a boil, simmer the flame and add the custard powder milk paste.
Stir well, ensure no lumps should be formed.
Mix well and add the sugar to this. The custard sauce will become slightly watery after sugar. No need to worry, it will be thick in few minutes. Always keep the flame low. It will get burnt easily.

Mix well and add the chopped nuts and raisins to this. Add the butter to this and switch off the flame.

Trim the edges of the bread and cut them into squares. Grease a baking tin with little butter and arrange the bread slices in the pan without leaving any gap.
Pour the custard sauce over this . Ensure it should cover all the bread.
Do not discard the edges. You can make Italian bread soup

Sprinkle with cinnamon or brown sugar. This is optional. I smeared some brown sugar.
Preheat the oven for 5 minutes at 160 degrees.
Place the baking dish into the oven and bake for 30 minutes or till the top becomes slightly brown.

Bread pudding with custard sauce is ready to serve. Serve this warm. You can store this in the refrigerator and warm it and serve when needed.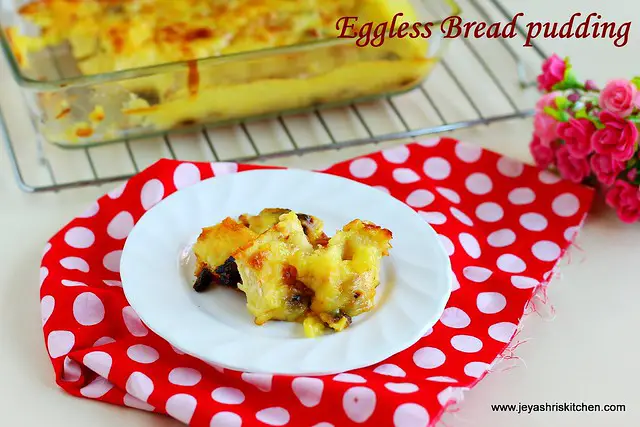 Notes:
Milk bread is best one for this pudding as it has sweetness. But you can make it with brown bread and white bread too.
If you do not have custard powder you can replace with corn flour and 1 tsp of vanilla essence.
You can make it in indian style by sprinkling some saffron milk on the top and sprinkle some milk masala too.
If you do not have an oven you can bake them in the pressure cooker too. Check out my pressure cooker cake recipe and follow the instructions. Replace the cake batter with this bread and custard powder layer.
You can layer with some fresh fruits like banana, mango or strawberry on the bread and pour the custard sauce.
You can spread butter on the bread too , to make it rich and creamy.