Pancakes i make rarely in my kitchen as only Varsha likes it a lot. Me Suresh and Varun are a not a great fan of pancakes. I have given this same recipe, replacing flour with  millet flour in my Millet cookbook  2 years back. So i thought i will try a pancake recipe using whole wheat flour. I just tried replacing half of the flour with whole wheat and turned out pretty well. These pancakes turned out soft and fluffy and perfect one to serve for  breakfast . Try this at home and let me know how it turned out.

Whole wheat pancake
  Preparation Time : 10 mins | Cooking Time : 20 Mins |Yields: 4
     Whole wheat flour   1/4 cup
     Plain flour  1/4 cup
     Baking soda  1/2 tsp
     Sugar   2 tsp
     Butter   1 tsp
     Milk   1/2 cup   
     Water  1 -2 tblsp
     Cinnamon powder  a pinch (optional)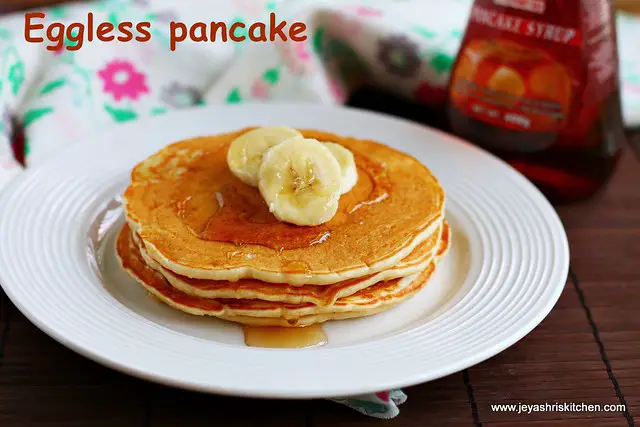 Method:
In a bowl add the whole wheat flour, plain flour, baking soda, sugar and butter.
Add the milk and mix this without any lumps. Add little water if necessary to bring this to a idli batter consistency.

If adding cinnamon powder add at this stage.
Keep it aside for 15 minutes.
Mix again and heat a pan.
Pour a small ladle of pancake batter to the pan . Do not spread this much like a dosa. Pancakes will be thick as Indian ootapams.

When one side is cooked flip the pancakes, like how we do for dosa.
No need to add oil or butter to the pancakes. We have added butter to the pancake while mixing, so need.
Repeat the same procedure for the rest of the batter too.

Serve hot, with sliced banana  and pancake syrup.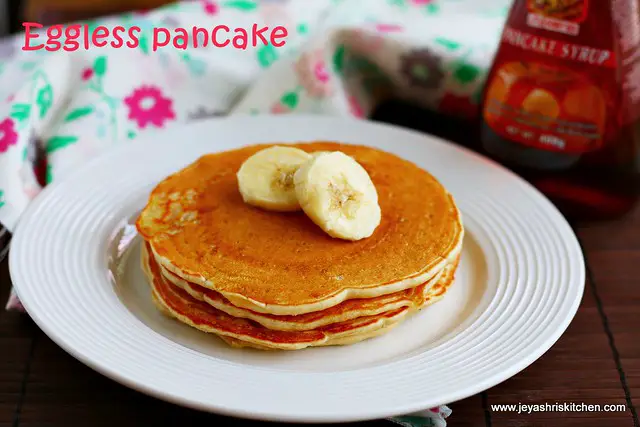 Notes:
Plain flour can be replaced with thinai (foxtail millet) flour.
You can serve with strawberries and blueberries too.