Erissery is a kerala special dish made for Onam, and made mostly with yellow pumpkin,called as Mathanga erissery. I remember my mom makes this but i have never made tried this on my own or tasted it after marriage. As my athai is very fond of this erissery, she makes this more when she comes to our house for summer vacation. I asked my mom for the recipe and she sent me a voice note in What's app about how to make erissery. I am so happy that she started learning to operate smart phones. This version of erissery is my mom's way of making it and i am not sure the authentic kerala erissery recipe. It tasted so yum and i had it with rice and
vendakkai curry.
Erissery recipe
  Preparation Time : 10 mins | Cooking Time : 25 Mins |Serves: 2-3
     Yam and Raw banana     1 cup (cut into cubes)
     Black pepper     3/4 tsp
     Red chili    1
     Coconut    3 tblsp (to grind) + 1 tblsp 
     Turmeric powder   1/4 tsp
     Salt   as needed
     Coconut oil   2 tsp
     Mustard seeds    1/4 tsp
     Urad dal     1/2  tsp
     Peanuts       2 tsp (optional)
     Curry leaves    few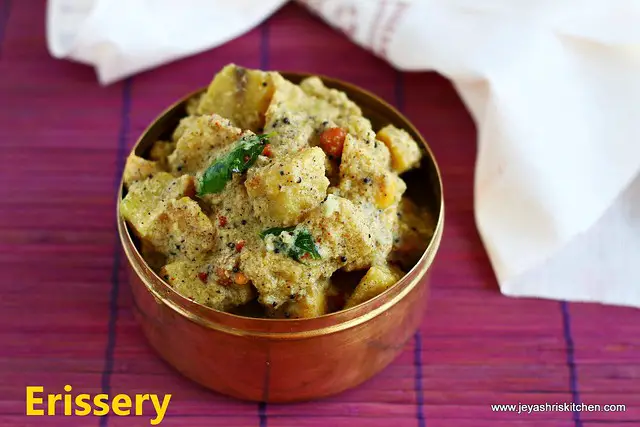 Method:
Cut the yam and raw banana into cubes.
In a pan add 2 drops of oil and add the pepper and red chili. Roast it for few minutes without burning it .

Grind the pepper and red chili along with 3 tblsp of coconut into a fine paste. Add water while grinding. Keep it aside.

In the pan add the 1 tblsp of coconut and roast it till golden brown. Keep it aside.

Add the cut veggies in the pan and add turmeric powder. Add 1 cup of water and cook till the veggies become soft. Do not over cook it.

Add the ground pepper coconut mixture to this and add little water to bring it to a kootu consistency.
Mix well.

In a pan add the coconut oil and add in the mustard seeds, urad dal and peanuts. Cook till the dal turns golden brown and add in the curry leaves. Add this to the erissery.

Add the roasted coconut to this and mix well.

Erissery is ready to serve.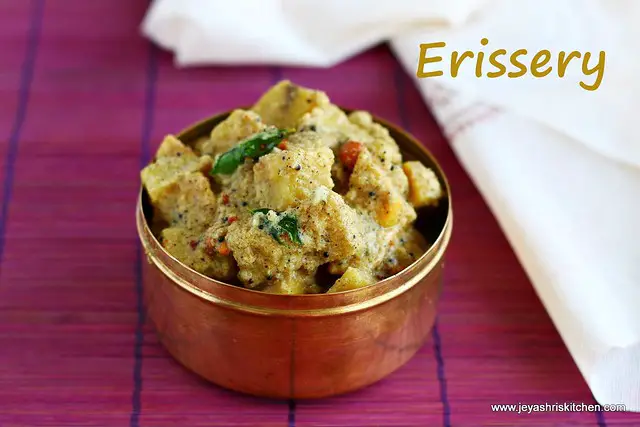 Notes:
Instead of yam you can use white pumpkin too.
Typical palakkad and kerala people use yellow pumpkin and black eyed beans for this erissery.