No onion no garlic recipe
Paruppu vadai | aama vadai is a traditional vadai made in brahmin houses for bhogi pandigai and aavani avittam. This paruppu vadai is served on weddings too. I have already posted
ulundu vadai
and paruppu vadai too,but this version of aamai vadai is the traditional one made in our family. Along with this vadai we also make poli for bhogi and aavani avittam too. I have few varieties of poli |boli collections , check out my
paruppu poli,
thengaai poli
and
paal poli
too. As tomorrow is bhogi pandigai, i thought i will post this aama vadai |paruppu vadai recipe today. Wishing you all a very Happy Pongal. See you all with interesting recipes for kannu pongal soon. Check out my
pongal festival recipes. 
Paruppu vadai
  Preparation Time : 5 mins+ 2 hours soaking | Cooking Time : 25 Mins |Yields: 14
     Channa dal   1/2 cup
     Toor dal     1/4 cup
     Red chili    2
     Asafoetida   a generous pinch
     Salt   as needed
     Curry leaves   few
     Ghee   1 tsp
     Oil    for deep frying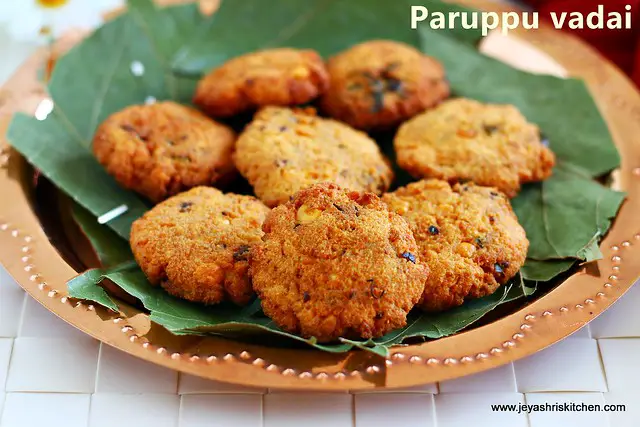 Method:
Soak the channa dal and toor dal together for 2 hours.
Drain the water completely and put this in a mixie jar for grinding.
Grind this coarsely. No need to add water while grinding. You can sprinkle little if needed.

Add curry leaves, asafoetida, ghee and salt to the ground mixture.
Mix it well nicely. Add the salt only before making the vada. You can grind the dal and keep it inside the refrigerator and make it later too.  In that case add salt just before making and mix well.

Heat oil for frying. When the oil is hot bring down to medium low.
Take a lemon sized ball of the vadai mix and flatten it into patties.
Do not flatten it too thick or too thick. Let this be little smaller in size that the usual masala vadai.

Carefully drop them in the oil. You can put 4-5 in one batch depending upon the size of the pan.
Fry till golden brown on both sides.
Do not fry in too hot oil, else inside of the vadais will not get cooked.
Drain the vadai in a kitchen towel.

Vadais are ready for neivedhyam.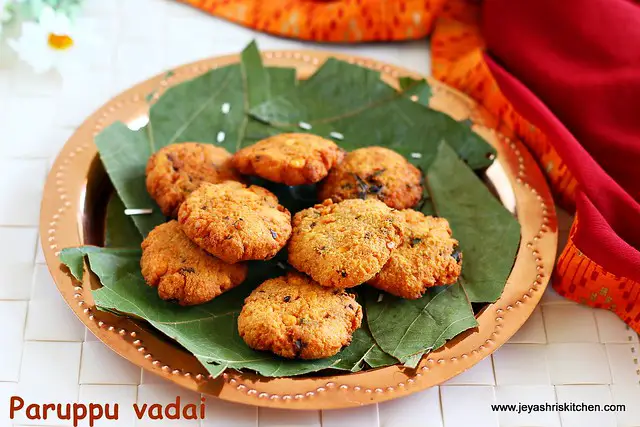 Notes:
Always cook the vadai on medium flame. Else it will not be cooked inside.
You can add the curry leaves while grinding.
You can add finely chopped cabbage to the the ground batter .
Some fennel seeds and onions can be added to make it as masala vadai.
Left over vadais can be dunked into rasam and can be made as rasa vadai.
Ghee is added to give crispiness to the vada, the tip i learnt from a cook mami who cookes for us during festivals.