Garlic bread sticks are the the first choice of starter whenever we go to Domino's Pizza  in India. When Divya  posted this Garlic bread sticks recipe, i bookmarked it and tried it. the Garlic bread sticks came out too well. I made it long back but some how couldn't post it. The pictures didn't come out as i expected as it was raining when i clicked the final pictures. But trust me, this garlic bread sticks were awesome. Check out
Divya's
blog for the detailed recipe.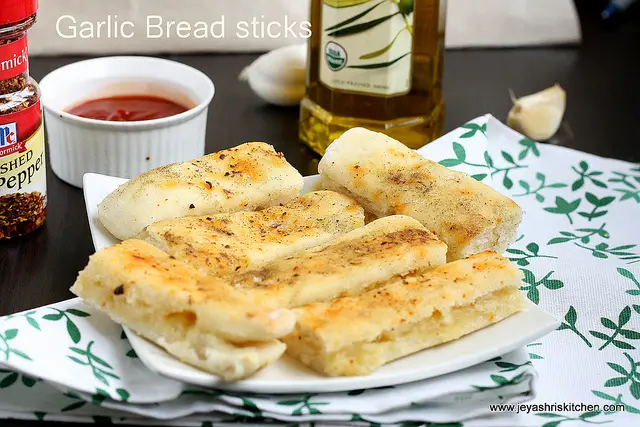 | | |
| --- | --- |
| ALL PURPOSE FLOUR | 1 AND 1/2 CUP (DIVIDED) |
| SUGAR | 1/2 TSP |
| INSTANT DRY YEAST | 1/2 TSP |
| OLIVE OIL | 2TBLSP |
| SALT | TO TASTE |
| GARLIC PASTE | 1/2 TSP |
| OREGANO | 1 TBLSP |
| CHILLI FLAKES | 1/4 TSP (OPTIONAL) |
| PARMESAN CHEESE | 3 TBLSP |
| WATER | 1/2 CUP |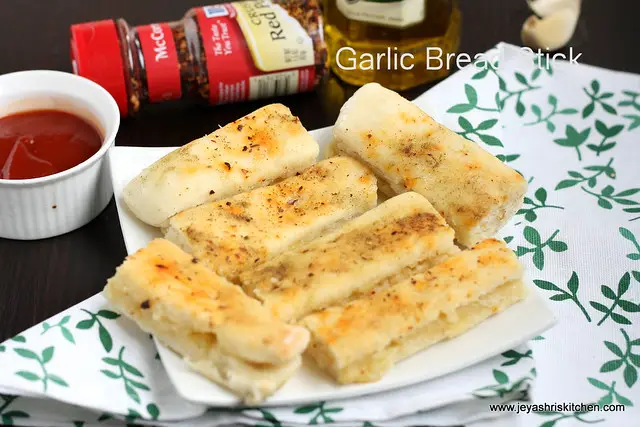 METHOD:
In a bowl add water, sugar and yeast and mix well. Keep it aside for 10 minutes or till the yeast raises up. the water should be slightly warm. ensure that it is not too warm else it will make the yeast to raise.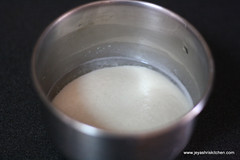 In a wide bowl add 1 cup of flour, and add the olive oil. Mix well and add the raised yeast water to this and make it into a sticky dough.
Cover it and keep aside for 45 minutes to 1 hour till it raises.
Now add the garlic paste ( i ground few cloves of garlic with 1/4 tsp of butter) to the raised dough and add the remaining flour (1/2 cup).
Knead well and keep it covered till the dough raises to double the size.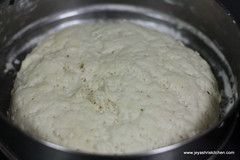 Dust the kitchen top with flour and roll this into a big circle.
Spread cheese over this. I used parmesan cheese, in the original recipe divya used amul grated cheese.
Fold it into a semi circle. Sprinkle the Oregano on this. If using red chilli flakes sprinkle that too.
Transfer this to a greased baking tray  Cut this into strips and bake this for 10 to 12 minutes or till the bread turns out slight brown on the top.
Mine took 12 minutes to bake.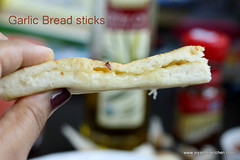 This Garlic bread tasted totally awesome and kids enjoyed a lot.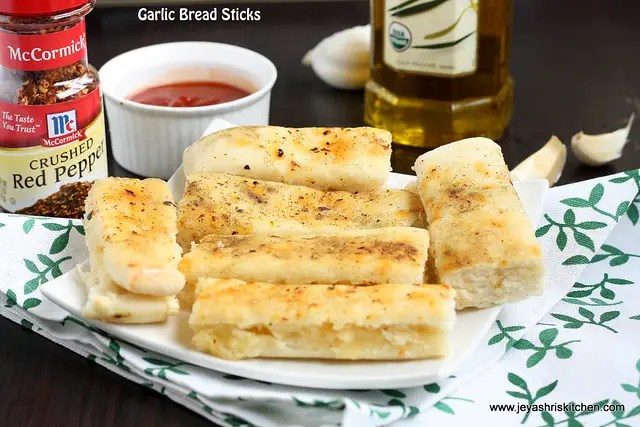 Note:
You can use garlic powder instead of garlic paste.
The original recipe used grated amul cheese cube.