Ginger ale recently i tried in Punjabi Grill restuarant in Singapore. I remember my grandma making inji sorasam| a ginger syrup and mix with water and give to us when we have indigestion problem. Those days we run when ever she comes and gives this to us . But somehow nowadays started liking this but my children are running now. Try this
homemade ginger ale recipe
out this summer and i am sure you will love this for sure.
Ginger ale recipe
  Preparation Time : 10 mins | Cooking Time : 45 Mins |Serves: 5-6
     Ginger (crushed)      1/4 cup
     Sugar       1/2 cup
     Lemon juice     As needed (to make the juice)
     Water     3/4 cup ( to make syrup)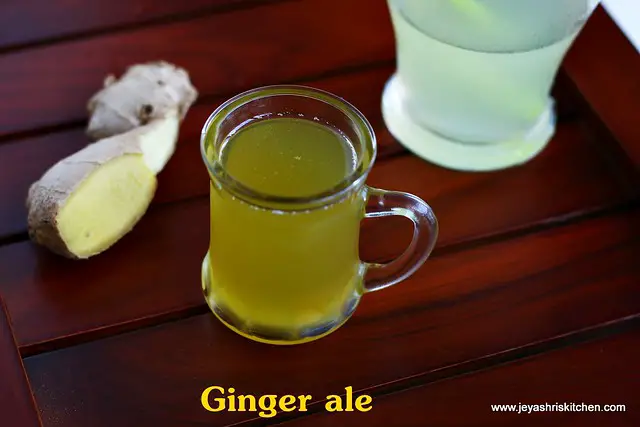 Method:
Peel the skin of the ginger and wash them nicely. Crush them in a mortar and pestle or grate it.
In a pan add the crushed ginger and add the water. Allow this to boil for 15 minutes.

Once done, allow this to cool and filter the ginger extract.

Nicely mash the ginger with your hands and extract the juice to the fullest.

Discard the ginger. In the same pan add the sugar and add the ginger juice to this and 1/4 cup of water.

Let this boil for 20 minutes in a low flame.
Switch off the flame and let this cool completely.

Ginger ale syrup is ready. When this is completely cool transfer this in a clean bottle and store this in the refrigerator.  This can be kept for 1 week to 10 days.
When making the ginger ale juice, add 2 tblsp of ginger ale syrup to the sereving glass and squeeze in the lemon juice into it and add 1 cup of water or 1/2 cup of water and 1/2 cup of plain soda.
Add few ice cubes to this and serve chilled.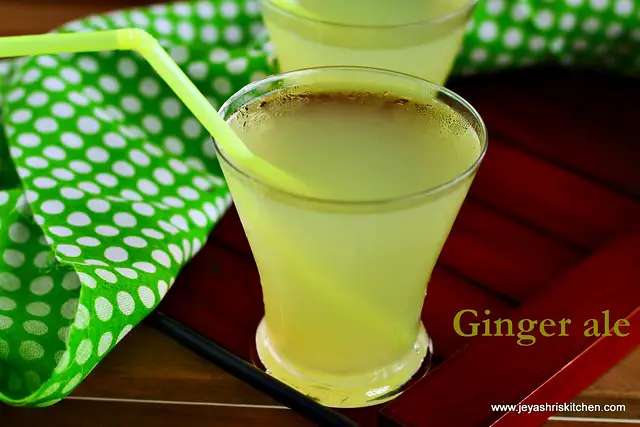 Notes:
Do not drink too much in a day as it will trouble your tummy.
Instead of white sugar you can try with brown sugar or jaggery too.
Peel the skin of the ginger properly else it will upset the tummy.