Mung bean ice candy is a popular one in Malaysia and Singapore. I came to know about this first when we came to Singapore and a malay lady used to bring this to the playground and distribute it to the kids. Also the kids gets lot of flavours in ice candy in school. As how we make rose milk popsicle, orange juice popsicle, plain milk popsicle this can be made using popsicle moulds too. Last year summer also i ws looking for this covers but couldn't get it.  I got this through my friend who visited Malaysia a few weeks back. Thanks to rubini who got this for me all the way from Malaysia. Also she told she got this ice candy covers in a shop in Toa payoh too. So again i started searching for that in nearby Chinese shops. Hurray finally i found this SKP , its a chain of stores in Singapore selling all plastic disposable covers, plates etc. For all my Singapore readers , those who are searching where to get these candy popscile covers in Singapore, we have a lot of SKP OUTLETS IN SINGAPORE.  So whereever you are you can easily find this store and ask them the ice candy covers. They have more than 200 plus covers in a pack which costs around 4 SGD.This is not a sponsored post.
    For other readers, don't worry, you can make with popsicle or kulfi moulds. While i was making this my filipino helper told that they too make this at their place and shared a n interesting recipe with tender coconut, Will try it out and post here soon. Summer vacations are about to begin, here,kids will enjoy this on summer noon.
Mung bean ice candy
  Preparation Time : 10 mins + 6 hours freezing time | Cooking Time : 20 Mins |Serves: 3-4
     Green moong dal | mung bean      1/4 cup
     Thick coconut milk      1/2 cup
     Sugar | jaggery     3-4 tblsp
     Water      as needed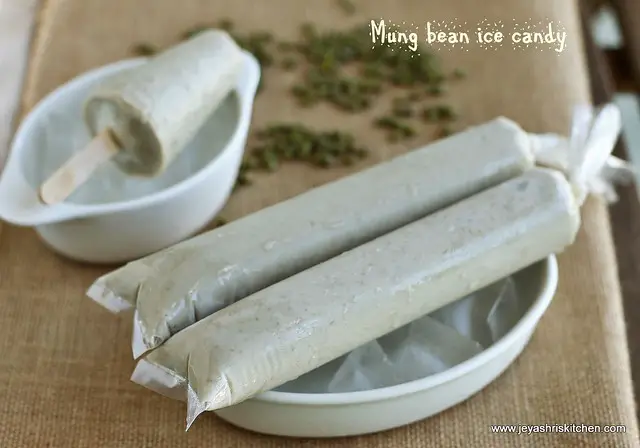 Method:
Wash the moong bean and soak it in water for 10 minutes. Pressure cook this till 5-6 whistles or till it becomes soft. Allow this to cool completely.

Grind this along with sugar or jaggery ( i used both) and coconut milk.
It will be like a thick paste.

Add water to bring this to a dosa batter consistency. Take the ice candy covers. Alternatively, you can use popsicle moulds too.
Pour in the liquid till 3/4 th.

Roll it tightly in the end.

Put a knot in the edge . Do the same for the rest of the mixture. If you don't want big popsicle, you can fill only half and tie it. I made some rose milk popsicles and milo ice candy too.
You can put this in a freezer for 6 hours or leave it overnight.
If using kulfi moulds, insert the ice cream sticks when they are half frozen. Else it will not stand straight.

Once done, just cut the other end of the ice candy and enjoy it . If using kulfi moulds, run the kulfi moulds in water and and slowly take it out.

Engage kids also in making this ice candy. They will have more fun.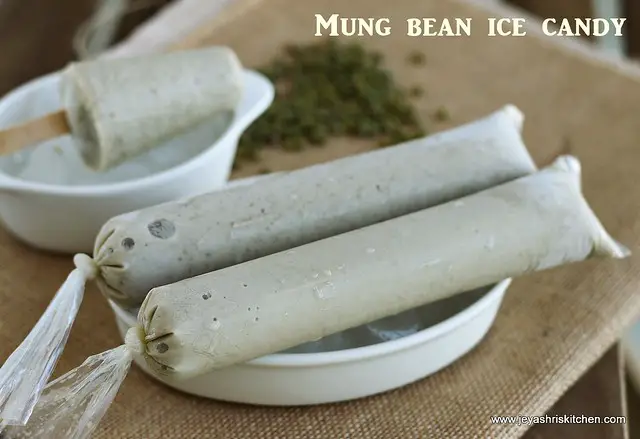 Notes:
You can add little cream to the mixture while griding.
If cooking the mung bean in the open pot, soak this for 6 hours.
You can replace mung bean with red bean or moong bean sprouts too