Ginger lemon rasam | Inji elumichai rasam, is a simple south indian rasam with lemon, ginger and tomato as a major ingredient. This rasam did not include tamarind or sambar powder. So you can try this easy and simple South Indian lemon ginger rasam at home. Also this rasam can  be had as a soup too. Overall i can say it is a perfect one for Rasam lovers. Though we make lemon rasam at home, this varition of lemon rasam is quite interesting. I learned this from my mom's sister(my perimma), recently. She didn't mention to add ginger but I wanted to make a slight variation so I added ginger to this rasam. Check out my
Ginger lemon rasam
  Preparation Time: 10 mins | Cooking Time: 25 Mins |Serves:3-4
     Tomato  1 big
     Green chili  3
     Salt  as needed
     Toor dal cooked  2 tblsp
     Turmeric powder  1/4 tsp
     Ginger  a small piece
     Black pepper   1/2 tsp
     Cumin seeds   1/4 tsp
     Curry leaves   few
     Coriander leaves  few
     Lemon juice    1 tblsp
    Ghee   1 tsp
    Mustard seeds   1/4 tsp
    Asafoetida    a pinch
    Coriander leaves   few
    Oil  1/2 tsp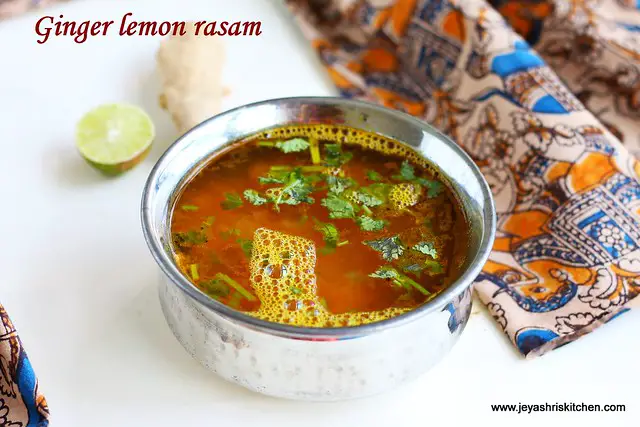 Method:
In a pan add 1/2 tsp of oil and fry the whole green chillis.
When the outer skin starts shrinking switch off the flame. Do not cook until the color is changed.

Allow this to cool. Grind in a mixie along with salt and ginger. Since we are grinding the ginger use a small piece. Else the rasam will be too spicy.

Grind 3/4 th portion of the tomato and finely chop 1/4 the of the tomato. If using small tomatoes grind 1 chop one.

In a pan add the blend tomato, chopped tomatoes, ground green chili ginger paste, turmeric powder, asafoetida and 1 cup of water. Add a few curry leaves.
Mix this nicely with clean hands, so that the ginger and chili flavour gets infused nicely.

Allow this mixture to boil in a low flame for 7 minutes.
Meanwhile, cook the dal ready and mix it with 1 cup of water.

Add the dal water to this and cook till frothy.
Pound the pepper and cumin seeds using a mortar and pestle.
In a pan add ghee and throw in the mustard seeds and add the ground pepper jeera powder.
Once the mustard splutters add it to the rasam.

After 5 minutes add the lemon juice (just extract lemon juice from the lemon and filter it)
Garnish with coriander leaves.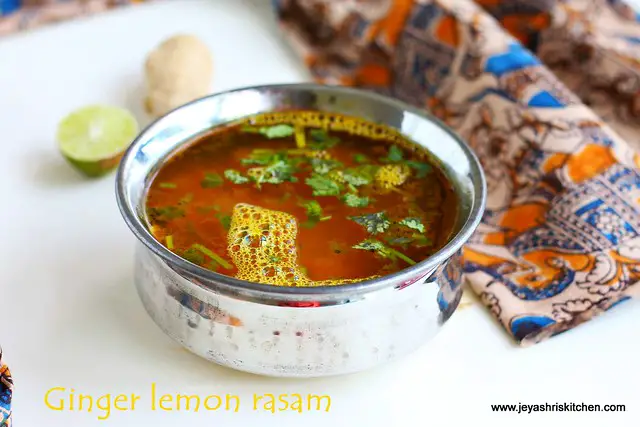 Notes:
Never reheat the lemon rasam as it will make it bitter.
If you are making it and serving later, do not add the lemon juice once it is done. Reheat before serving and switch off the flame and the add lemon juice.
Instead of adding ginger while grinding, you can just crush it using a mortar and pestle once and then add it to the boiling tomato.