No onion no garlic recipes | Karuveppilai sadam recipe
Curry leaves rice | Karuveppilai sadam is a traditional rice variety made for festivals such as aadi perukku and other South Indian festival too. Even we can make this for lunch box too. I have already posted a version of
karuveppilai sadam | curry leaves rice
and also a
karuveppillai sevai
too. This variety of curry leaves rice i learnt from my cousin during my recent visit to India for a wedding. He patiently explained me the recipe and the way he told me tempted me to try this and i made this on the day i returned back home. It was a huge hit at home. The richness of the cashew nuts, texture of coarsely ground urad dal , the pepper flavour, the crunchiness of peanuts made this more exotic . As aadi 18 is coming up (aug 2nd – Tomorrow) , i thought this will be a perfect recipe to try it out on that occasion. For more aadi perukku recipes click the link
here.
Curry leaves rice(with video)
Preparation Time : 10 mins | Cooking Time : 25 Mins |Serves: 2
Cooked rice 1 cup
Ghee 2 tsp
Black urad dal 1 tblsp
Cashew nuts 10
Black pepper 3/4 tsp – 1 tsp
Red chili 1
Curry leaves a handful
Oil 1 tsp
Mustard seeds 1/4 tsp
Peanuts 1 tblsp
Salt as needed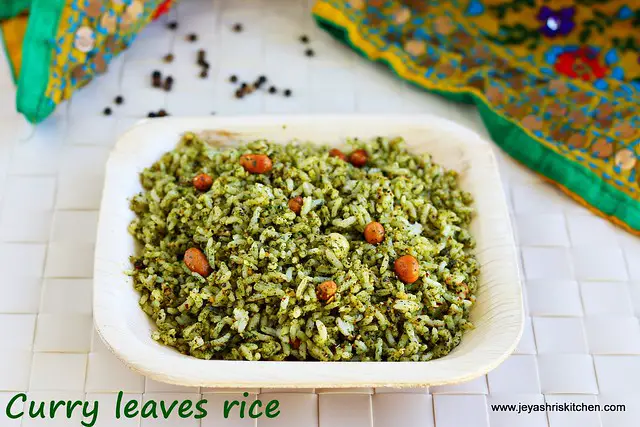 Method:
In a pan add ghee and roast the cashew nuts till golden brown. Keep this aside.

In the same pan add the urad dal (you can use white urad dal also) , pepper and red chili.
Fry them in a medium flame . Keep it aside.

Add curry leaves to the pan. Fry them on medium flame till they becomes crisp. You can leave it in the pan for 5 minutes, after switching off the flame. This will make the leaves crispy.
Allow all these to cool. Grind the roasted cashew, urad dal, black pepper and curry leaves into a coarse mixture.
The cashew nuts will ooze out oil while grinding. So use the whip option in the mixie and pulse it twice. If you attempt to make it a fine powder, it will not happen and become more moist.

In a pan add oil and add in the mustard seeds. Once it crackles add the peanuts and fry till golden brown.
Now Switch off the flame and add the cooked rice to this. Ensure that the rice is not mashed. You can use raw rice, ponni rice or basmati rice too. Even any millet variety can be used.
Add the coarsely powdered curry leaves mixture to this.

Add salt and mix gently and evenly.
Curry leaves rice is ready to serve.

You can pack this for lunch box too.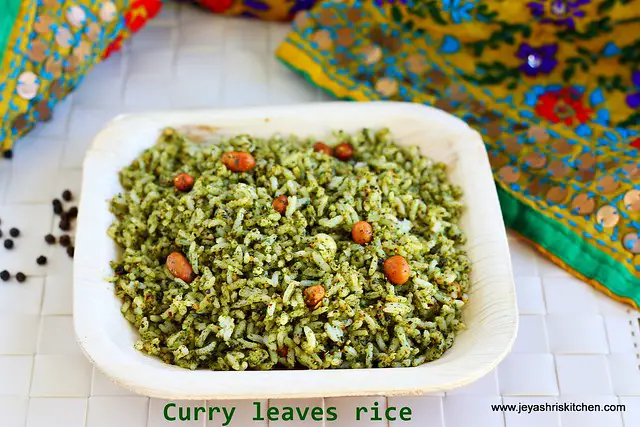 Notes:
While grinding you can add 1 tblsp of dry coconut (kopra) also.
If using fresh coconut roast it till golden brown and then grind it along with the curry leaves mixture.
Any variety of millet can be replaced in the place of rice for karuveppilai sadam.