Daddojanam | thayir sadam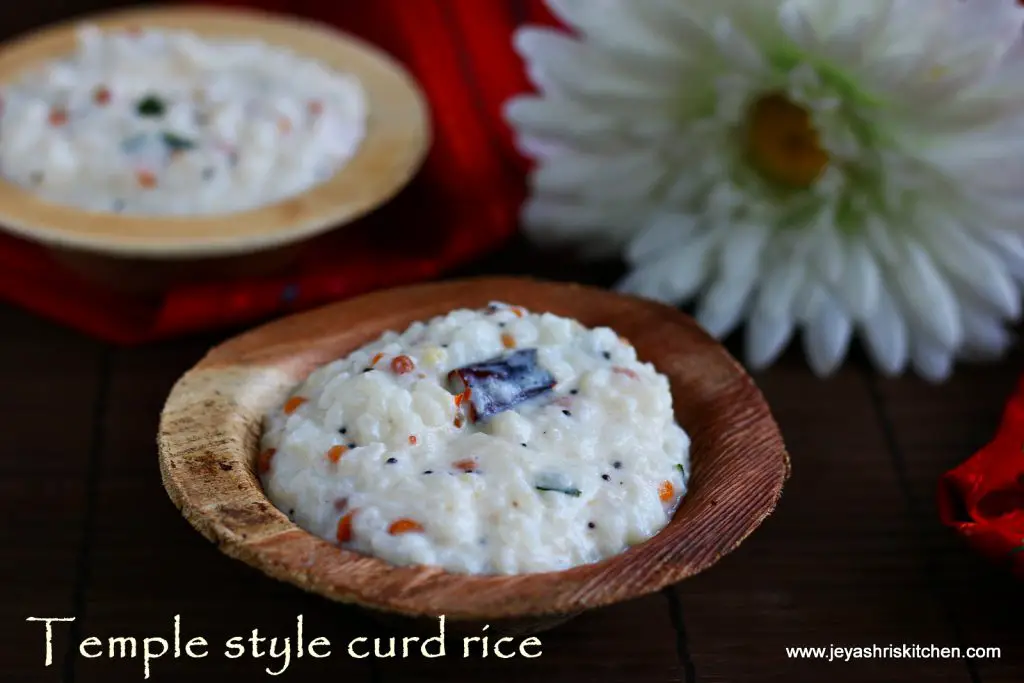 Curd rice | yogurt rice | dahi annam is a quite common south Indian rice variety. From the childhood, our meal is never complete without a curd rice. Generally we eat it by mixing plain with home made yogurt . When we have guests or on any special occasion we do seasoning to the curd rice and serve it. I have already posted a curd rice recipe few years back. When i shared the temple style sakkarai pongal post in facebook few weeks back, one of my friend asked me to post temple style curd rice recipe too. Coincidentally, 2 weeks back we joined a prayer at perumal temple here, on the occasion of a friend's mil birthday. We took back home puliyodarai, kesari and thayir sadam. Tasting the thayir sadam, i could make out the ingredients and make it at home yesterday,for my lunch. The taste was very close to the one we had in the temple. Since today is varalakshmi pooja and for doing the punar poojai tomorrow, many of us will make thayir sadam as neivedhyam for amman. So try out this temple style thayir sadam at home and let me know how it turned out.
Check out my
Kovil thayir sadam
Preparation Time : 5 mins | Cooking Time : 25 Mins |Serves: 1
Raw rice| sona masoori rice 1/4 cup
Milk * 1/4 cup
Curd | yogurt 1/4 cup
Oil 2 tsp
Ginger (grated) 1/4 tsp
Urad dal 1/4 tsp
Channa dal 1/4 tsp
Asafoetida a pinch
Salt to taste
Red chili 1
Curry leaves few
* you can use cold milk or boiled and cooled milk. Do no use hot milk.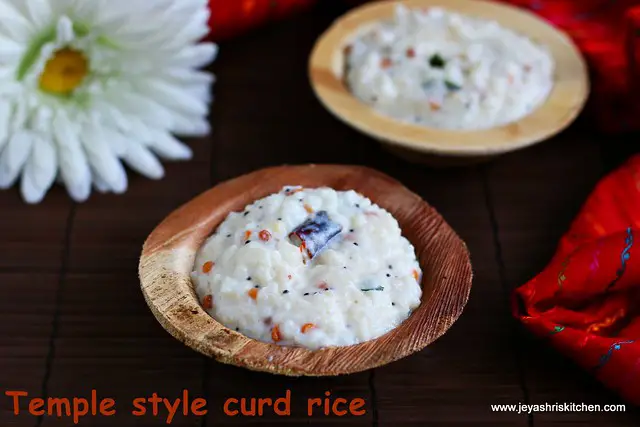 Method:
Wash and soak the raw rice for 10 minutes. Soaking is optional.
Cook the rice with 3/4 cup of water for 6-7 whistles in a pressure cooker.

Mash the rice when it is hot with a back of a spoon. and allow this to cool in a wide bowl.

When it is completely cool add the milk, salt and yogurt. Mix well with clean hands. You can very well do it with a ladle too but for even lump free mixing hands are highly recommended.
Add few more spoon of milk or yogurt to adjust the taste and consistency.

In a pan add the oil and add the mustard seeds,grated ginger, channa dal, urad dal, curry leaves and red chili.
When the dal changes colour switch off the flame.

Add this tadka to the curd rice and mix well.
Serve chilled.

If the rice turns hard after an hour so, add little milk and curd to this and adjust the salt just before serving.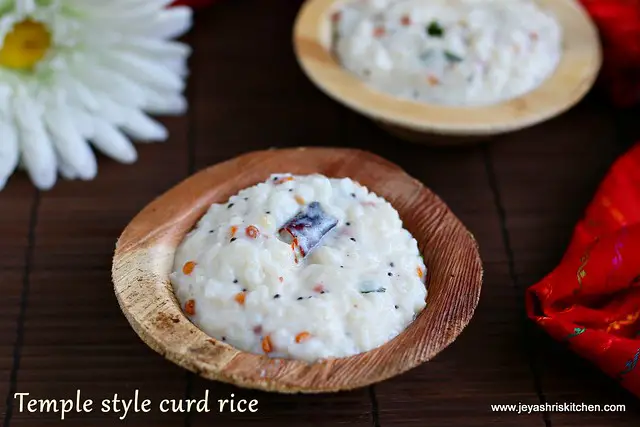 Notes:
Always add milk and yogurt when the rice is completely cool.
Never use hot milk, always use milk either at room temperature or chilled milk.
Full cream milk gives a creamy texture to the curd rice.
You can add finely chopped coriander leaves to the oil while giving tadka.
Some pomegranate or grapes can be added to the rice, before serving.