I wanted to make peas paratha, but ended up making peas kachori as i have a sudden craving for kachori. Sometimes it happens for all of us to have craving for deep fried snack. Hope you all agree !. I have already posted a recipe for Kachori
HERE
,
moth dal stuffing.
I almost followed the same recipe but the inside stuffing is bit different. As green peas is in season, i thought i will make the stuffing with green peas. Enjoy this popular street food .

Ingredients

Preparation Time
:
30 mins
|
Cooking Time
: 15 Mins |
Serves
: 6 Kachoris
Maida | All purpose flour 1 cup
Ghee 2 tblsp
Sooji |Rava 1 tblsp
Green peas 3/4 cup
Green chilli 1-2
Garlic 2
Coriander leaves Few
Salt as needed
Garam masala 2 pinches
Kasoori methi a pinch
Cumin seeds 1/4 tsp
Oil for deep frying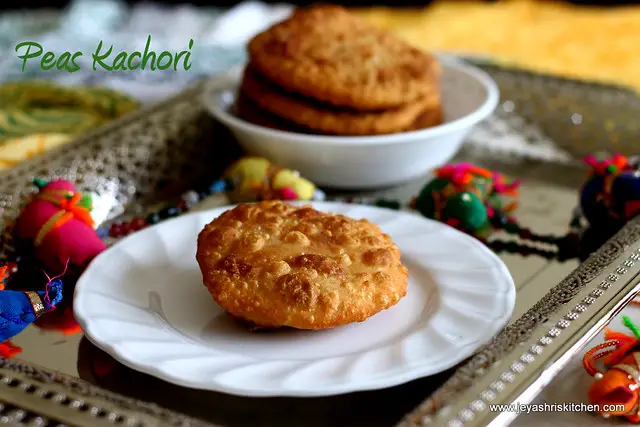 Method:
In a wide bowl. add flour, rava and salt. If you want add a pinch of baking soda.
Melt the ghee and pour over this flour mix. with your fingers crumble the flour.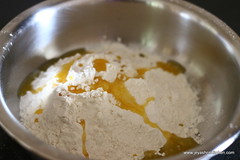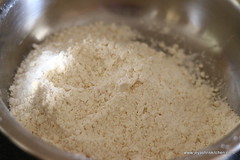 Now add water slow by slow and knead it into a soft yet stiff dough.
Cover this with a damp cloth . Keep it side for 30 minutes.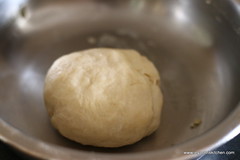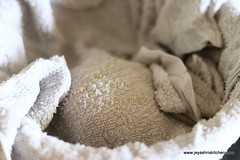 Meanwhile lets make the filling ready.
Boil the green peas either in pressure cooker or stove top.
I used frozen peas and so i cooked on stove top.
Drain the water completely.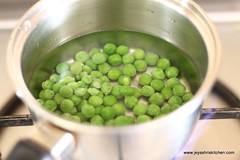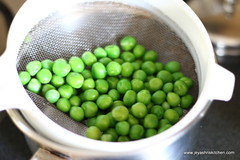 Grind this cooked peas into a coarse paste along with green chilli, garlic, and coriander leaves .
In a pan add few drops of oil and add the coarse paste and add the garam masala , kasoori methi, cumin seeds and salt.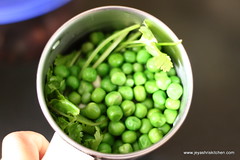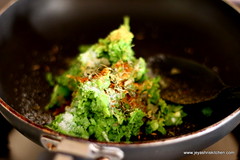 Saute for few minutes till it becomes dry. Allow this to cool. The green peas stuffing is ready.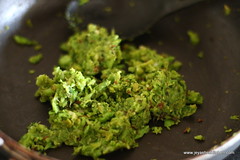 Make the dough into eqaul lemon sized balls.
Roll it into a small disc . If you want use dry flour for dusting.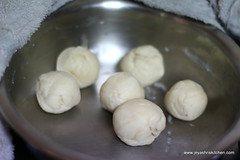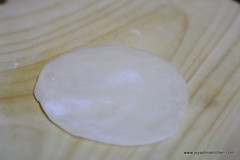 Place 1 tblsp of stuffing inside this and gently close it.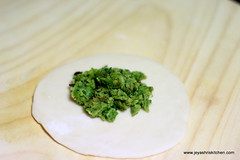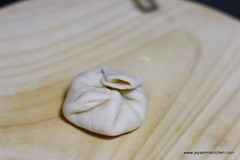 Carefully roll this into a small disc. Ensure that the filling should not come out and it should get tear while rolling. Else the filling will come out while frying.
Keep the oil ready for deep frying. The oil shouldn't be too hot. else it will be get cooked inside.
If it is less hot it will drink oil and won't turn crispy.
To check it, put a pinch of plain dough into the oil and if it immediately comes up it is the right temperature.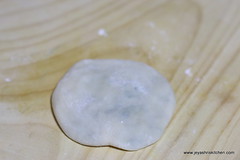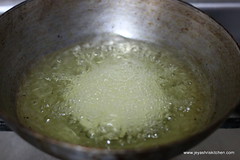 Deep fry on both sides and drain the excess oil in a kitchen towel.
Repeat the same procedure for rest of the filling.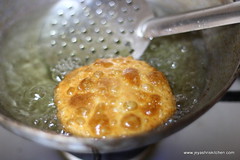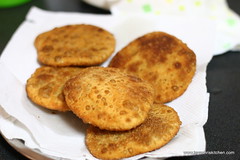 Always keep the dough covered. Even after making keep it covered till you fry.
Kachori is ready for serving.
When i told my friend that i made kachori, she told me that it is served with a aloo gravy . Even i have also seen in many blogs too.

Will soon share the recipe of aloo gravy too.

Here is the recipe for Aloo tamatar subzi.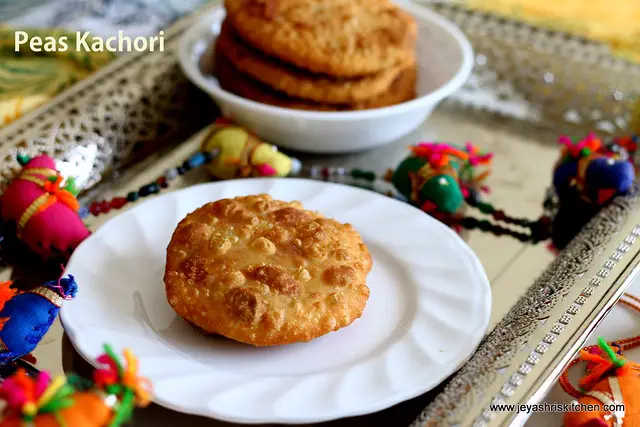 Notes:
Always keep the dough covered. If it is dry you will get crispy kachoris.
The stuffing should be dry. so drain the excess water from the boiled peas and allow it to dry completely.