While typing for the post , my mouth waters for Rava Kichadi. I can eat this rava khichadi for any meal of the day. Be it a breakfast, lunch or dinner i need a cup of coffee of tea to have it along kichadi. A spoon of hot kichadi and a sip of hot coffee is a fantastic combo . Generally in weddings they serve this rava kichadi, With sambar and chutney as an accompaniment this semolina kichadi tastes super yummy.Try out this easy yet tasty rava kichadi for breakfast or even for dinner.
Check out my
SOUTH INDIAN BREAKFAST RECIPES
Ingredients

Preparation Time
: 10
mins
|
Cooking Time
: 20 Mins |
Serves
: 3-4
Rava | 1 cup
Water 3 cups
Oil 2 tblsp
Ghee 1-2 tsp
Mustard seeds 1/4 tsp
Green chilli 2
Channa dal 1/4 tsp
Urad dal 1/4 tsp
Salt to taste
Onion 1
Tomato 1
Carrot 1/2
Green Peas few
Turmeric powder 1/4 tsp
Curry leaves few
Cashew nuts few (optional)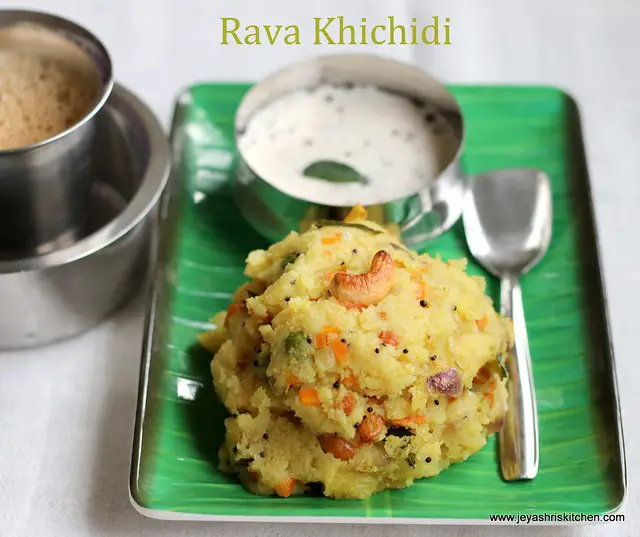 Method:
Dry roast the rava in a low flame . Do not over do and change the color.
Keep it aside.
Chop the onions, tomato, green chilli, carrots very finely.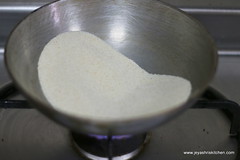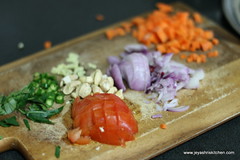 In a pan add oil mustard seeds, channa dal, urad dal, green chillies,curry leaves and cashew nuts(if adding).
Keep the flame low and roast till the dals turn golden brown. Add the onions and saute till they becomes soft.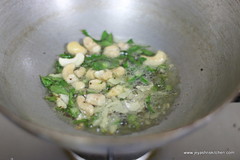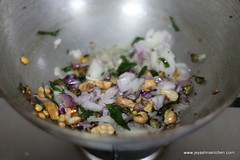 Add tomatoes and saute till they become soft.
Add salt and turmeric powder.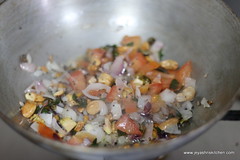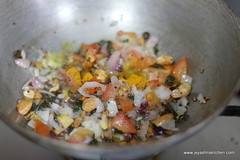 Add the veggies and saute for a minute.
Add water to this.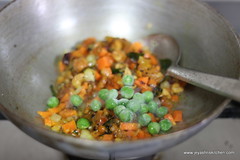 Let the water boil nicely. Once it starts boiling nicely keep the flame low and add the roasted rava to this.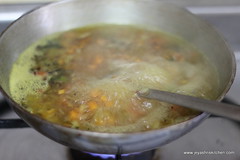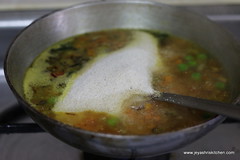 Slowly mix it evenly without any lumps.
Cook in a low flame till the rava gets completely cooked . It will take 3-5 minutes.
Add ghee in the last and mix well. Addition of ghee gives a fantastic flavour to the rava kichadi. So don't miss it out.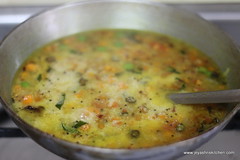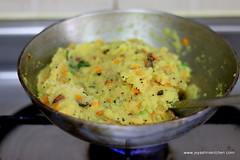 Rava kichadi is ready to serve.Always serve hot. You can serve with coconut chutney or sambar or a simple pickle too.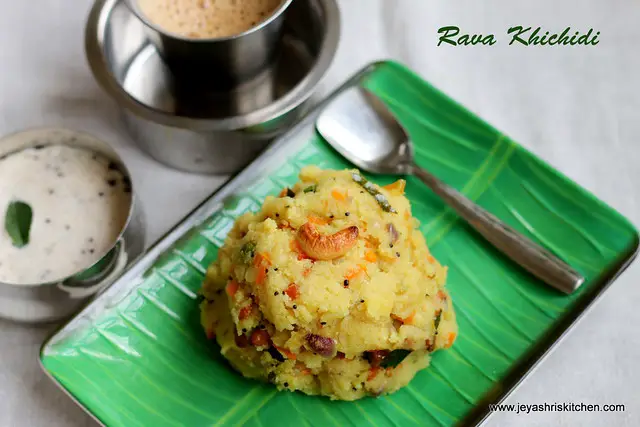 Note:
Sometimes the rava needs extra 1/2 cup water to get cooked completely. It depends on the quality of rava.
Always keep a cup of very hot water by the side so that in case if it need more water you can add it after adding the rava.
You can add potatoes and beans if you want. Chop them finely and add with the veggies.