This is the first time i attempted idli batter recipe using a mixie. After the super hit of my
idli batter recipe using grinder,
many readers were asking me to post idli batter recipe using mixie. Though idli is a staple
south indian breakfast
, my kids are not much fond of that. But i make it once a week and pack it for them in the lunch box. My mom sometimes makes the batter in mixie,personally i have never tried it at home. Yesterday i attempted it and it was a super hit too. The idlis were very soft and fluffy. If it is for small quantity, you can surely try the batter using mixie. It turns out well for dosa too. Refer to the tips given at the end of the post. Check my idli recipe using
idli rava
.
Idli batter in Mixie
Preparation Time : 10 mins+3hrs soaking | Cooking Time : 10Mins | Makes: 10 idlis
Idli rice * 3 cups
Urad dal(whole) 1 cup
Salt as needed
Water to grind
*I used the 1/4 cup measure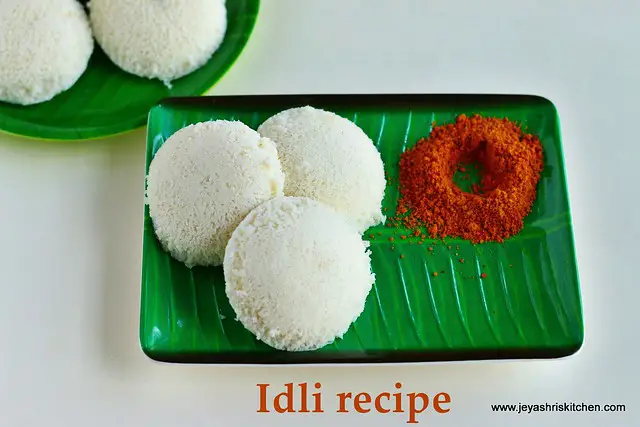 Method:
Wash and soak the rice and urad dal together for 3 hours. You can keep it in the refrigerator after half an hour.
Drain the water and keep the water aside. The water we are going to use while grinding.
If you didn't keep the soaked rice and dal in the refrigerator you can add few ice cubes to the water. Adding ice water while grinding makes the batter fluffy and the heat of the mixie will not affect the batter.
Grind the rice and urad dal by adding cold water time to time. Do not add too much. Add little by little. do not run the mixie continously. Give 5 seconds break and run the mixie. Once 3/4 th is done, use the whip mode to grind it. (turn the nob backwards from 0) This will make the batter fluffy.

Transfer this to a container and add salt and allow this to sit for 7-8 hours for fermentation .

Once done, grease the idli plates and pour the batter on the idli moulds. Cook it till it is completely cooked. Check it by inserting clean stick or moist fingers in the middle of the idli.

Once done take this out and afer a minute , using a wet spooon take the idlis out from the mould.
Serve hot with any chutney or sambar of your choice.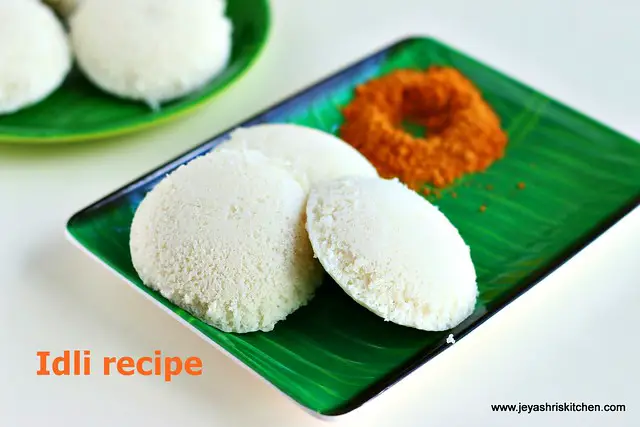 Notes:
Adding cold water while grinding makes the idli softer and fluffy.
Do not leave it in the mixie jar for a long time after griding. Immediately transfer it to a container.
If your urad dal is bit old and doesn't raise much, add 2 tblsp of poha|aval while soaking.
This works out well for both idli and dosa too.
After adding salt, using clean hands mix the batter with your hands. This will enable nice fermentation.
If living in a cold county, keep the batter inside a cupboard or a warm place or inside an oven which is switched off.
For larger quantities always use grinder. Else grind in 2 batches.