Idli is a popular south indian breakfast, generally made using idli rice . I have posted a detailed recipe of
 how to make idli batter.
I always get mails or comments , to post the recipe of idli using idli rava. Long time i have been wanting to try out this, and finally i bought idli rava, 2 weeks back. Though i have personally not tried idli using idli rava, a friend of mine always makes idli in that way. So i called her up and clarified my doubts and made idli using idli rava. It turned out super soft. Scroll down to see the "notes"section for more tips , when you are grinding in the mixie.
Ingredients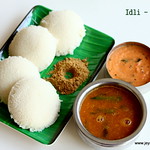 Preparation Time
: 4 hours
 + 8 hours fermentation
 |  
Cooking Time
: 8-9 mins(for steaming) |
  Yields
:  approx.25 idlis
Idli rava      3 cups
Urad dal     1 Cup
Poha           2 tblsp (optional)
Methi seeds  1/2 tsp (optional)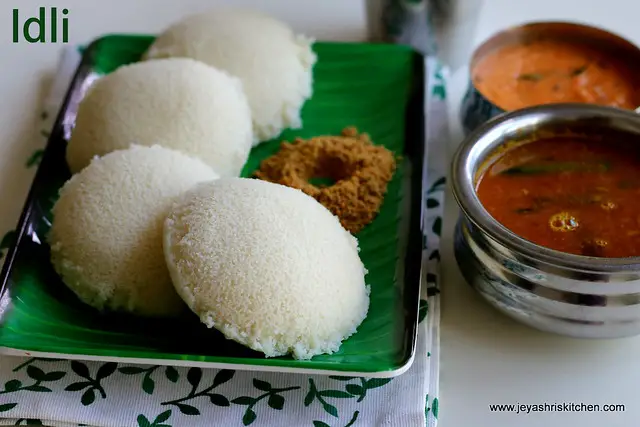 Method:
Soak the idli rava in water. The waters should just cover the rava. do not add more water.Let this soak for 4-5 hours.
Soak the urad dal in water and if adding poha or methi seeds add that too.
Soak the idli rava first and let it soak for 4 – 5 hours.
Urad dal can be soaked seperately for an hour. It is enough.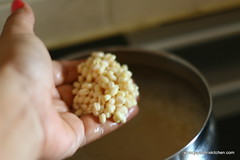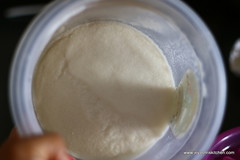 I grind in the grinder. But my friend told you can do in the mixie too.
Drain the water from urad dal and grind the urad dal (methi+poha ,if using) into a smooth paste using enough water in between.
The batter should be smooth and fluffy and not very thick or grainy.
Add this to a big wide bowl or box.
Take out the soaked idli rava and drain some excess water, be gently squeezing it.
Add it to the ground urad dal.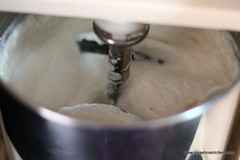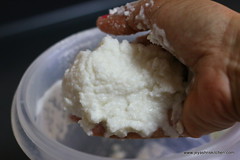 Mix it well with the urad dal. Let it get mixed evenly, then only you will get soft idlis.
Add salt to this and mix well. Let tit ferment for 8 hours. Mine will always get fermented in 6-7 hours, still i don't know how and why!!!, irrespective of the weather. So generally i grind either in the during the day or if i happened to grind in the night, i will do it around 11 pm.
Else it will over ferment and make the idlis sour.
Before fermentation the batter should be in a flowy consistency, as shown in the picture.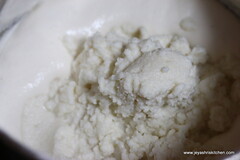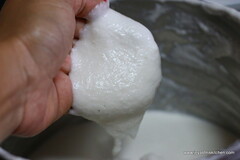 Once the batter is fermented, mix it well and grease the idli moulds and por the idli batter on the moulds and steam it for 8 minutes (or till the idlis get cooked)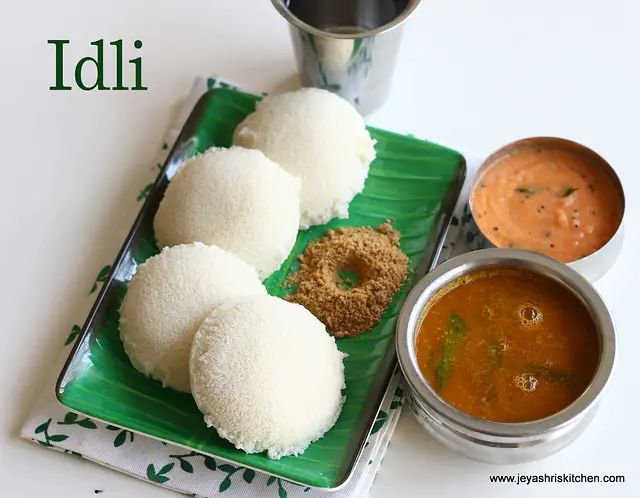 Notes:
If your idli rava is too thin, then you can add as it as to the ground urad dal.
If it is bit big, then grind for a minute in the last grind along with the urad dal.
If grinding in mixie, grind using the whip button.
Do not grind continuously. Else it will get heated up.
If heated up, the batter will become hard and make the idli hard.
I recommend you to add poha |aval,  if grinding in mixie.
Dosa turned out well in this same batter.
Check out my Idli post for more tips.