Pani poori , puris is the one which i was thinking to post for a long time. When i made masala poorislast week, i used the store bought puris , as i was running out of time and added to that kiddos were at home as they have holidays. Today finally the school reopened after  2 weeks break and i tried out this cute little puris and they turned out super perfect.
INGREDIENTS: [MAKES 35- 40 PURIS]
| | |
| --- | --- |
| SEMOLINA | RAVA |SOOJI | 1/2 CUP |
| ALL PURPOSE FLOUR |MAIDA | 2 TBLSP |
| WATER | 3- 4 TBLSP |
| SALT | AS NEEDED |
| BAKING SODA | A PINCH |
| OIL | FOR DEEP FRYING |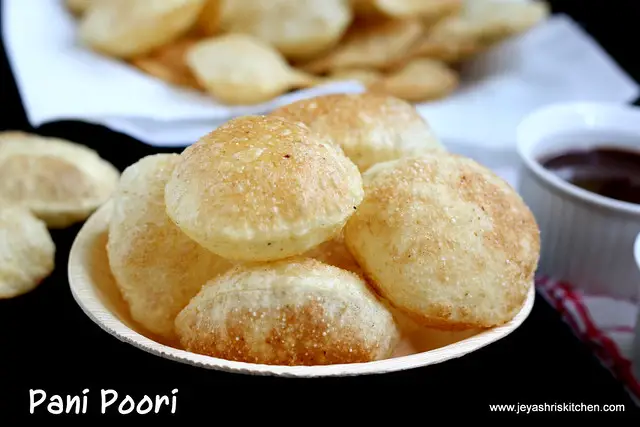 METHOD:
In a wide bowl, add sooji, maida, baking soda, salt and mix together.
Add water little by little to make a stiff dough.
Cover and keep it aside for 15 minutes.
Take a small lemon sized dough and thinly roll into rotis applying oil on the rolling pin and the counter top(if you are rolling on the counter top, else on the surface where you are rolling)
Cut this into small rounds with the help of a cookie cutter or a small lid.
Heat the oil for deep frying and put the small round discs into this and deep fry them on both sides.
the oil should be hot, else pooris will not puff.
Do not over load the frying pan.
Take out from the oil and drain it on the kitchen towel.
Store it airtight containers.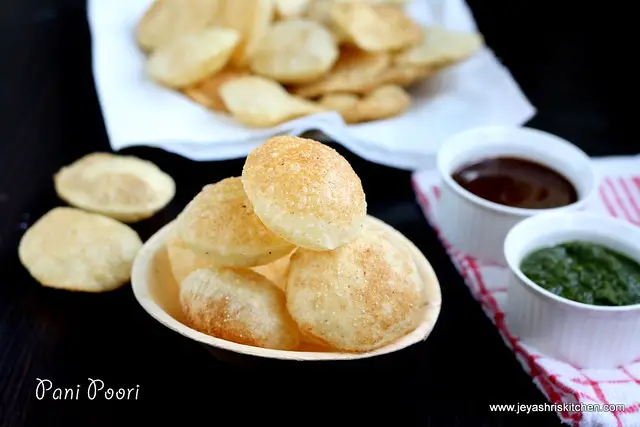 Notes:
While frying always ensure that the oil is very hot.
You can add plain soda water instead of water for kneading the dough, which will give more crispier pooris. My pooris were crispier too.
Stay tuned for the interesting MASALA POORI recipe coming soon.