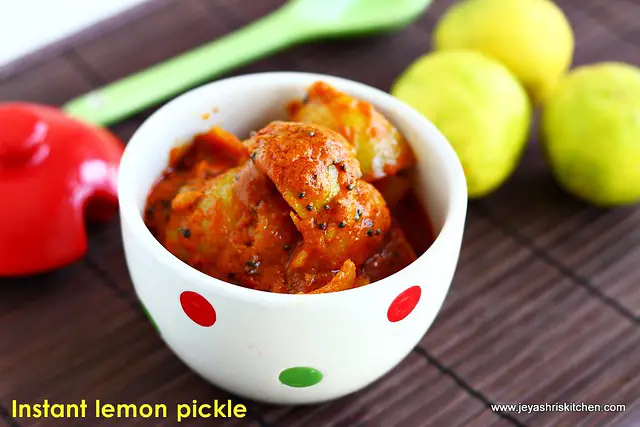 I have already posted a
lemon pickle recipe
 few years ago. Amma makes an instant lemon pickle |elumichai oorugaai in tamil, by using pressure cooker method. Yesterday when we went to little india to buy vegetables, seeing the cute lemons in the market, i picked few to make some juice.(posting the a new recipe soon) Amma picked few more to make this instant lemon pickle. While coming back i was asking as how to make the instant pickle. The method she explained was so easy and today morning i made this while she was watching tv. She loved the pickle and though i am not a big fan of lemon pickle i liked it very much. The pickle was not so bitter and since the it is pressure cooked the skin was so soft too.
Instant lemon pickle
  Preparation Time : 5 mins | Cooking Time : 20 Mins |Makes: 1 cup approx.
     Ripe Lemons        5
     Red chili powder     2 – 3 tsp
     Salt      as needed
     Asafoetida     1/4 tsp
     Mustard seeds    1/4 tsp
     Methi seeds |vendayam   1/4 tsp
     Sesame oil    3-4 tblsp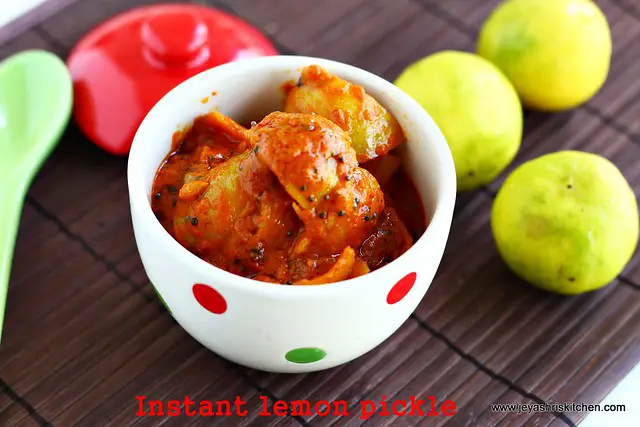 Method:
Wash the lemons and cook this in pressure cooker till 4-5 whistles and keep in a small flame for 5 minutes . Switch off the flame.
Do not add too much water . We will not use the water, so keep it very less.Else keep this inside a vessel and pressure cook.
The lemons will become soft when it is cooked.

Discard the water and cut the lemon into 4 pieces.
Add the salt, asafoetida, turmeric powder and roasted vendaya powder. Just dry roast the methi seeds in a pan and powder this in a mortar and pestle.
Do not add more methi seeds else the pickle will become bitter.

Add the red chili powder to this . Use the nice colour variety of kashmiri chili. Mine is home made, my amma got for me from India.
Add sesame oil in a pan and throw in the mustard seeds.
Once it crackles nicely add this over the red chili powder.

Mix this well with a clean spoon.
Lemon pickle is ready.

Transfer this to a clean dry glass jar. Keep this outside for 4-5 hours and then refrigerate the pickle.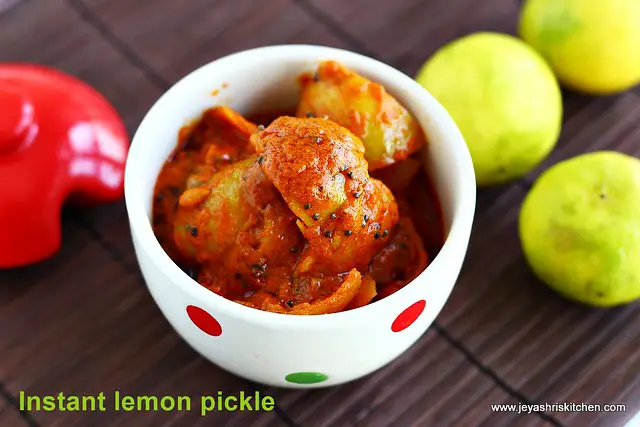 Notes:
Do not cook the lemons after cutting the lemons. This will make the pickle bitter.
Add only little vendaya podi ( methi seeds powder) else this will make the pickle bitter.
I added 3 tblsp of sesame oil . Amma told me to add 2 more spoons. So you add accordingly.
If handled properly this pickle will stay god for 2 weeks in the refrigerator.