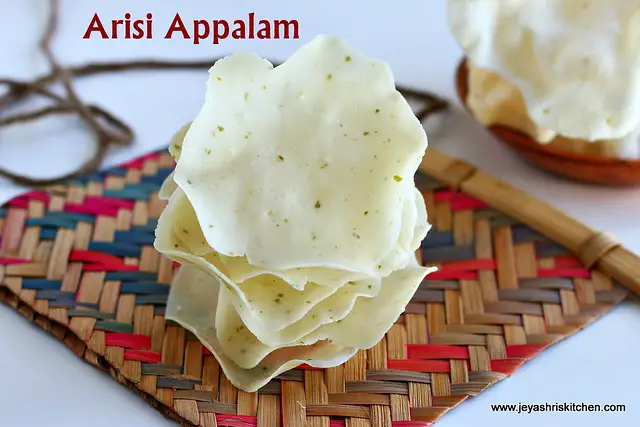 Arisi appalam | Rice papad, i always thought this as a very tedious and big process until i tried my hands on making it last week. My mom makes this so well and i never know that this can be kept for drying at home only. Last week when amma came here she got the flour from India. She instructed me on how to make arisi appalam and i thoroughly enjoyed the process of making arisi appalam.
When i fried it yesterday, i felt so happy. The appalam melted in mouth and the entire family loved it. Follow the instructions and try it at home, even if you don't have terrace, you can make this appalam at home. You can have this with any south Indian rice variety like
Puliyodarai
,
lemon rice
etc. Or just sprinkle some red chili powder or chaat masala and have this as a tea time snack too.
Arisi appalam
  Preparation Time : 1 and 1/2 hours + overnight for drying | Cooking Time : 20 Mins |Yields: 25
     Raw rice (Maavu arisi)   5 portions
     Sago   ( javarisi)         1 portion
     Green chili          6
     Lemon juice      1 tblsp
     Salt        to taste
     Coconut Oil    2 tsp
     Asafoetida      a pinch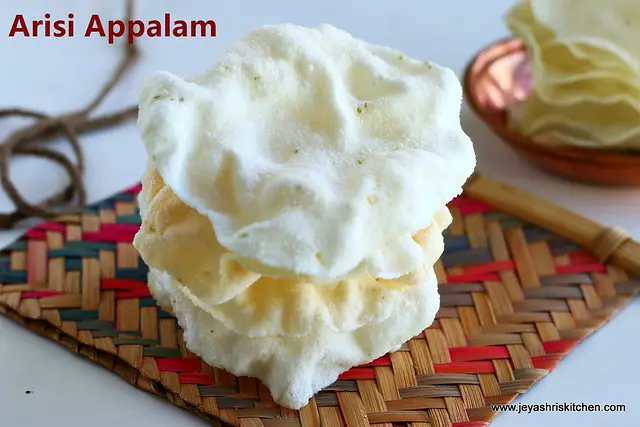 Method:
Grind  the flour and javarisi in the mill . My mom brought the flour from India. But you can make with store bought rice flour only. Check my notes section.
Grind the green chili along with salt into a fine paste. You can add little water while grinding.

In a wide bowl add 1 cup of flour, asafoetida and the green chili paste too.

Add 3/4 cup of water and knead the dough. No need to knead this smooth. Just it should bind well and come to a whole mass.
Divide the dough into equal portions.

Flatten this and steam this in a greased idli maker.
Steam for 15 minutes in a medium flame.

Take this out and add lemon juice to this. You can eat this maavu too if you like. It will be very tasty. Do not eat more. It will upset your tummy.

Sprinkle little water when it is hot and knead this into a smooth dough. You can grease your hands with coconut oil too.
This will take 10-15 minutes and also slight pressure is involved in kneading the dough.

Cover the dough and keep some plain rice flour to dust the appalam while rolling.
Take a lemon sized portion of the dough and grease your hands with coconut oil,and flatten the dough slightly.

Start rolling them into thin appalam. You can dust with rice flour while rolling.

You can keep the rolled one in a wide plate. Even it is one above another also it is ok. It will not stick to each other. But do not over crowd the plate.
Once you are done with everything, either spread a newspaper or clean white cloth in a place at your house where you get sunlight .
Spread the rolled appalam one by one separately in the paper or cloth.

Let this stay over night. No need to flip this after sometime.
I kept this in the noon by 12 pm and next day morning it was dried nicely.

Appalam is dried and you can keep this in an airtight box and this can be stored for an year if handled properly. Always handle this with dry hands.
While frying heat oil in a pan for frying and when it hot, bring down the flame to medium and fry the appalam. This appalam will fry so fast and so ensure that it should not change colour while frying.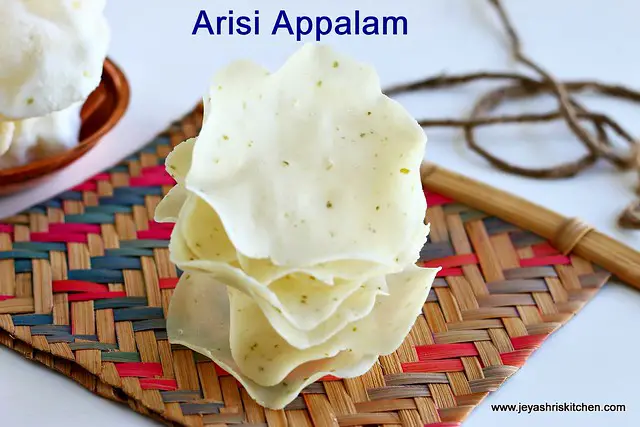 Notes:
You can make this with rice flour only without the addition of sago.
Instead of lemon juice you can add little sour butter milk too.
If the kneaded rice flour is not steamed properly it will not give smooth dough.
So steam this for 15 minutes in medium flame.
When it is hot itself dip your hands in water and knead the dough. It was bearable only. Me being so delicate could handle that.
While rolling the papad , the dough should be soft and smooth. So that you can roll the appalam easily.
If drying in the terrace just keep it for 3-4  hours. It will be dried.
After it is dried it will be slightly shrunk .
The remaining flour which was left after making arisi appalam, (i used only one cup of flour) i made koozh vadam.
This also you can dry it at home.
Will post it soon.