Rava kara kuzhi paniyaram
Instant Rava kuzhi paniyaram is an easy South indian breakfast recipe. This recipe using sooji | rava as the main ingredient. I saw this post in instagram long back and noted down the recipe. In that recipe, they used Instant MTR Rava idli mix. As i had posted rava idli already, i thought i will make my own batter instead of using the MTR rava idli mix. The paniyarams turned out crispy outside and soft inside. Check out my other South indian breakfast recipes too. this can be served for dinner or can be served as an evening snack | tiffin.

Rava Kara paniyaram
  Preparation Time : 15 mins | Cooking Time : 25 Mins |Yieldss: 18-20 paniyarams


Rava | sooji   1 cup
Oil    3-4 tsp
Onion  1
Mustard seeds   1/4 tsp
Channa dal   1/4 tsp
Urad dal   1/4 tsp
Red chili powder  1/2 tsp
Carrot  grated   3 tblsp
Yogurt | Curd   2 tbslp
Coriander leaves   few
Curry leaves  few
Lemon juice  1/2 tsp
Eno fruit salt   3/4 tsp or baking soda   1/2 tsp
Salt    to taste
Ginger  a small piece (optional)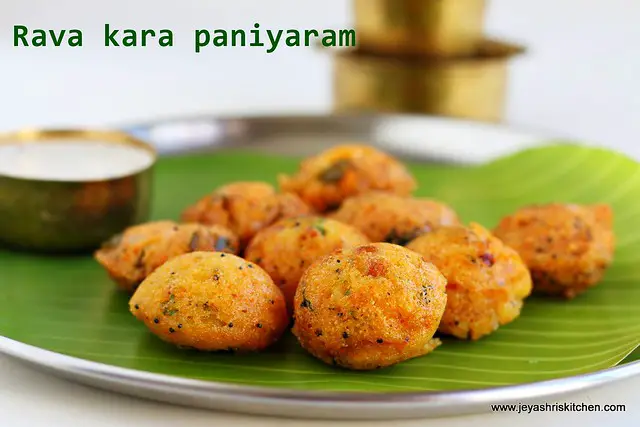 Method:
In a pan add oil and add in the mustard seeds. When it starts spluttering add the urad dal, channa dal and curry leaves. Chop the onions finely.
When the dal turns golden brown colour add the onions to this.  If adding ginger add now.

When the onions turn pink and translucent, add the red chili powder and salt.
Switch off the flame.

Add the rava to this and roast it in the hot pan. Allow this to completely cool.

Add the yogurt to this and add little water and mix it to get the consistency of  idli batter. Add lemon juice to this and mix well.
 If adding baking soda add it now and mix well and keep it aside.
If adding eno salt, do not add now. Just keep the rava mixture aside for 10 minutes.

Add the grated carrots to this and mix well.

Add Eno salt and mix well. the batter will turn airy and loose after adding eno salt. The final batter should be in the consistency of idli batter. So after adding eno, if needed add little more water to get the right consistency.
Add chopped coriander leaves.

Heat the paniyaram pan and add few drops of oil in each hole. Spoon in the batter in all the holes.
Cover it and cook in a low flame.

When it is cooked on one side flip it carefully using a skewer or using a spoon.
Cook for few minutes and take it out from the pan.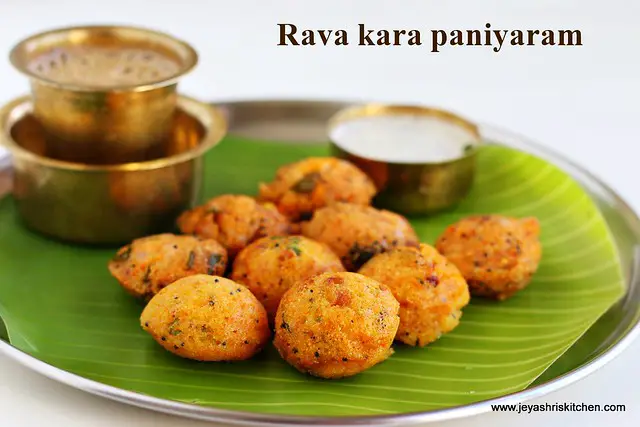 Notes:
Adding onions is optional. You can skip this too.
You can add frozen green peas too. If adding add while sauting the onions.
If making in big batch, do not add eno salt for the whole batch. Add in small batches and make the paniyaram.
You can add 2 tblsp of rice flour to the batter ot 2 tblsp of idli |dosa batter too.
You can add finely chopped green chili instead of red chili powder.