We always make dosa with godhumai maavu (whole wheat flour) which we call as godhumai dosa or karacha maavu dosai aor wheat dosai. But have you ever tried dosa with Whole wheat grain. Actually my mom makes this  but i have never remembered to ask her the recipe of this whole wheat grain dosa. Generally this whole wheat grain is used for  making godhumai halwa. A reader asked me for a recipe of dosa using whole wheat grain . then it suddenly it flashed that amma makes this and asked her for the recipe. I made it according to her instructions and it turned out very well. The dosas were crispy and yummy and kids too ate without any fuss. Check out my ragi dosa recipe, kal dosai recipe.

Whole wheat grain dosai recipe
  Preparation Time : 10 mins + soaking,fermenting time 5 hrs| Cooking Time : 20 Mins |Makes: 14
     Idli rice  1/2 cup
     Urad dal   2 tblsp
     Methi seeds | vendayam   1/2 tsp
     Whole wheat (Muzhu Godhumai)  1 cup
     Salt   as needed
     Oil   as needed to make dosa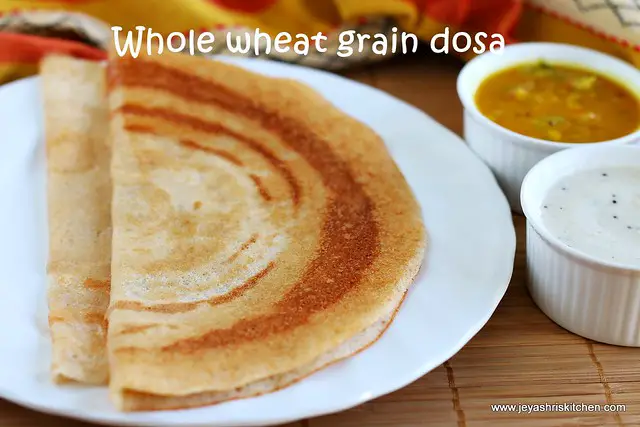 Method:
Wash and soak the idli rice, urad dal and methi seeds together for 2 hours.
Do not soak the wheat grain.

After 2 hours just wash the wheat grain nicely and grind this along with the soaked rice and dal mixture.

You can either grind in the mixie or you can use the grinder too. Grind this into a smooth paste.
I have tried grinding both in mixie and grinder. Mixie took a little long time but turned out very well.
Add salt and mix well.
Ferment this for 3-4 hours. This tends to get fermented soon.
Bring this batter to a dosa batter consistency.
Heat a dosa pan and pour one big ladle of batter and spread it into a thin dosa.
Smear oil on to this. Cook till golden brown.

Repeat the same for rest of the dosa batter.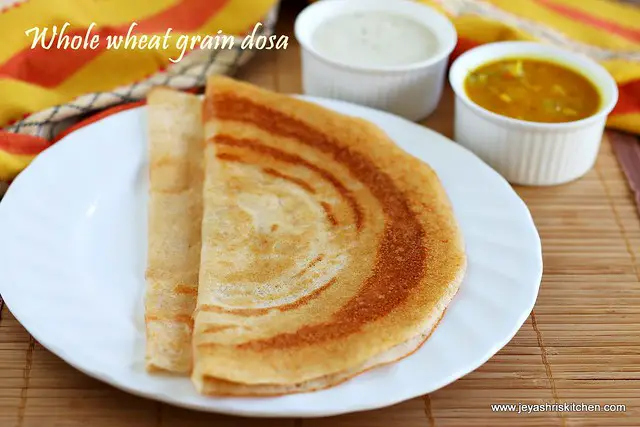 Notes:
No need to soak the whole wheat, the reason is it starts giving the milk.
You can replace idli rice with any millet like varagu, kudravaali or ragi too.
You can add finely chopped onions, cumin seeds, finely chopped green chili to the batter and make dosa.
The batter tends to ferment so soon unlike our usual batter, so maximum 4 hours is enough.