Pumpkin sauce pasta is a easy pasta recipe made with pumpkin puree as a main base. I have already posted home made pasta sauce recipe and white sauce pasta. This pumpkin pasta sauce i have once tried, very long back but somehow didn't turn out well. Last week when i was looking for some pasta recipes, my friend told me this recipe,which she recently learnt from her friend. She personally tried it at home and sent me pictures of them too. So i tried this today and it was very yum. The pumpkin sauce pasta was very creamy and at the same time was not bland. Generally creamy pasta will be bit bland and especially for us Indians, who are used to spicy food, can't eat the bland pasta. Try this for a weeknight dinner and let me know how they turned out. This is truly a kids perfect pasta recipe. Check out my
Pumpkin sauce pasta
Preparation Time : 15 mins | Cooking Time : 35 Mins |Serves: 2
Pumpkin cubes 1 cup
Onion 1
Garlic 4 pods
Red chili 2
Tomato 1/2 (optional)
Milk 1 cup
Grated cheese 3 tblsp
Broccoli 5 florets(optional)
Basil leaves few (to garnish ) optional
Penne pasta 1 cup
Olive oil 2 tsp
Dried herbs | oregano a pinch (optional)
Salt as needed (for both pasta and sauce)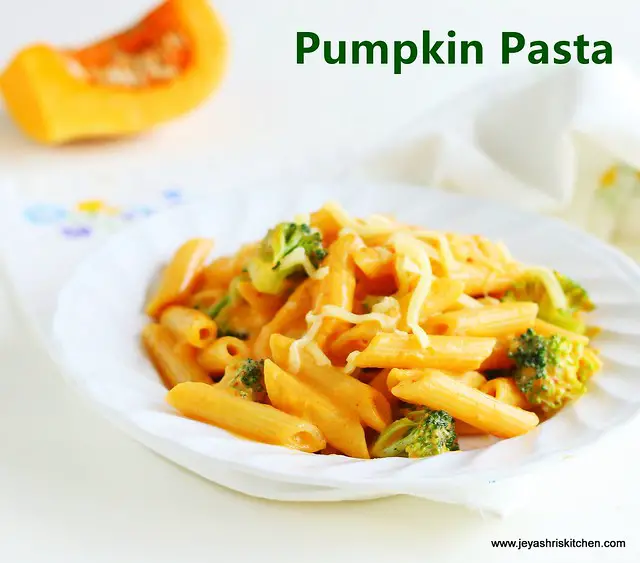 Method:
In a pan add 1 tsp of oil and , roughly chopped onions, peeled garlic and red chili. Cook this in a medium flame for 2 minutes. Now add the pumpkin cubes. Saute for 2 minutes.

Add 1 cup of water to this and cook this till the pumpkin becomes soft. The pumpkin tends to cook fast.
Check whether it is cooked or not by inserting a knife into it.

Allow this to completely cook. If it has little water left, no need to worry, use it for grinding.
Grind this into a smooth paste. You can add some milk while grinding too.

Add the remaining milk to this. Use boiled and cooled milk. Do not use hot milk, it will curdle.
Add the sauce mixed with milk, to a pan. Keep it in a very low flame.

Add the cheese and cook for a minute. Keep the flame to medium for a minute and switch it off. Add the herbs and salt. Switch off the flame.
Pumpkin Pasta sauce is ready. This recipe yields 1 cup of pasta sauce.

This can be stored in the refrigerator for a day.
Cook the pasta as per the instructions in the pack. Add 1 tsp of oil while cooking.
Drain the water . Reserve 2 tblsp of water for later use.

Add 1/2 cup of pumpkin pasta sauce to the pan and add the 2 tblsp of reserved water which we kept aside. (pasta cooked water)
Add the cooked pasta to this.
If adding broccoli florets put them in hot water for a minute and then add.

Add the broccoli florets if adding. Mix well and switch off the flame.

Serve this hot. You can add some grated cheese on the top or garnish with some basil leaves too.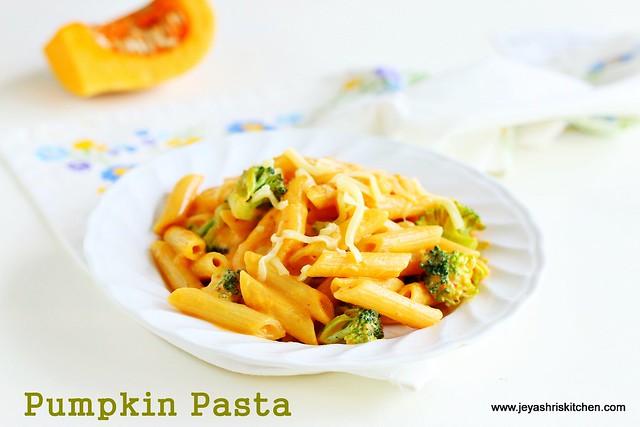 Notes:
You can add few cherry tomato while cooking the pumpkin. This gives a nice tangy flavour and colour to the pasta sauce.
Along with broccoli you can add some cooked peas and partially cooked carrots too.
Do not boil the sauce for a long after adding the milk and cheese. Else it will curdle.
You can use any pasta of your choice.