Vegetable pulao or veg pulao is an easy recipe and i have posted few varieties of pulao here. This jaipuri veg pulao i have tried once by seeing the Youtube Video of a Ruchi Bharani. I personally love her videos and the way she explains itself motivates me to make the dish. This Veg pulao is quite rich in taste and involves items like cream, cashew and butter but all in very small quantity only. Especially on weekends and the day you have guest, this veg pulao is a must one to try .
Check out my
Ingredients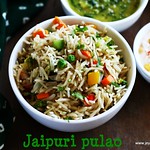 Preparation Time
:
15 mins
|
Cooking Time
: 30 Mins |
  Serves
:3-4
     Basmathi Rice    1 cup
     Mixed vegetables *  1/4 cup
     Butter     3 tsp
     Bay leaf     1
     Cardamom   1
     Coriander leaves   few
     Cashew nuts   5
     Salt  as needed
   To Grind
    Green chili   1
    Cashew   4
    Cardamom   1
    Fresh Cream   1 tblsp
    Coriander powder  1 tsp
    Jeera powder  1 tsp
    Onion    1
    Garlic   3
    Ginger  1 small piece
   
   *Mixed Vegetables  – I used carrot, bell pepper ( capsicum) ,green peas and     peas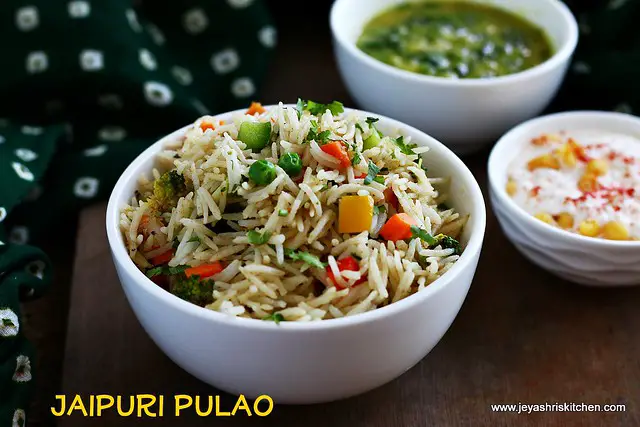 Method:
  Soak the rice in 1 and 1/4 cup of water for 15 minutes. Cook this in pressure cooker by adding salt and few drops of oil.
Allow this to cool and let the rice be grainy.
Grind the ingredients given under the head To grind into a fine paste.
Grind the ingredients given under the head To grind into a fine paste.
In a pan add butter and season with bay leaf, cardamom, cashew nuts and  coriander leaves. Saute till the cashew nuts turn brown.
Add the ground paste to this.
Keep the flame low and cook till the paste becomes nice brown colour.
Add the veggies to it. Even if you want you can microwave the veggies for 2 minutes and add it.
I just added as it is. Let the veggies be crunchy. Do not over cook or make it loose its colour.
Add the cooked rice to this and mix it gently.
Let it  be in heat for 2 mins and switch it off.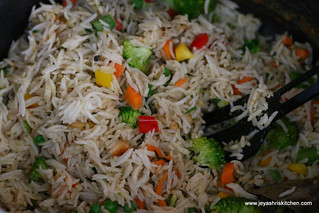 Serve it with raitha or any gravy of your choice. We had with Dal palak.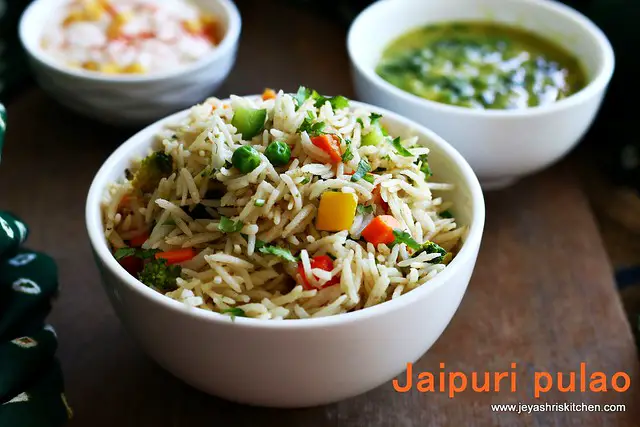 Notes:
Since beans and took cauliflower took long time to get cooked i didn't add. If you want you can par boil it separately and add it to the rice.
Adding of fresh cream gives richness and enhances the taste of the pulao. So don't skip it.
Ensure the basmati rice is cooked grainy with each grains separate.