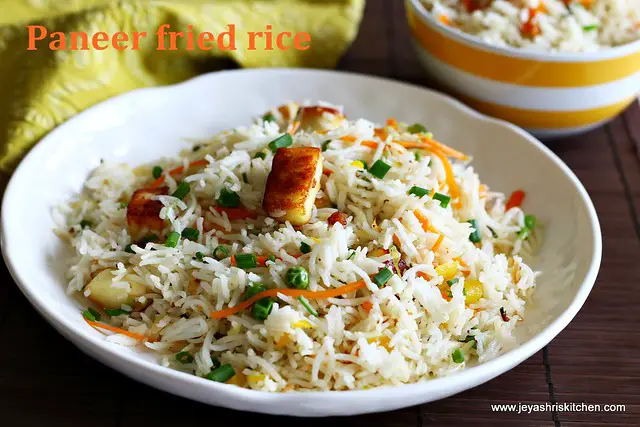 Paneer fried rice in Indian style is a super hit recipe in my house and i often pack this for kids lunch box. So i never happened to click this paneer fried rice in morning hurry . Yesterday i made this in the afternoon as kids took pasta for lunch box.. I had paneer fried rice for lunch and kids had this after they are back from school. This is a simple and easy recipe and never fail to please your guests too.
Paneer Fried Rice
Preparation Time
:
10 mins
|
Cooking Time
: 20 Mins |
Serves
: 2-3
Basmati rice 1 cup
Paneer cubes 15
Carrot 1
Cabbage little
Capsicum half
Green peas 2 tblsp
Pepper powder 1 tsp (adjust to taste)
Salt as needed
Green chili 1-2
Sugar 1/2 tsp
Garlic 3
Spring onion few
Oil 2 tblsp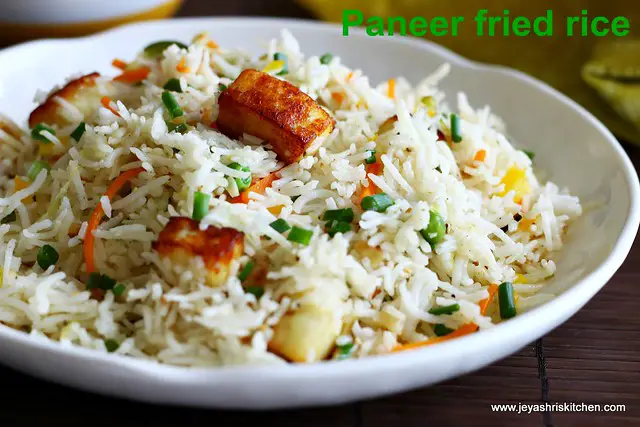 Method:
The main key is to cook the rice perfectly into separate grains. Refer my post on how to cook basmati rice.
Cut the veggies according to your preference.
Soak the paneer cubes in hot water.
In a pan add oil and saute the paneer cubes till golden brown. This step is optional.
Keep it aside.
In the same pan add finely chopped garlic,slit chili, sugar and spring onion whites.
Add the veggies. Adding veggies is truly optional. Cook the veggies on high flame for 2 minutes. Let it be crunchy. Add salt.
Add the paneer cubes.
Add the cooked rice and mix gently. Add the pepper powder. I added white pepper powder.
Mix gently without breaking the rice. Add the spring onion greens.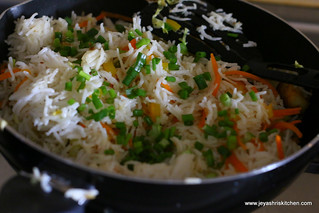 Fried rice is ready to serve.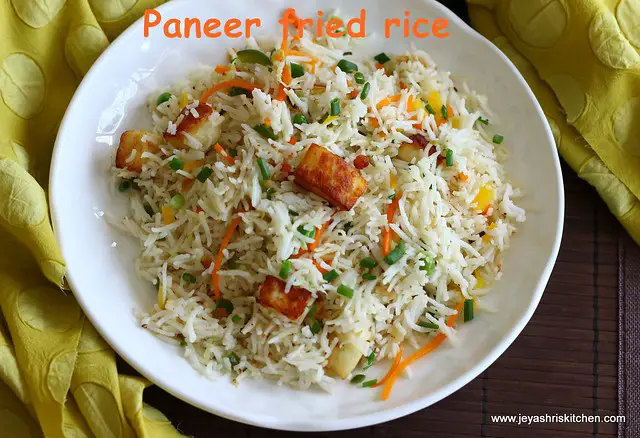 Notes:
Always ensure that the rice is cooked in separate grains.
Adding veggies is truly your choice.
Frying paneer is always in optional.
You can scramble the paneer like how we make for bhurji and add it to the fried rice.