Dosai is a staple south indian breakfast recipe and we make different varieties Kal dosai recipe i have noted down in my hand written cook book very long back. Actually it was given by a friend's mom and i remember noting it down when she visited my home. After that i totally forgot about the kal dosai. Two days back when i was going through my cookbook and i suddenly saw this recipe and wanted to try this dosai at home. Unlike other dosa, this own't turn out crispy. This dosa will be slightly thick, but not a uttappam, and will be soft too. This kal dosa is a perfect one for travel or packing for kids lunch box as it will stay soft for many hours. So while eating it won't give a dry feel . I still remember my grandmother used to pack dosa smeared with
milagaipodi
and pack in banana leaf , for our bus and train journeys.
Ingredients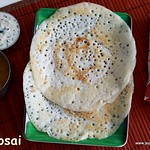 Preparation Time
: 3
hours +8 hours fermentation
|
Cooking Time
: 2 mins- per dosa |
Yields
: 15-20 dosa
Raw rice 1 and 1/2 cup
Urad dal 1/2 cup
Salt 1 tsp
Oil to make dosa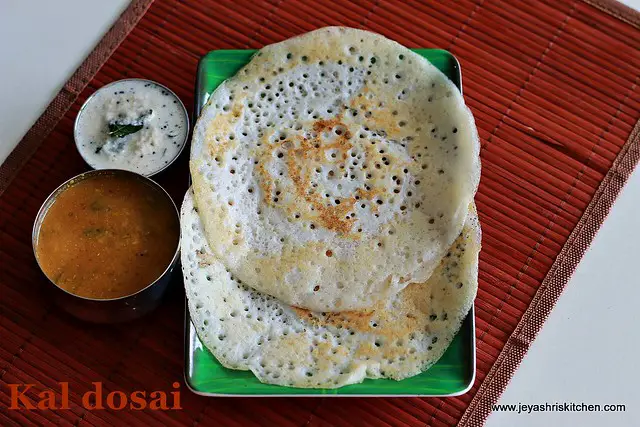 Method:
Soak the rice and urad dal together for 3 hours.After that grind this into a smooth paste with enough water . Add salt and keep the dough for fermentation for 7-8 hours or overnight.
For this kal dosa it is highly recommended to make in a iron tawa. But if you don't have that use the non-stick tawa.
Heat the tawa and add one full laddle of dosa batter to this and spread dosa on this.
When holes started coming flip the dosa on the other side and smear oil on the dosa.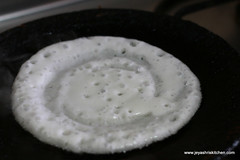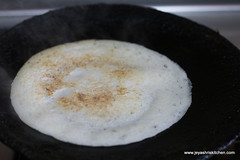 Sprinkle little water on the dosa. This will give really soft dosas and keep them soft after few hours too.
Take them out and repeat this for rest of the batter.
If you want to pack dosa for lunch box or for travel, put idli milagai podi in a plate and add sesame oil. Mix well. sprinkle few drops of water and also mix well. Just spread the milagai podi mixture on the dosa and place it in the lunch box.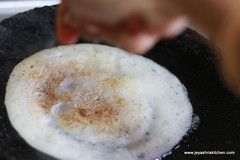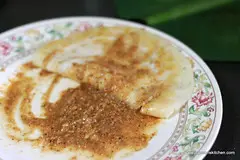 If packing in banana leaf just show the banana leaf on open flame for few seconds. This is to make the leaf flexible and will not tear while packing also.
Place the dosai smeared with milagai podi on the leaf and pack this on a newspaper.
The dosais packed in the banana leaf will give an exotic flavour.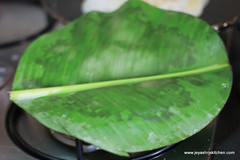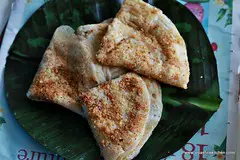 My grandmother even sometimes makes like this in the morning and give us in the evening , once we are back from school.