Kalyana Sambar | Traditional wedding style sambar
, the recipe i wanted to post for a long time. After attending a wedding and a family function in India last month, i wanted to make this post soon. The Sambar which they make in our style weddings are always awesome. They generally put lot of veggies in the sambar and the hot rice, smeared with ghee along with this yummy sambar, paired with urulai kizhangu curry and appalam…, wow nothing can beat the taste. Without boring you all much, let me go on to the recipe of Kalyana sambar.
Check out my
Kalyana rasam
Ingredients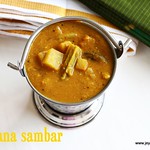 Preparation Time
: 20
 mins
|
Cooking Time
:20 mins |
  Serves
: 5-6
     Mixed Veggies*   1 cup
     Sambar powder    1 and 1/2 tsp
     Tamarind      a small lemon size
     Salt          as needed
     Toor dal    1/4 cup
     Oil     2 tsp
     Mustard seeds     1/4 tsp
     Turmeric powder    1/4 tsp
     Asafoetida      2 pinches 
    Curry leaves    few
    Jaggery      1/2 tsp
To roast and grind:
    Dhaniya     1 tblsp
   Channa dal |Kadala paruppu   1 tblsp
   Urad dal        1 tsp
   Fenugreek seeds | vendayam   1 tsp
   Red chili      2
   Toor dal      1 tsp
   Black pepper   5
   Coconut(scrapped)   1 tblsp
*Generally pumpkin, drumstick, broad beans, turnip, brinjal, ladies finger are used.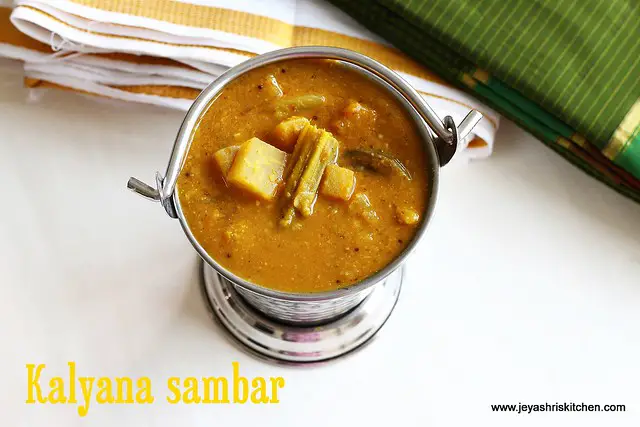 Method:
Cut the veggies and soak the tamarind in water and take 2 cups of tamarind water.
Cook 1/4 cup of toor dal by adding enough water and little turmeric powder.
Roast the ingredients,except coconut, given under "to roast and grind" by adding little oil. Grind this along with coconut by adding little needed.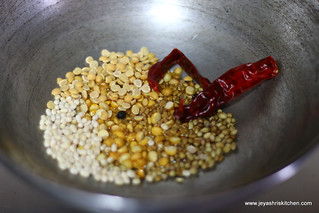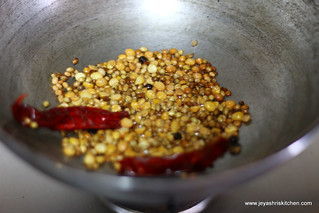 In a pan add oil and temper with mustard seeds. Add in the vegetables. Saute for a few minutes and add in the tamarind water.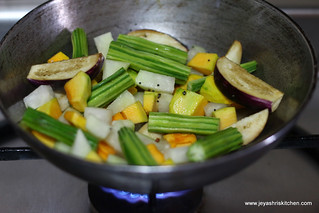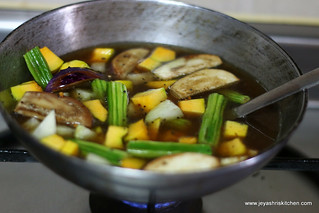 Add in the sambar powder, turmeric powder, asafoetida and salt. Let it boil for sometime, till the veggies get cooked.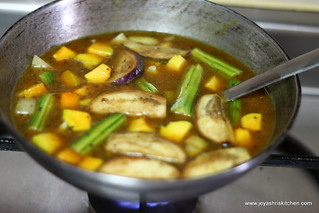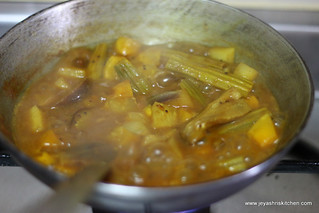 Add  in the cooked toor dal and mix well. Add in the ground paste.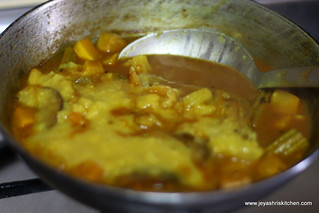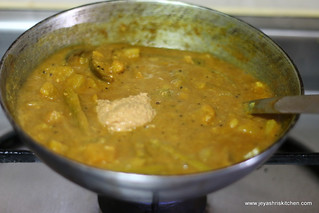 Add little jaggery . Mix well and let it boil for 2 minutes. Garnish with curry leaves.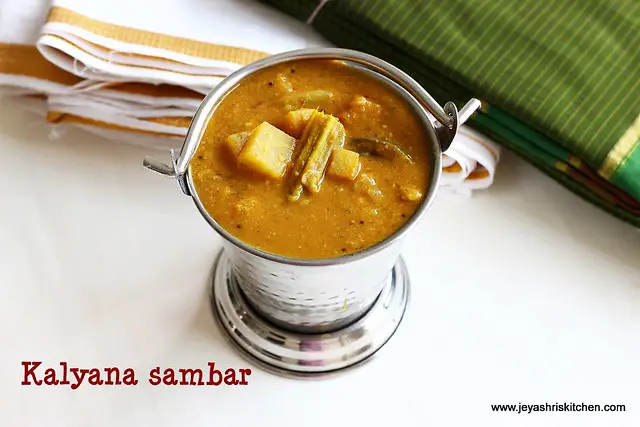 Note:
The sambar will be thick after getting cooled, so add water after adding toor dal and ground paste.
You can temper with 1 green chili to get the aroma of green chili in sambar.
Generally on the day of wedding in the food, onions are not added.. But if you wish you can add small onions after adding mustard seeds.
If you like , you can add 1 chopped tomato after adding onions.