Kandantippili rasam i wanted to post for a long time , but somehow i didn't search for that in Singapore, but when my mom visited me last month bought this for me and i wanted to start a series of recipes which we used to give for moms after delivery , commonly called as Pathiya samayal in Tamil and Postpartum food in English. My athai used make this for me when i delivered my second kid Varun, and she used to tell this kandantippili rasam helps in digestion too. Now a days we generally do not follow pathiyam after delivery and in my case too when i deliverd my first child 12 years back my mom strictly followed pathiyam but for the second one after 4 years i never follow any strict pathiyam. This kandantippili i don't know what is is the English term of this but you can get this easily in most of the small shops in chennai. I will be posting some Postpartum food which we generally follow at our house, more frequently here.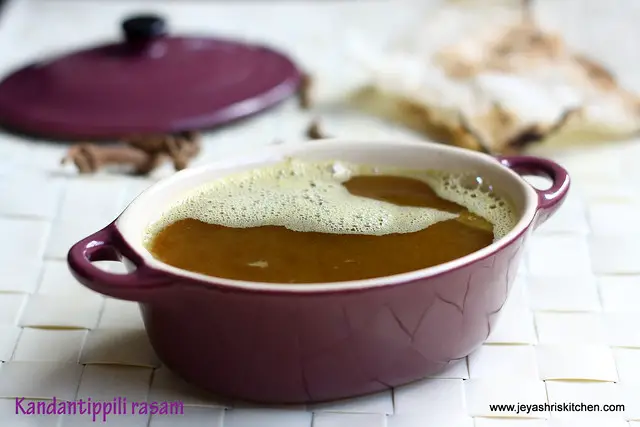 Before moving on to the post, thank you so much for trying out the Gokulashtami recipes and i am overwhelmed to see the mails . Thank you so much again.
INGREDIENTS: SERVES 4
| | |
| --- | --- |
| KANDATIPPILI | 4-5 sticks |
| TOOR DHAL | 1 TBLSP |
| BLACK PEPPER | 1 TSP |
| JEERA | 1/2 TSP |
| TAMARIND EXTRACT | 1 AND 1/2 CUP |
| TURMERIC POWDER | 1/4 TSP |
| GHEE | 1/2 TSP |
| COOKED TOOR DHAL | 1/2 TBLSP |
| MUSTARD SEEDS | 1/4 TSP |
| CURRY LEAVES | FEW |
| ASAFOETIDA | A PINCH |
| SALT | AS NEEDED |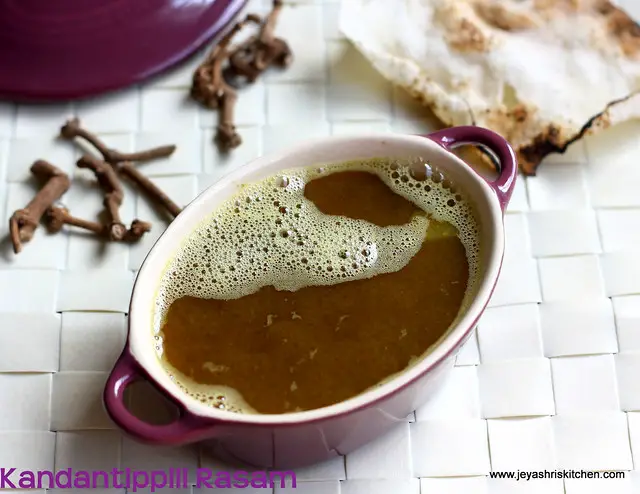 METHOD: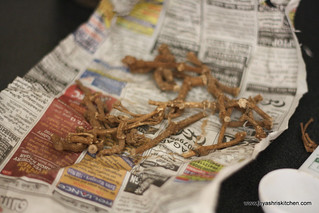 Dry roast the kandantippili , toor dal, black pepper .
Powder it finely in a mixer along with cumin seeds.
Soak a small lemon sized tamarind and extract the juice from this.
In a vessel add the tamarind water, 1 tblsp of the ground powder, salt, asafoetida, turmeric powder.
Let this boil for 7-9 minutes in a low flame.
Add 1 and 1/2 cup of water to the cooked toor dal and add this to the boiling mixture.
Let this become frothy , add curry leaves and switch off the flame.
Temper with mustard seeds in ghee.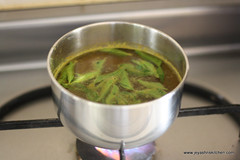 Super flavourful rasam is ready for serving.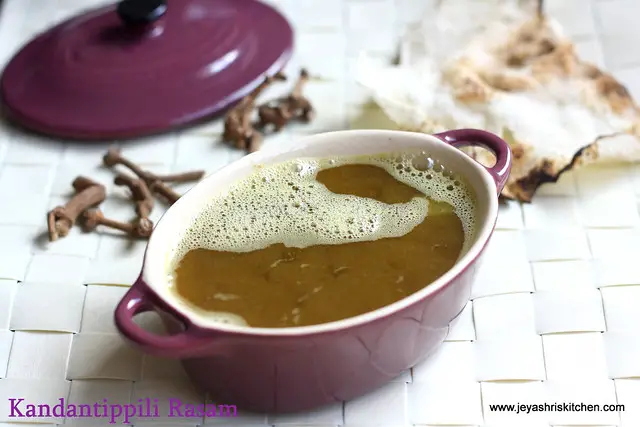 Note:
You can make the powder in bulk and make rasam whenever you want.
If you want you can add 1 tomato (pureed) while boiling. But for pathiyam tomaotes will not be added.
You can add 1/2 tsp of coriander seeds while roasting if you want.