Karamani | Black eyed beans is the which we normally use to make sweet sundal along with jaggery. When we were kids , i never tasted this one just for the reason that it has jaggery in that. Even it will very much disappointing for me if somebody gives vella sundal , when we visit their house for Golu. Now a days everything has changed and i love this vella sundal and most of the sweets with jaggery also. Making this karamani vella sundal is so simple and i learnt this from my mom.
INGREDIENTS:
KARAMANI | BLACKEYED BEANS
1/2 CUP
JAGGERY
3-4 TBLSP
WATER
1-2 TBLSP
SALT
A PINCH
CARDAMOM POWDER
GRATED COCONUT
A PINCH
3-4 TBLSP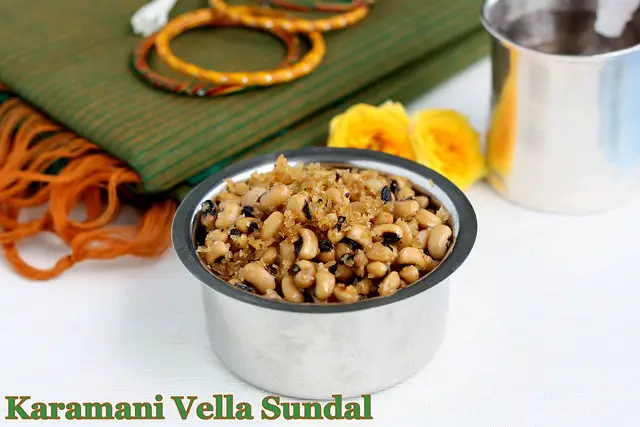 METHOD:
Dry roast the karamani for 3-4 minutes in a pan (this step will ensure easy cooking of the karamani.
Soak it in enough water for 4-5 hours.
Pressure cook for 3-4 whistles by adding a pinch of salt to this. Do not over cook and mash the peas.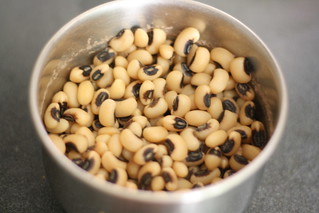 In a pan add jaggery and add 1-2 tblsp of water.
When the jaggery melts completely, strain the impurities and boil it again in a low flame for 2-3 minutes.
Now add in the cooked karamani after draining the excess water. Stir it well and saute till the jaggery mixture gets incorporated well with the sundal and all the moisture evaporates. Even if you find the moisture is there, do not worry after adding coconut it will come to the right consistency. Add cardamom powder in the last and mix well.
Karamani vella sundal is ready for Neivedhyam.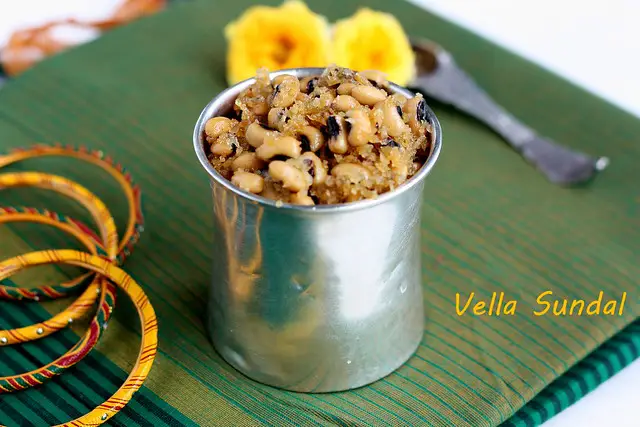 Note:
The same sundal can be done by replacing karamani with green moong dal too.
Adjust jaggery according to your taste.
I have seen my mami used to temper mustard and a red chilli in 1/2 tsp of oil in the last. If you wish you can do this.